'Rehab had no clearance, licence'
Charge sheet submitted against 15 in ASP Shipon murder case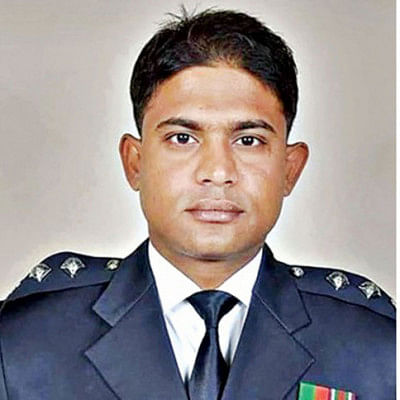 The hospital -- where assistant superintendent of police Anisul Karim Shipon was allegedly tortured to death on November 9, 2020 -- had no government clearance and licence, found a police probe.
The authorities of Mind Aid Psychiatry and De-Addiction Hospital did not appoint any expert psychiatrists to treat patients, the investigator mentioned in the report.
After a year and four-month probe, inspector Faruk Mollah of Adabor Police Station on March 9 submitted the charge sheet to Dhaka's chief metropolitan magistrate's court.
The charge sheet states that National Institute of Mental Health and Hospital (NIMH) registrar Dr Abdullah Al Mamun and 14 others were responsible for the ASP's death. The hospital was set up only to earn illegal money through fraudulent treatment.
The 14 others are hospital directors Fatema Khatun Moyna, Abdullah Al Mamun, Sakhawat Hossain Remon and Sazzad Amin; marketing manager Arif Mahmud Joy; coordinator Redwan Sabbir Sajib; kitchen staffer Masud Khan; ward boys Jobayer Hossain, Tanif Mollah, Sajeeb Chowdhury, Asim Kumar Pal and Saiful Islam Palash; guard Liton Ahamed; and pharmacist Tanvir Hasan.
According to the charge sheet, Shipon was brought in for treatment at around 11:30am on November 9, 2020. However, no doctor was present at that time.
The hospital's CCTV footage showed that some staff members dragged Shipon to a soundproof room and tortured him, following which the officer fell unconscious.
Ten of the accused forcibly took him to the observation room on the second floor and assaulted him repeatedly, said the investigation officer.
Shipon fell unconscious after a while. When his relatives took him to National Institute of Cardiovascular Diseases (NICVD), the on-duty doctor declared him dead.
Following Shipon's death, his father Faijuddin Ahmed filed a murder case with Adabor Police Station accusing 15 people, including five management personnel of the hospital.
Accused Remon and Sazzad are still at large, while Mamun and Fatema are now on bail. The remaining eleven are currently in jail custody.
During the investigation, Asim, Masud, Arif, Sajib, Tanif and Tanvir gave confessional statements before magistrates on different dates.
The IO appealed to the court to issue warrants against Remon and Sazzad as they were shown "fugitives" in the charge sheet. It will be placed before the court on March 27, said court sources.
The IO dropped the name of another accused -- Dr Md Niaz Morshed -- from the charges after his death in Dhaka Central Jail in Keraniganj.
Shipon hailed from Gazipur's Kapasia. His son is a student at Jahangirnagar University.
Shipon, appointed as a police officer in the 31st BCS batch, was last posted at Barishal Metropolitan Police's traffic department. He secured the first position in his batch. Earlier, he served at DMP, Rab and PHQ.