Rape on bus: ''Mastermind' of robbery still on run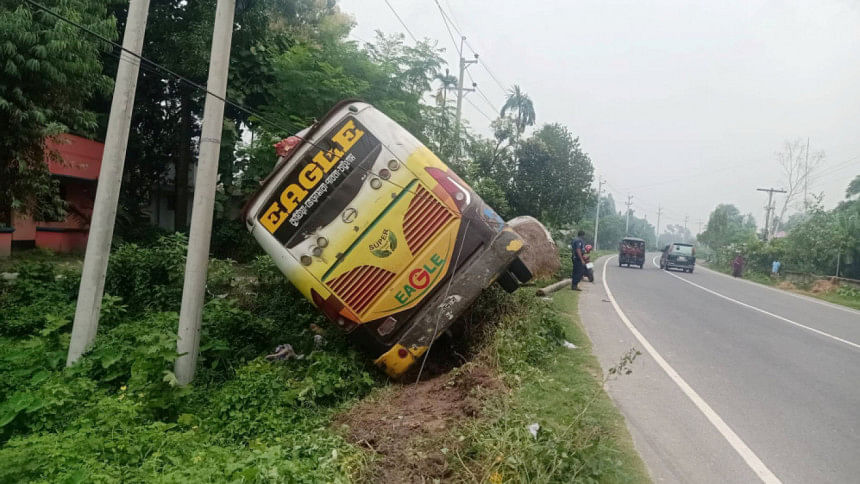 Police are looking for a man named Ratan who is suspected of being the mastermind of last week's robbery on a bus in Tangail.
He recruited the other suspects and planned the crime along with two others, Sarkar Mohammad Kaiser, superintendent of police in Tangail, told The Daily Star.
Police arrested two other suspects yesterday, taking the number of detained suspects to three. All of them denied raping the woman who alleged that she was raped by the robbers six time in the moving bus, the SP said.
Immediately after the heist, Ratan took the other suspects to his grandmother's house which is about a kilometre away from where they abandoned the bus.
"They took some rest at the house for a while and then left," the SP added.
Another suspect named Raja Mia, who was arrested on Thursday, told police that Ratan recruited him to drive the bus.
"Raja was at Tangail bus terminal around 11:00pm on the night of the crime and later joined three other members of the gang who came from Dhaka."
The four of them then travelled to Sirajganj and boarded the bus near Kodda area, he said.
"Ratan, Raja and one other suspect planned the crime. Raja knew only three members of the gang. Of the 10 members, three are from Tangail and the rest are from different districts."
TWO MORE ARRESTED
Detective Branch (Tangail north) of police yesterday arrested two other suspects named Muhammad Awal, 30, of Kaliakair upazila of Gazipur, and Nurnnabi, 26, Roumari upazila of Kurigram.
Both were arrested in different areas of Kaliakair.
Officers found one robbed phone from Nurunnabi's possession, SP Kaiser said, adding that Awal told police that he robbed two phones from the passengers and had already sold one and given away the other to a homeless boy, the SP told a press conference yesterday.
Police are trying to catch the rest of the gang members and recover the things they had robbed, he added.
The robbers took away 16 phones, cash, and jewellery worth an estimated Tk 1.8 lakh.
On Thursday, the SP ordered Helal Uddin, officer-in-charge of DB (North) in Tangail, to investigate the case.
Contacted, Helal said all the suspects had criminal records.