Rahima speaks to PBI about disappearance, says husband was witness to incident
Boalmari UP chairman says Rahima went to him for birth certificate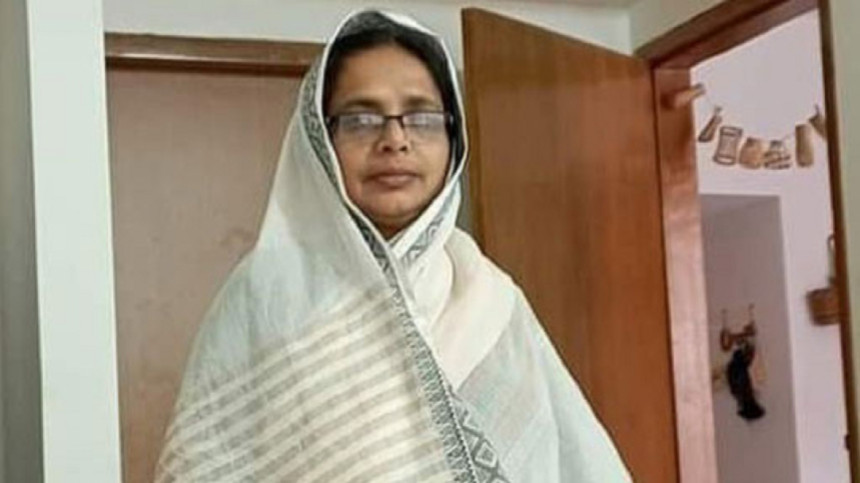 During Rahima Begum's interrogation with Khulna PBI today (September 25, 2022) she revealed that her husband was witness to the incident when she was allegedly picked up, but she had asked him to go back inside their house and lock the doors.
Rahima Begum was producted before a court after being interrogated for about an hour by Khulna PBI.
Rahima, who has been missing since August 27 last month was found at the house of one Abdul Quddus, a resident of Saidpur village under Boalmari Police Station in Faridpur last night.
Khulna police received her around 11am today, the police official said. Rahima was not speaking much following her rescue initially but eventually spoke to the PBI Superintendent of Police Syed Mushfiqur Rahman at the PBI office.
Rahima told police that when she went to collect water that night, three or four people took her away after covering her face with a piece of cloth.
Rahima could not tell where she was taken and her abductors allegedly took her signature on a white stamp. Kibria, and Mohiuddin, two of the people who were involved in the land dispute with Rahima were also allegedly present, police said quoting Rahima.
"After this, the abductors let me go after saying,'We are letting you go and not killing you',"Rahima told police.
Rahima then went and met one Moni and stayed at her house. Moni gave Rahima Tk 1,000, with which she took a bus to Maqsedpur, police quoted Rahima as saying.
When questioned why she did not get in touch with her children, Rahima said, "I did not have a mobile phone." Rahima was also questioned why she did not go to Khulna directly, to which she said, "Those who took me threatened me as well. I was afraid and that is why I did not go to Khulna."
Rahima Begum also said that when she was abducted, her husband BellalGhatak was on the second floor and watching. Rahima Begum had forbidden him to get down and asked him to lock the door safely, she told police.
PBI Superintendent of Police Syed Mushfiqur Rahman told The Daily Star, "So far, we have received all this information from Rahima Begum. Since she has said her husband saw her during the incident, we'll talk to him. I'll cross-check the incident. As he is in the district, he will be brought and interrogated."
Rahima also mentioned the names of two people, Kibria and Mohiuddin, the official said. "We will scrutinise the call list of their mobiles and try to find out where they were at the time," the PBI SP said.
"We will follow the directives the court gives us. If the court orders to give Rahima Begum to the custody of her children, she will go there. And, if any other instruction is given, we will follow it," he added.
Meanwhile, Rahima Begum during her stay at Quddus Mollah's house in Syedpur village under Boalmar iupazila in Faridpur went to Union Parishad Chairman Md Abdul Haque to make a birth certificate for her.
Chairman Haque told The Daily Star, "At 3pm on September 22, Rahima Begum came to me. She said she was born in Syedpur village and her childhood was spent in the village. However, later she had to go to Bagerhat and stayed there for a long time and worked there at different houses as a house maid. But now she returned to her ancestral house again," the chairman claimed.
Upon her arrival at the village, she came to know that her brothers deprived her from her ancestral property, the chairman said quoting Rahima.
After hearing her story, the chairman told Rahima, "I don't know you. You're too old. If the UP member of the area where you live can certify you, then the birth registration can be made. On hearing this, Rahima Begum went out of the UP complex and she didn't come again."
Quddus Mollah's house is also located in Ward No 9. Md Mosharraf Hossain is the UP member of the union.
UP member Mosharraf Hossain told The Daily Star, "UP chairman Md Abdul Haque inquired me about Rahima Begum. On September 23, the chairman informed me about Rahima and asked me to inquire about her".
The UP member later inquired about Rahima Begum and told the chairman that Rahima Begum is not a resident of this area. She has come to visit Quddus Mollah's house. When Quddus Mollah was in Khulna, he used to live on rent in Rahima's house. She came to visit his house in that connection.
Kuddus Molla's nephew Mohammad Joynal said, "We have heard that Rahima Begum met the UP chairman. But he does not know why she went to the chairman".