A principal mired in corruption
Edn ministry probe finds Mirpur college principal embezzled funds, appointed teachers violating rules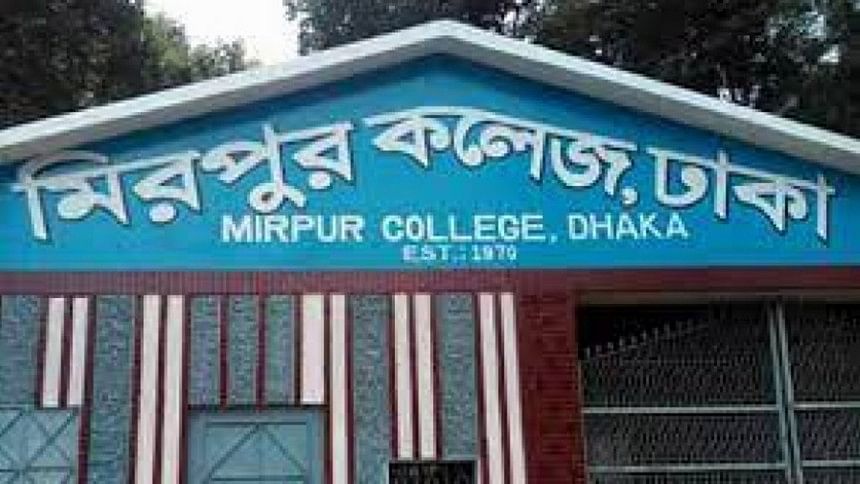 With each passing day, his irregularities became more unbridled and brazen.
From preparing fake bills to disbursing money without vouchers, from paying hefty repair bills for furniture bought barely a year ago to spending unacceptable amounts of money in the name of rally and education tours, from collecting different fees from students without providing a receipt to appointing as many as 38 teachers violating rules and regulations, Md. Gholam Wadud, the former principal of Mirpur College, has indulged in all.
So unbridled did his misdeeds become that a few teachers of the college lodged a complaint against him to the authorities, which prompted an investigation by the Department of Inspection and Audit (DIA) of the education ministry and led to his suspension.
The investigation unearthed a case of unbridled use of influence to enrich oneself. The report was submitted to the ministry on June 30.
On August 21, the college governing body suspended Wadud. A few days earlier, the Directorate of Secondary and Higher Education (DSHE) had suspended Wadud's monthly pay order (MPO) facilities.
On August 17, Abdul Kader, assistant director (college-3) of DSHE, issued a letter mentioning Wadud's MPO facilities has been withheld as the allegation of fund embezzlement, irregularities and misdeeds were proven against him.
Kader also issued a show-cause notice on Wadud asking him to reply within seven days as to why his MPO will not be cancelled permanently.
In another letter, the officer requested the president of the college governing body to file a criminal case against Wadud and inform the DSHE of updates. The case is yet to be filed.
Sharif Enamul Kabir, the college governing body president, declined to comment on the report.
WHAT THE DIA REPORT SAYS
The teachers alleged that Wadud started embezzling college funds soon after he was appointed the acting principal in February 2012 by late local MP Aslamul Haque, who was the college's governing body president.
Haque, the governing body president, appointed Wadud, then a lecturer, as the acting principal bypassing the then vice-principal and several senior teachers and his appointment as the principal afterwards did not follow due procedure, found the DIA investigation.
Since he had the blessings of the lawmaker, no one dared to speak up against his corruption, the teachers said.
Along the way, Wadud enriched himself rather well.
The DIA investigation found Wadud took two personal loans with the amount never returned, owns two flats and paid a big amount for another 2,100 square feet flat in the capital that he booked and has an investment of Tk 10 lakh in the stock market and fixed deposit receipts.
The investigation also found a mismatch of Tk 5.66 core between the cash book income and the register of collection.
The four-member DIA audit team in their report mentioned 34 specific cases of irregularities, corruption and misappropriation of college funds against Wadud.
He took Tk 5 lakh from the college fund for his father-in-law's medical treatment, Tk 3 lakh for construction of a three-story building at his village home and Tk 2 lakh for purchasing floor tiles for one of his flats.
None of the amounts was returned, the DIA report said.
He embezzled Tk 6.8 lakh producing fictitious vouchers on purchase of construction materials for extension of the fifth and sixth floors of a college building in 2013 and another Tk 9.93 lakh producing a fake bill for making uniforms of college students.
Another Tk 15.04 lakh was spent for 'repairing benches' just 10 months after those were purchased from Lipi Furniture Mart.
Several teachers told The Daily Star Lipi Furniture Mart is owned by an Awami League leader and was a close associate of the lawmaker.
The furniture shop also got the commission to paint and renovate a college building, they said.
Lipi Furniture Mart getting work orders at different times without any tender was a violation of rules and ill-intended, the DIA report said.
The investigation also found Tk 10.80 lakh paid against a bill from Lipi Furniture Mart where no voucher was attached.
Spending more than Tk 10.17 lakh for constructing college boundary walls without any tender and disbursement of Tk 12.33 lakh as honorarium to members of the development sub-committee are against the rules, the report said.
During Wadud's tenure as the principal, Tk 18.49 lakh was spent for a street rally against drugs, terrorism and militancy and another Tk 6.45 lakh on education tours, which are unacceptable and tantamount to misappropriation.
The college did not give any money receipt to students it charged for testimonial, fees book and coaching fees, the DIA investigation found.
Since Wadud was appointed as the principal, 19 full-time teachers and 19 part-time teachers were recruited without following the rules and regulations.
Several college teachers alleged that he took huge sums as bribes from those recruited in connivance with lawmaker Aslam, the former governing body president.
The DIA report also found that about Tk 24.25 crore were not deposited to banks, which it said was tantamount to temporary misappropriation.
Each students' ID card was priced between Tk 80 and Tk 90, but the investigation could not ascertain how much each of those actually cost.
The Daily Star contacted Arman Chowdhury, owner of Identity Source that supplied the ID cards, who said he charged much less than Tk 60 for each piece.
The college teachers said such ID cards are actually available in the market at Tk 35 per piece.
WHAT WADUD HAS TO SAY
The findings in the DIA report are false and he will apply for reinvestigation, Wadud said.
"It was not possible for me to provide all vouchers and documents of nine years to the committee in just three days," he told the correspondent on July 8.
He said he has all documents in hand and will appeal for reinvestigation after getting the DIA report.
Regarding the three flats mentioned in the DIA report, Wadud said he purchased the flat (at Janata Housing in Mirpur) by taking a bank loan of Tk 20 lakh and got a government flat at Swapnanagar project through a lottery in 2014-2015.
He also admitted to having booked another flat at AK Udayan Development.
Wadud, who joined the college as a lecturer in the marketing department, said he purchased the flats with his savings and family support.
He told the correspondent that their village home in Natore was a two-story building and now they are renovating it to a three-storey one.
During a recent visit at Wadud's ancestral home at Dorihasmari in Gurudaspur, our Natore correspondent found a newly constructed three-storey building beside the old two-storey one.