Pradeep, Liaqat given gallows
A Cox's Bazar court also sentences 6 others, 3 of them cops, to life for the premeditated murder of Major (retd) Sinha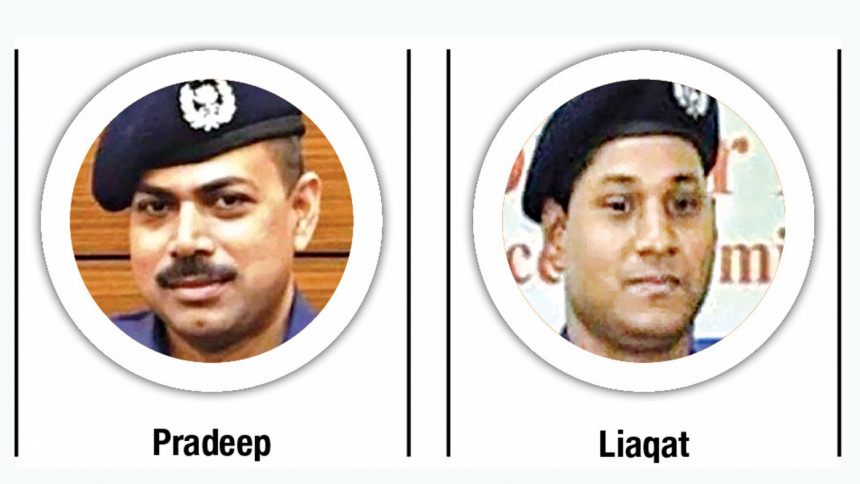 Major (retired) Sinha Md Rashed Khan's murder was premeditated, a Cox's Bazar court said yesterday as it handed down death sentence to suspended police officials Pradeep Kumar Das and Liaqat Ali for the killing.
Pradeep, the then officer-in-charge of Teknaf Police Station, had plotted to kill the retired army official, and Liaqat, who was the in-charge of Baharchhara Investigation Centre, executed the plan by shooting Sinha at an APBn checkpost on July 31, 2020, it said.
Cox's Bazar District and Sessions Judge Mohammed Ismail also sentenced six others, including three policemen, to life in the murder case.
All the convicts were fined Tk 50,000 each.
Seven other police personnel, however, were acquitted as the charges against them could not be proven in court.
All the accused and Sinha's elder sister Sharmin Shahria Ferdush, who filed the case, were present at the packed courtroom yesterday afternoon. Pradeep, in a beige jacket, and Liaqat, in his blue-grey jacket over polo shirt, looked calm.
While reading out the summary of the 300-page judgment, the judge said the court tried to find out answers of some questions, including whether the murder was planned, why police shot Sinha, if there was any necessity to open fire and whether the fatal incident could have been avoided.
The judge then said Liaqat opened fire to kill Sinha, which left him injured. He then deliberately wasted time in sending the injured to the hospital and ensured his quick death. He also destroyed evidence and filed a case against Sinha later.
Pradeep helped Liaqat open fire, kicked Sinha in the chest breaking his ribs, choked him, and delayed sending him to hospital. He also lodged false cases against Sinha and his companion Shifat to avoid the murder charges and  destroyed evidence, the judge said.
"Despite knowing that the order [to shoot Sinha] was illegal, he [Liaqat] followed the senior's [Pradeep] order after being a part of the conspiracy to kill Sinha," said the judge.
It's so unfortunate, the judge said.
Police Sub-Inspector Nandadulal Rakshit, constables Sagar Deb and Rubel Sharma, and informants Nurul Amin, Nezam Uddin and Ayaz Uddin were sentenced to life-term imprisonment.
The court acquitted SI Md Shahjahan, Assistant Sub-Inspector Liton Mia, constable Kamal Hossain Azan, and Abdullah Al Mamun, Safanur Karim, Md Rajib and Md Abdullah Al Mahmud.
In her reaction to the verdict, Sinha's elder sister Sharmin said, "I am happy that the court handed capital punishment to Liaqat and Pradeep. But those who have been acquitted should have been sentenced to different terms in jail," she told The Daily Star.
"I will be satisfied when the verdict will be executed," she said.
Talking to reporters, Public Prosecutor Faridul Alam said, "The accused had committed different offences and filed false narcotics cases. But they were angry after learning that Sinha made videos on their irregularities.
"The accused had threatened Sinha so that he left Cox's Bazar but he did not care about the threats. Later, the accused, in collusion with each other, plotted the murder …"
He also said, "We are partly satisfied with the verdict. We will go to the higher court challenging the acquittals."
Pradeep and the other accused were brought to the courtroom from Cox's Bazar jail around 2:00pm.
The court session began at 2:26pm and the judge started reading out the verdict. He was done reading around 4:20pm.
Constable Rubel Sharma's younger brother Rahul Sharma told The Daily Star, "My brother is innocent. He just followed the orders of senior officials. We also want justice.
"If following order is a crime in service, then the juniors in the force will think twice before executing any order…," he said.
ABUSE HURLED AT PRADEEP
While the verdict was being delivered, locals gathered in front of the court demanding capital punishment to Pradeep and Liaqat.
When the police were taking Pradeep back to the prison van following the verdict pronouncement, locals hurled abuses at him. At one point, some stones were thrown at the van.
Police detained one Barek, 32, in this connection, said Munir Ul Giash, OC of Cox's Bazar Sadar Police Station.
Cox's Bazar Awami League's Organising secretary Naznin Sarwar Kaberi distributed sweets among locals following the verdict.
On December 13, 2020, investigation officer from Rab-15 Mohammad Khairul Islam pressed charges against the 15 accused.
The charge sheet was placed about five months after Sinha was killed in police firing at a checkpoint in Cox's Bazar's Teknaf upazila on July 31, 2020.
Local police said Inspector Liaqat's team had taken over the checkpoint from three APBn officers before the incident.
Sinha was shooting videos for his YouTube channel at Marishbunia village right before he was shot. He had been residing in the area for a month for filming.
The law enforcers claimed they tried to search Sinha's vehicle but Sinha aimed his pistol at them, prompting them to shoot in self-defence.
They also claimed they found drugs in his car.
Witnesses, however, gave a different account of the incident.
They said Sinha got down from his car with his hands over his head, and then the police members shot him.
After the killing, police had filed three cases -- two cases with Teknaf Police Station and one with Ramu Police Station.
Sinha's family termed the incident a murder in cold blood and launched the legal battle seeking justice.
Five days later, Sinha's sister Sharmin filed a murder case accusing Pradeep, Liaqat and seven others.
The cases were handed to Rab for investigation.