Pirganj Hindus: Cowering in fear, still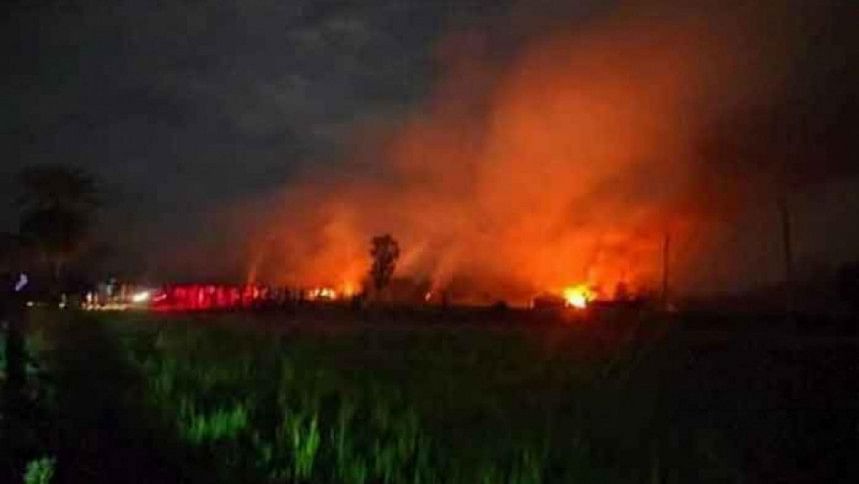 Nando Rani, 30, is still reeling from trauma after what she and her family suffered on the night of October 17.
"My sons, both very little, are still scared of what might happen every time night falls. They keep insisting that we should leave the village… We now know that, being Hindus, we can come under attack anytime, anywhere in the country."
Eight days after the brutal communal attacks in Rangpur's Pirganj upazila, the Hindu community of Boro Karimpur village has yet to overcome the fear of further attacks.
Usha Rani, 60, mother of Jagadish Chandra Das, never witnessed such violence before. She had to rush to a nearby paddy field to hide that night.
"People of all religions had been living in harmony in our village. We always respected each other's faiths and lived peacefully. However, the October 17 incident left us all speechless and traumatised... Even now, I am scared to close my eyes to sleep at night."
Around 180 Hindu families have been living in two neighbourhoods of the village for decades.
Noni Gopal Das said most of the villagers earn their livelihoods by fishing in the nearby Akhira river.
"Fishing is how most of the people feed their families. But now, even eight days since the attack, fishermen are too afraid to get out of home for work."
Sujan Chandra Das ran his own small shop until it was burned down by mobs on the night of the violence.
"All my valuables, including a recently bought refrigerator, were reduced to ashes. Nothing could be salvaged. I don't know when I will be able to restart my shop… I have reached a point where I get scared anytime I see a stranger."
Against this backdrop, the government and many non-government organisations have undertaken initiatives to provide relief and rehabilitate the affected families. Additional law enforcers have also been regularly patrolling the village to ensure security.
Meanwhile, Brac has taken up the task of providing mental health-related services to the villagers.
Speaking to The Daily Star on Thursday, Ashraful Islam, manager of Rangpur Brac, said they identified 36 children of the Hindu community who were severely traumatised after the brutal attack.
"Brac has taken up a month-long programme to help heal the children from mental shock. Besides, a female psychiatric team has already started working at the village."
A total of 25 such psychiatric teams are currently working there.
Nupur Jahan, a member of one of the teams, said the incident left villagers heavily disturbed, especially children and the elderly. Many children had to be gagged by their parents so that they wouldn't make noise while hiding during the attack, leaving them in a state of prolonged trauma.
"It would take time to get rid of the shock."
Suresh Kumar, officer-in-charge of Pirganj Police Station, said all kinds of steps are being taken to ensure the security of the Hindu community.
"Around 64 people involved in the violence, including the mastermind, have been arrested by law enforcers… I urge everyone not to panic."
On October 17, a large number of zealots attacked the Majhipara neighbourhood in Boro Karimpur village and carried out arson attacks, vandalism and looting in at least 21 house, two shops and a temple.