Owner of Dubai's Arav Jewellers is fugitive accused in cop murder case
Shakib Al Hasan set to open the store today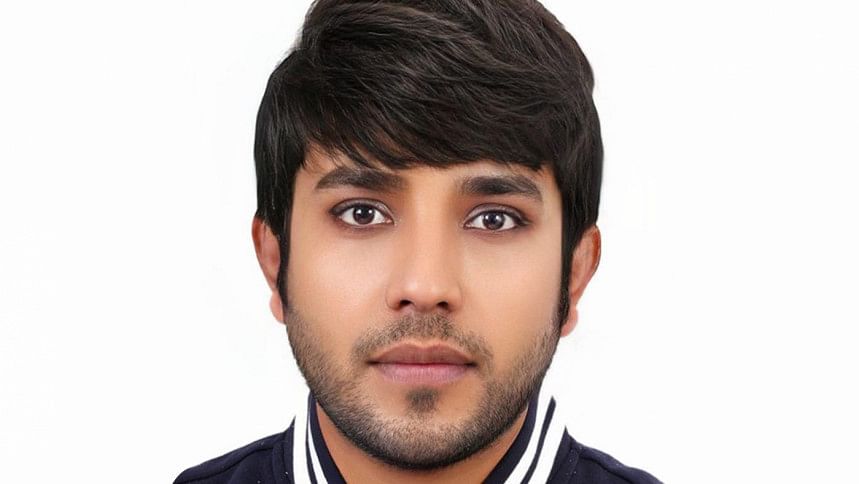 A fugitive accused in the murder of a police official owns Arav Jewellers, which is set to be inaugurated by Bangladesh cricket superstar Shakib Al Hasan in Dubai today.
Arav Khan is an alias of the fugitive accused, Rabiul Islam, Additional Deputy Commissioner of DB (Khilgaon Zone) Shahidur Rahman told The Daily Star.
He is the son of Matiur Rahman Mollah of Ashutia village of Gopalganj's Kotalipara upazila.
Rabiul also goes by the aliases Apan, Sohag, Redoy and Hride, DB sources said.
ADC Shahidur said Detective Branch of police on April 11, 2019 pressed charges against Rabiul and nine others in the murder case of Mamun Emran Khan, the then inspector of special branch of police.
Mamun was killed inside a flat in the capital's Banani on July 7, 2018.
Soon after the murder of the police officer, Rabiul fled to India.
He even hired someone to surrender under his name and address. That man even served jail time for nine months.
In 2020, Rabiul managed to obtain an Indian passport. This newspaper has obtained an unverified copy of his Indian passport, no-U 4985389.
In the Indian passport issued from Kolkata on July 28, 2020, Rabiul's name is mentioned as Arav Khan, son of Jakir Khan and Rehana Bibi Khan. The spouse's name is said to be Sajeema Nasrin.
As per the Indian passport, Arav was born on July 31, 1993 at Nerendrapur, West Bengal. The passport will expire on July 27, 2030.
A man close to Arav Khan confirmed to The Daily Star that they refer to him as Apan Arav and he was born in Kotalipara of Gopalganj. The man also said Arav has been accused in a case in Bangladesh.
Arav now lives in Dubai and the UAE authority issued him a resident permit from October 31, 2021 that will end in October 30 next year. His name came into prominence in recent weeks in the buildup to today's inauguration of Arav Jewellers in Dubai's Gold Souk at 6:00pm local time.
Other than Shakib, who posted a video on Facebook announcing that he would inaugurate Arav Jewellers, a host of other showbiz stars from Bangladesh are supposed to attend the opening.
The Daily Star reached out to Shakib for comment but did not get a reply.
INSPECTOR MAMUN'S MURDER
On July 7, 2018, Inspector Mamun went to a house in Banani following an invitation by one Rahmatullah to attend a birthday party.
A police probe later found Mamun was actually trapped. He was taken inside the flat and the criminals tried to take compromising shots of the inspector. When Mamun revealed his identity, the criminals tied him up, covered his mouth with scotch tape and beat him up mercilessly. At one stage of the torture, Mamun died.
The 10 accused are Rahmat Ullah, Rabiul Islam, his wife Suraiya Akhter Keya, Swapan Sarkar, Didar Pathan, Mizan Sheikh, Atiq Hassan, Sarwar Hossain, Meherunnisa alias Swarna and Faria Binte Maisa.
Mazharul Alam Panna, the chairman of Kotalipara's Hiron union, said he is aware that Rabiul is accused in the case filed over the murder of a police inspector and he is also accused in two other cases.
Police went to the union's Ashutia village in search of Rabiul on various occasions.
Mazharul also said that two and a half months back when he went to Saudi Arabia to perform Umrah, Rabiul called him and met him in Riyadh.
"Rabiul told me that he lives in Dubai where he has a jewellery shop. I did not believe it as they do not have any notable properties in their village home," Panna told The Daily Star.
MAN HIRED TO SURRENDER BEFORE COURT PRETENDING TO BE RABIUL
One Md Abu Yusuf surrendered to a Dhaka court on October 20, 2020 using the identity and address of Rabiul and was sent to jail in the murder case.
Yusuf agreed to do this in exchange for monthly compensation to his family to be paid by Rabiul.
At one stage, Rabiul stopped providing Yusuf's family the monthly compensation and so, Yusuf appealed to the court through his lawyer saying that he is actually Abu Yusuf and not the charge-sheeted murder case accused Rabiul.
The lawyer also told the court that his client Yusuf committed a crime possibly by being allured by money or after being threatened.
The court then tasked DB to investigate the matter and submit a report.
After investigation, DB found that Yusuf is the son of Md Nuruzzaman and Halima Begum of Ainpur in Kachua Police Station in Chandpur.