Nusrat Murder: 3yrs on, family awaits 'final justice'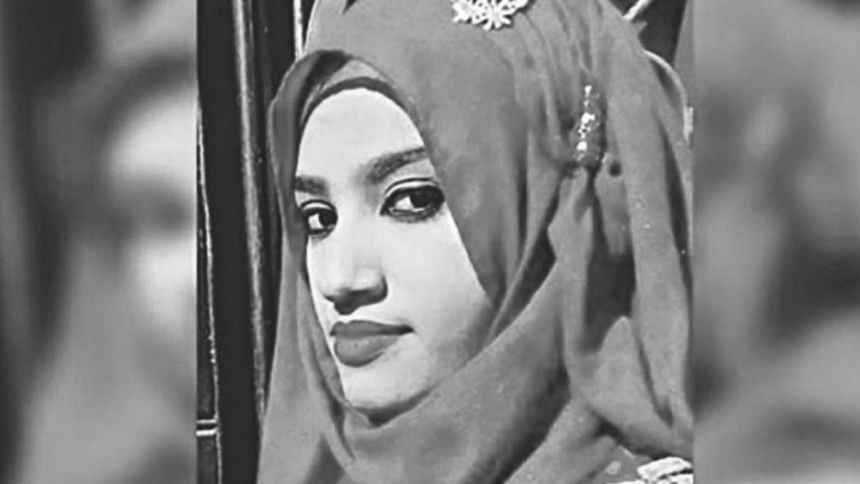 Three years have passed since Nusrat Jahan Rafi, a madrasa student in Feni, was set on fire and killed, but her family's wait for final justice is yet to end due to lengthy legal procedures.
It may take another five years for the final settlement of her murder case at the High Court and then at the Appellate Division, unless the chief justice assigns an HC bench for early hearings on a priority basis, breaking the serial of the hearing of such cases.
The death reference (lower court documents) and the appeals, filed by those convicted in the Nusrat murder case, have been registered with the HC in 2019.
The HC, maintaining its serial, is now hearing and disposing of such documents that were registered in 2018.
Talking the The Daily Star on Friday, the victim's mother Shirin Akter said, "We just want the High Court to hold a hearing and dispose of the case. We are waiting for final justice.
"We are, however, happy that the prime minister and law minister took prompt steps to complete the trial proceedings."
Nusrat's elder brother Mahmudul Hasan Noman said the government has provided police protection to their family for three years since the incident.
"Three police personnel have been giving us security round the clock… But we are [still] indirectly receiving threats from fake Facebook accounts. We request the government to keep the police protection until the case is completely disposed of."
Contacted, Law Minister Anisul Huq on Friday said he will ask the attorney general's office to take necessary steps to hold the hearing of the Nusrat murder case on a priority basis after Eid-ul-Fitr.  
Deputy Attorney General Bashir Ahmed said a HC bench led by Justice Soumendra Sarker was ready to hold hearing in last week of March in 2020 but it could not as its functions were halted due to the pandemic.
The then chief justice Syed Mahmud Hossain had earlier assigned the HC bench led by Justice Soumendra Sarker (now retired) for the hearing and disposal, he said, adding that it is uncertain whether the current chief justice will assign another bench for this.
"It will take at least three months for the HC to conclude the hearing of the case once it [hearing] starts."
On April 6, 2019, Nusrat Jahan Rafi was set on fire by four people under the direction of the then principle of Sonagazi Islamia Fazil Madrasa Siraj ud Daula after she refused to withdraw a rape case filed by her mother against him. The case was filed after Siraj had sexually harassed Nusrat the month before.
After fighting for her life with 80 percent burns on her body, Nusrat died on April 10, 2019.
After PM Sheikh Hasina gave priority to Nusrat's murder case, the lower court concerned had completed trial proceedings in record time.