No trace of man taken away 14 days ago
Plainclothes men, claiming to be from Rab picked him up picked him up from a realtor's office in Uttara; incident caught on CCTV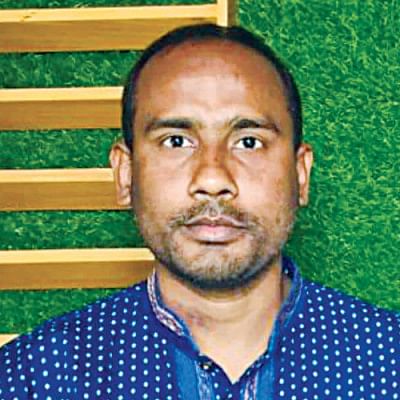 Nurul Afsar Hawladar, a 40-year-old marketing official at a real estate company, was picked up from Uttara by men claiming to be from Rab on September 22.
He was neither handed over to the court, nor has his family found any trace of him in two weeks now.
The footages from four close-circuit cameras placed in the garage of Nurul's office show how he was taken away by a group of around 10 men in plain clothes.
Khairul Khan, deputy managing director of the company, confirmed that the footages were indeed from the office CCTVs.
One of the men in the footages was older, with salt-pepper hair and beard, wearing a muck-green shirt.
Khairul said that man visited his office posing as a client enquiring about flats.
"He did not give a name and only told us that he was interested in real estate in Mirpur. We were talking in my office, when he noticed Nurul and asked if he is 'Nurul Afsar'," he described.
"When Nurul answered in the affirmative, the man said he was actually from the law enforcement agency and that there was a case against Nurul in Banshkhali and he was here to detain him.
"The man did not show any identification, but soon another man wearing a black polo shirt and an ID card, with 'Rab' written on it, sashayed into my office."
In one CCTV footage, the man can be seen entering the office and walking up the stairs at 2:48pm.
It further shows that he has a short beard and slightly long hair, and wore black pants. Another man in a grey polo shirt kept guard under the staircase while others climbed up the stairs.
The man walking up the stairs was accompanied by another in a grey polo shirt.
According to the footage, they were preceded by three more men wearing grey, blue and black chequered shirts.
Footage from another camera, which was facing the gate, shows six men entering the compound around 2:47pm.
Nurul was brought out of the office at 2:55pm, flanked by men in grey polos. The man in the black shirt followed.
There was also another bearded man in a black polo shirt and light blue jeans in the footage.
As Nurul was taken away, footage from 2:56pm shows the older man, who initially identified himself as a client, walking out with Khairul, and another staffer of the real estate office called Tareq.
The man shook Khairul's and Tareq's hands, and bid them farewell before the group left in a grey microbus and a black Pajero.  
"When leaving, he [the man in black] said 'we have been saved from a big misfortune'," said Khairul.
"We asked where Nurul was being taken. We were in turn asked to ask questions at court in a day."
Since then, there has been no trace of Nurul.
Around 8:00pm that day, another team claiming to be from Rab-1, visited the office.
This time they went to collect all the footages and corresponding devices.
"They showed ID cards but did not give us enough time to read the names. [I saw] One card had 'Rab' written on it. They took away our entire security system, saying we would get it back. We have not yet," said Khairul.
Lablu, nephew of Nurul, said his uncle had spent seven years in Malaysia before returning to Bangladesh around one and a half years ago.
"His father, who is my grandfather, had developed Leukaemia. His mother had died when he was abroad, so he did not want to take a risk this time [and came back to the country]."
Nurul's family lives in Satkhira's Ashashuni and he is unmarried.
The family said they visited the Turag Police Station on September 26 to file a case, but was told by the duty officer that they could not do so because he was picked up by men identifying themselves as law enforcers.
"The duty officers said Nurul must have been taken for some investigation and will be returned once that is done."
Khandaker Al Moin, media wing director of Rab, said that no one by the name of Nurul Afsar was taken into custody to his knowledge.
Nurul's brother Abul Kashem Hawladar, in a statement to journalists in Satkhira, said, "If he [Nurul] has committed any crime, arrest him according to the law. Do not force him into disappearance."
In a similar incident, one Dilwar Hossain was picked up from Bosila on September 19 and shown arrested on September 27. He was then charged with terrorism.