9 years of Tazreen tragedy: Victims don't believe justice will ever be done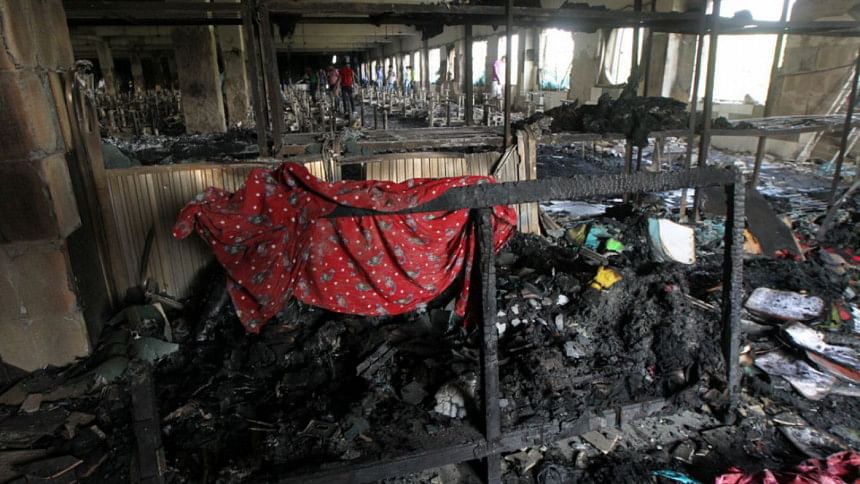 Trial proceedings of a lawsuit over Tazreen Fashions fire made no significant progress in six years as prosecutors kept failing to bring witnesses to court.
A fire at the garment factory on November 24, 2012, left 112 workers dead and many others injured. The case was filed with Ashulia Police Station the next day.
Only nine out of 104 prosecution witnesses testified at the court since the trial started six years ago.
The last witness to testify was garment worker Jarina Begum who appeared before the court on January 13 this year, said a prosecutor.
The witnesses ignored repeated summons as well as "non-bailable" arrest warrants, he added.
On October 28 this year, the First Additional District and Sessions Judge's Court of Dhaka issued non-bailable arrest warrants for seven absentee witnesses for failing to comply with multiple court orders.
The witnesses are: Chaina Begum, Mosammat Parvin, Morsheda, Shamoly Akter, Arfuza, Ale Nur and Ramesha Begum.
The court also directed the authorities concerned to bring the absentee witnesses before it on January 18, 2022, when the next hearing on the case will be held.
Police did not implement the court's orders, Assistant Public Prosecutor Rehena Akter told The Daily Star, adding, "Most of the witnesses are not coming to the court because of safety concerns as the accused are influential people."
On December 22, 2013, AKM Mohsin Uzzaman Khan, an Inspector of Criminal Investigation Department of police, pressed charges against Tazreen Fashions owner Delwar Hossain, his wife Mahmuda Akhter, and employees Abdur Razzak, Shahiduzzaman Dulal, Mobarak Hossain Monju, Dulal Uddin, Mahbubul Morshed, Hamidul Islam, Md Al Amin, Al Amin, Anisur Rahman, Md Rana, and Shamim Mia.
The court framed charges against them on September 13, 2015. Of the 13 accused, Monju, Rana, Al Amin, and Shamim are on the run. Dulal is in jail and the rest are on bail.
Labour rights campaigners and legal experts say the accused have managed to evade justice due to lengthy legal process and the culture of impunity.
Talking to The Daily Star yesterday, Supreme Court lawyer Jyotirmoy Barua said, "The trial in such cases usually gets delayed as the prosecutors and police fail to bring witnesses before the court in time.
"Sometimes such cases are not properly investigated because the accused are influential and rich. Besides, witnesses, being influenced by the accused, do not appear before the court to testify."
VICTIMS' FRUSTRATION
Mosammat Yeasmin is losing hope of ever getting justice. A survivor of Tazreen Fashions fire, she feels forgotten.
"A long time has passed. I do not believe we will ever get justice," said Yeasmin, who was a sewing machine operator at the factory.
Yeasmin's frustration is shared by many other victims.
Hasan Mia Akash was a line supervisor at the factory. He suffered severe injuries to his spine, head, and arms. He cannot work because of his injuries.
"I don't think our lives will ever be the same again. Justice could be the only solace, but we don't know how many years we have to wait for that," said Akash.