Narayanganj 7-murder accused Nur Hossain gets life term in arms case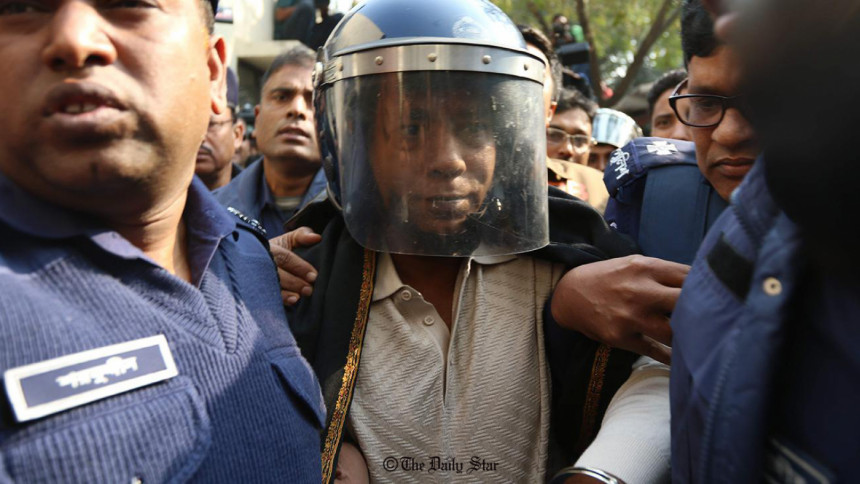 A Narayanganj court has sentenced Nur Hossain – prime accused in the sensational seven-murder case – to life term imprisonment in an arms case at Siddhirganj in Narayanganj.
Judge Sabina Yasmin of Narayanganj's Additional District and Sessions Judge's Court-2 delivered the verdict around noon today (August 4, 2022).
Nur Hossain was produced before the court, our local correspondent reports.
Additional Public Prosecutor Salah Uddin Sweet said, "In the case filed under the Arms Act 2014, four witnesses gave testimony against accused Nur Hossain."
As the charges were proven, the court sentenced Nur to life term imprisonment.
However, the court also recorded statements of one prosecution witness in two other cases filed under Arms Act and Narcotics Control Act today and set September 29 for the next hearing in the two cases.
Narayanganj Court Police Inspector Asaduzzaman told our correspondent that on May 14, 2014, a foreign pistol, eight bullets and eight cartridges were seized from Nur's house in Siddhirganj.
The next day, the police filed the cases with Siddhirganj Police Station accusing Nur, the police official said.
At least three cases under the arms act were filed against Nur. With the verdict today, judgements in two cases were announced against him, he added.
He also said, "Around 9 am, Nur was brought to Narayanganj from Kashimpur jail in Dhaka's Keraniganj amid tight security. After the court appearance, he was sent back to Dhaka around 12:30 pm."