Nahid murder: Another student arrested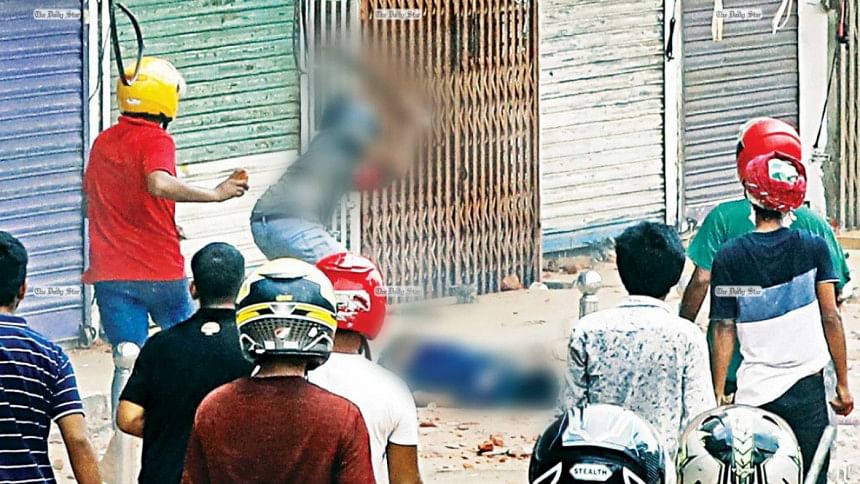 Rab on Wednesday night arrested a Dhaka College student on charges of attacking Nahid Mia who was beaten and hacked to death during last month's clash between students and shopkeepers of New Market.
The force also arrested two former employees of Welcome Fast Food for their involvement in the clash.
Mahmudul Hasan Siyam, 21, a third-year student, is the sixth suspect to be arrested in connection with the murder of the delivery person.
Siyam was arrested in Shariatpur, Rab Director (legal and media) Khandaker Al Moin told a press conference yesterday.
Fast food shop employees Mehedi Hasan Bappi, 21, and Moazzam Hossain Sajeeb, 23, were arrested in Cox's Bazar, he said, adding that they cut their hair to deceive cops and were looking for jobs at hotels in the beach town.
Moin said in a CCTV camera footage from April 19, Siyam was seen hitting Nahid with an iron rod after the latter fell to the ground.
Law enforcers are also looking for Emon who was seen hacking the delivery person with a sharp weapon.
On April 18 night, employees of Welcome Fast Food and Capital Fast Food in New Market engaged in a brawl that eventually led to pitched battles the following day, leaving two men dead and many others injured.
The other person who died in the clash was Morsalin. The Rab director yesterday said officers did not find any footage of the incident and were trying to identify the killers.
Nahid was attacked in front of Nur Jahan Super Market. Video footage of the incident went viral on social media. Journalists of The Daily Star present near the scene, also took photos of the gruesome attack.
Five cases, including two for the murders, were filed later.
In one of the cases, police accused 24 individuals, mostly leaders of the BNP and its affiliated bodies.
Besides, over 1,700 unnamed people were accused in the five cases.
Detectives earlier arrested five Dhaka College students involved in Bangladesh Chhatra League in connection with the murder of Nahid.
Replying to a question, the Rab director said officers were trying to identify those who attacked journalists and an ambulance carrying a patient.