Missing Khulna woman 'found dead' in M'singh
Her daughter identifies the body; DNA test to be carried out for confirmation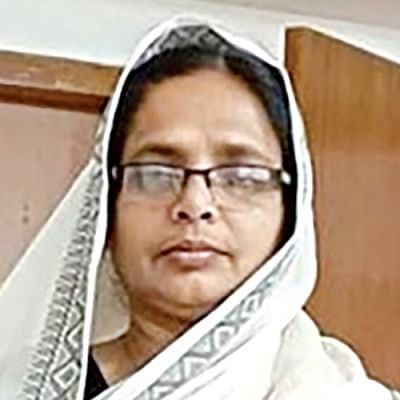 A college student from Khulna, who has been desperately looking for her mother for almost a month, said the body of an unidentified woman buried in Mymensingh recently was her mother's.
Tejgaon College student Moriom Mannan's mother Rahima Begum, 55, went missing from Daulatpur area of Khulna on August 27. She chronicled the harrowing journey of her search for her mother in Facebook posts that reached thousands of people over the last couple of weeks.
After hearing that police in Phulpur, Mymensingh, arranged the burial of an unidentified woman on September 10, she contacted the officer-in-charge of Phulpur Police Station, Abdullah Al Mamun.
When she saw photos of the decomposing body sent to her by police, Moriom told officers that she believed that this was her mother because the facial features and the clothes matched.
Moriom travelled to Phulpur with her two sisters and a sister-in-law, looked at the clothes in person and told reporters yesterday that she was sure that the unidentified woman was her mother.
However, OC Abdullah Al Mamun said it seemed that the body was of a woman aged around 30, and Moriom's mother was much older.
He added that a DNA test would probably be able to confirm the identity.
"After seeing the clothes, photos, and hearing a description of the body, Moriom claimed it was her mother's body," he said.
"Moriom filed an application for a DNA test. Her petition will be produced before a court on Sunday. If the court gives permission, DNA samples will be sent to Dhaka for matching."
Moriom also talked to the individuals who found the unidentified body, and those who had buried it.
"I am sure the body is my mother's. A child does not need proof to recognise her mother's hair, forehead, eyes and hands. Who will recognise her if I can't? If these are not enough, we are eager to go through the legal procedure," she told reporters.
Rahima Begum has been missing since she left home to bring water from a hand pump adjacent to her home in Banikpara area of Khulna city around 10:00pm on August 27.
Her husband later went downstairs and found her sandals, a scarf and the water pot.
Moriom's sister Adari Akhter filed a case with Daulatpur Police Station accusing several persons.
On September 14, a Khulna court ordered the PBI to investigate the case.
Contacted, PBI Superintendent of Police Syed Mushfiqur Rahman said, "Police and Rab have arrested six suspects so far. A  remand prayer will be heard in the court."
Family members said Moriom's mother Rahima often received death threats from some of her neighbours whom she had sued in 2019 over a land dispute.
Last year, the accused neighbours assaulted Rahima and vandalised her house following which she filed another case against the neighbours.
Her house in Banikpara area of Khulna city is a squalid two-storey building on an eight-katha plot.
Monir Hawladar, a tenant, said Rahima had not lived there after she was assaulted and only occasionally visited the property.
"She came to the house a day before she went missing. I was in my room and did not hear anything," he added.
Nazrul Islam, OC of Daulatpur Police Station, said law enforcers arrested Rahima's husband Belal Howladar and neighbours Golam Kibria, Mohiuddin, Palash, Jewel and Helal Sharif in the disappearance case.
[Our correspondents in Khulna and Mymensingh contributed to the report]