Militancy in Two Decades: Poverty, blind faith at play
Anti-Terrorism Unit finds most religious extremists from north due to socioeconomic condition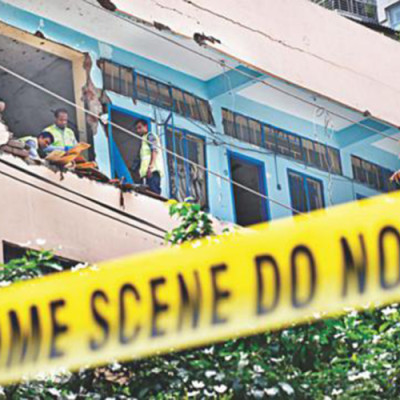 Eight out of every 10 militants, arrested in about the last two decades, were from the northern districts and dragged into militancy by their poor socioeconomic status and religious bigotry, reveals a police study.
The report, prepared by Anti-Terrorism Unit (ATU), a police unit dedicated to combat militancy, finds that 80 percent of militants are from general education background while the rest from madrasas.
The study, first of its kind in Bangladesh, has detailed information on the rise and spread of militancy, age of militants, their income group and how they got into militancy. It has also made some observations and recommendations.
According to the study, the highest number of militants are from the age group of 31-40. Militant outfits recruit a significant number of their operatives by "misinterpreting religion" and using online platforms.
Formed in 2017 as the lead coordinating, operating and investigating body to fight extremism, ATU prepared the report analysing data on 1,217 militants, arrested in connection with terrorism related cases filed between 2001 and 2020 in three metropolitan cities and eight divisions.
They are members of Harkat-ul-Jihad Al Islami Bangladesh (Huji-B), Jama'atul Mujahideen Bangladesh (JMB), Hizb ut Tahrir (HuT), Ansarullah Bangla Team (ABT), Ansar Al Islam, Allahr Dal, Neo-JMB and other outfits, said the report. The Daily Star has obtained a copy of it.
"The key reasons behind the involvement of such a big number of people from the northern region in militancy is that they are lagging behind economically compared to people living in other parts of the country," said the study.
Extremism flourished in the North due to religious bigotry derived from blind religious faith, presence of many madrasas run by followers of Ahale Hadith and emergence of JMB in the char areas of the Jamuna river in different districts, it added.
"Farmers and people from different professions like honey traders, small book shop owners, masons, carpenters and paddy harvesting labourers were motivated to join militancy through misinterpreting religion, taking the opportunity of their poverty and convincing them that they should take revenge for the torture on Muslims across the world," the study said.
Omar Faruk, professor at the Department of Criminology and Police Science at Mawlana Bhashani Science and Technology University, said the country's northern region is a "breeding ground" for militants due to its socio-economic, and geographic conditions and religious beliefs of locals.
"The patrons of militancy invest in needy people of the region and their religious spirits are lifted to the highest level negatively so that they can act as militants against the state," he told The Daily Star.
As many people from the area have strong attachment to religion, it is easy to lead them astray, Faruk said.
"They are getting financial support for their families and also feeling satisfied that they are doing it for earthly life as well as for the afterlife. So, they are taking the risk," he said.
ATU Superintendent of Police (media and awareness) Mohammad Aslam Khan said they carried out the study as there is no comprehensive research on militancy in Bangladesh.
"A complete knowledge on militants will help us combat militancy more effectively. Besides, it will help the government take up necessary anti-militancy measures," he told The Daily Star on October 25.
The ATU report said a total of 1,945 cases were filed against 9,172 militants during the 20 years. Of them, 38 percent are JMB members, 23 percent Neo-JMB, 16 percent HuT, and five percent each Huji and ABT members.
It said 301 people were killed and 1,431 wounded in 180 violence, and attacks by militants and drives by law enforcers during the same period.
The research found that among the 1,217 accused militants studied, 81 percent were from Rajshahi and Rangpur divisions followed by 12 percent from Mymensingh and Sylhet divisions. The rest seven percent were from Dhaka, Chattogram, Khulna and Barishal divisions.
Nearly half (45 percent) of the militants belong to low income families. Having inadequate education, many of them joined militancy to earn a livelihood after being influenced by misinterpretation of religion, the report said.
Involvement of people from high- and middle income families in militancy are also evident since the Holey Artisan terrorist attack in 2016, it added.
The report stated that 45 percent of the militants came from low income families, 23 percent from lower middle income, 28 percent from middle income, two percent from higher middle income and one percent from higher income families.
The study said the highest number of people were drawn into militancy through misinterpretation of religion by extremists while the second highest number through online.
It found that 17 percent militants were farmers, 14 percent small traders, 13 percent labourers, 12 percent students, two percent imam or muezzin, four percent teachers and three percent madrasa teachers.
RISE, SPREAD OF MILITANCY
Militant activities first started in Bangladesh in the 1990s with the founding of Huji-B in 1992 by returnees from Afghan war against the then Soviet Union through a press conference at the Jatiya Press Club, said the ATU report.
The militant outfit grabbed the spotlight through an attempted bomb attack at a rally venue of the then prime minister Sheikh Hasina in Tungipara in 2000 and carrying out the attack at Ramna Batamul in 2001 that killed at least 10 people.
The report said though militant activities in Bangladesh was begun by Huji, it was intensified by Jagrata Muslim Janata Bangladesh (JMJB), later renamed JMB.
Under the leadership of Shaikh Abdur Rahman, JMJB/ JMB started to emerge in the char areas of the Jamuna river in the districts of Jamalpur (birthplace of JMB supremo Shaikh Abdur Rahman), Bogura (birthplace of JMB second-in-command Siddiqul Islam alias Bangla Bhai) and Gaibandha with the participation of some ideologues of Ahale Hadith in 1998-99.
The activities then spread to almost all northern districts, including Chapainawabganj, Natore, Naogaon, Rajshahi, Pabna, Joypurhat, Dinajpur, Rangpur, Kurigram and Panchagarh.
Later, along with JMB, activities of other militant outfits like Neo JMB, Huji,B, ABT and Allahr Dal spread in the areas, the report said.
The JMB grabbed the spotlight through countrywide bombing in 2005 and carrying out attacks on cinemas and judges. Some 230 cases were filed and 1,438 JMB operatives were arrested following the near-simultaneous bombing in 63 districts on August 17 that year.
The report further said in 2010 the activities of HuT increased while Qawmi madrasa teachers and students got organised under the banner of Hefajat-e-Islami to resist Shahbagh-based Online Activists' Forum in 2013. The ABT then started killing bloggers one after another.
In 2015, a section of JMB leaders and operatives broke away from the outfit and formed Neo-JMB which drew global attention in 2016 by carrying out deadly attacks, including at Holey Artisan Bakery, Sholakia Eidgah and on foreign nationals. Its activities are still going on, the report said.
In 2017, the JMB, Neo-JMB and ABT were active in targeted killings, it added.
The following year, the visible activities of JMB and other militant outfits reduced due to a tough stance by law enforcers, but they continued their activities secretly and on online platforms from underground, the report said.
RECOMMENDATIONS
The ATU made 15 recommendations on tackling militancy. It suggested stepping up watch on fugitives and militants gone into hiding after securing bail from courts and bringing them to book, keeping constant watch on militants now on bail and also on those behind bars.
The report recommended keeping a constant watch on the activities of militants hiding abroad as they are continuing their activities using fake Facebook IDs. Besides, measures should be taken and cyber intelligence should be enhanced so that Islamic preachers cannot spread extremism through online and different YouTube channels.
It said the authorities concerned should hold regular coordination and views-exchange meetings of intelligence agencies and other stakeholders, develop a comprehensive database on militants, destroy the militants' financing network and step up vigilance on Rohingyas.
The study further suggested strengthening counter radicalisation and de-radicalisation activities, ensuring assistance and security of militants trying to get back to normal life, keeping a watch on people who travel to or stay in the Middle East, particularly in IS infested areas.
It said the authorities should organise regular sermons by imams about the difference between Jihad and extremism, create awareness against militancy among students through holding seminars, debate programmes and distributing leaflets in schools, colleges, universities and madrasas, carry out publicity campaigns about Islam as a religion of peace and publish anti-militancy posts on social media.