Masterminds of Hussaini Dalan blasts: IO's negligence kept them beyond law
Two sentenced to different jail terms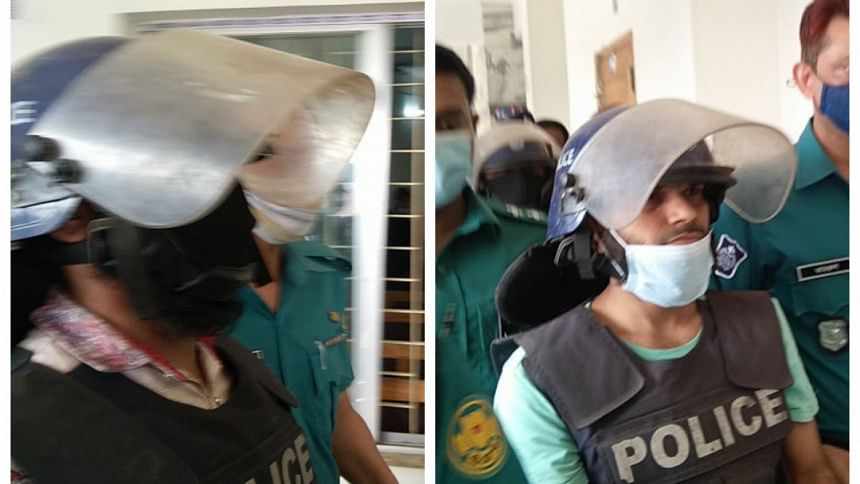 The masterminds behind the 2015 Hussaini Dalan blasts had remained beyond the law due to the investigator's utter negligence, said a Dhaka court.
Judge Md Majibur Rahman of the Anti-Terrorism Special Tribunal of Dhaka yesterday rebuked Investigation Officer Mohammad Shafi Uddin Sheikh while delivering a verdict on eight members of banned militant outfit Jama'atul Mujahideen Bangladesh over the blasts.
The tribunal sentenced Mohammad Arman to 10 years in prison and Kabir Hossain to seven years after the charges against them were proven.
They were also fined Tk 10,000 each, in default on which they will have to serve six months more in jail.
The tribunal acquitted six other accused -- Abu Sayeed, Rubel Islam, Chan Miah, Omar Faruk, Ahsan Ullah Mahmud and Shahjalal Miah -- as the prosecution failed to produce any evidence to prove the charges against them.
On October 24, 2015, two people were killed and 115 others injured in multiple bomb explosions at the Shia Muslim community's headquarters -- Hussaini Dalan -- in the old part of Dhaka city.
In the verdict yesterday, Judge Majibur Rahman observed that the IO made serious mistakes during investigation and utterly neglected his responsibilities.
The IO did not explain in his report how Chan Miah, Omar Faruk, Ahsan Ullah Mahmud and Shahjalal Miah had links to the blasts, he said.
"Only to increase the number of the accused, the investigator included their names in the charge sheet, for which they endured physical, financial and mental sufferings," the judge observed.
The investigator did not press any charges against two -- Albani and Noman -- even though they masterminded the attack, he added.
According to the judgement, the IO stated in the charge sheet that Hiron, Albani and Alauddin were killed in gunfights, which is why he did not press charges against them. He did not mention how he came to know the trio were killed. Moreover, he did not submit any documents in favour of his statement nor did he provide any explanation as to why Noman was not included in the charge sheet.
The judge said Kabir Hossain was convicted as he held meetings with others to plan the attack and recced the area before launching it. Arman was jailed as he gave shelter to the attackers.
Jalal Uddin, a sub-inspector of Chawkbazar Police Station, filed a case against some unidentified people under the Anti-Terrorism Act a day after the blasts.
On October 16, 2016, Mohammad Shafi Uddin Sheikh, an inspector of Detective Branch of Police, submitted a charge sheet against 10 people, including two juveniles, to Dhaka's Chief Metropolitan Magistrate's Court.
According to the case documents, Kabir, Arman and Zahid confessed to their involvement in the attack.
On May 31, 2017, a Dhaka court framed charges against eight accused in the case.