Mahi out on bail hours after arrest
Detention of the actress in DSA case sparks criticism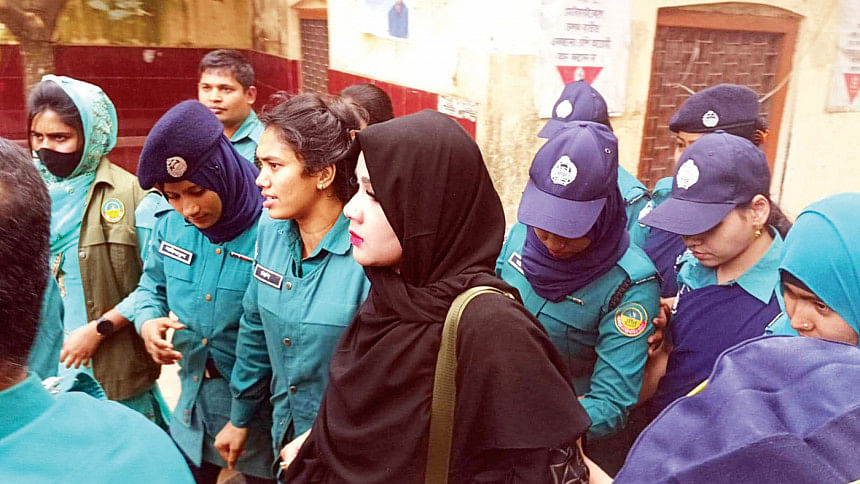 Actress Mahiya Mahi was released from jail yesterday, around six hours after she was arrested in a case filed under the Digital Security Act.
Gazipur Metropolitan Magistrate Md Iqbal Hossain granted her bail in two cases around 5:00pm.
The second case was filed against her over the alleged extortion and assault of a businessman.
Mahi, who is nine-month pregnant, was arrested at Hazrat Shahjalal International Airport around 11:45am after she landed in Dhaka from Saudi Arabia, where she and her husband Rakib Sarkar had gone to perform Umrah.
Her husband did not return with her, and she was taken into police custody.
This triggered widespread criticism from the entertainment industry with celebrities coming forward to condemn the arrest.
Around 4:45pm, Mahi's lawyer appeared before the magistrate's court and appealed for her bail citing her pregnancy as the reason.
"We pointed out two issues before the court. Firstly, she is pregnant and secondly, she is respectful to the law. She had been abroad when a case was filed against her. She could have stayed there, but she didn't. This proves that our client respects the law," said lawyer Anwar Sadat Sarker.
Considering the plea, the court granted bail to Mahi, he added.
The actress walked out ofGazipur District Jail around 7:45pm.
On Friday night, Rokon Mia, a sub-inspector of Bason Police Station in Gazipur, filed the DSA case against Mahi and her husband over "tarnishing the image of the police by making derogatory comments" on Facebook.
According to the case statement, the couple on Friday morning went live on the social media platform saying that a group of criminals attacked and vandalised their car showroom in Gazipur.
The couple also alleged that Gazipur Metropolitan Police (GMP) took bribes from the attackers and sided with them.
Local businessman Ismail Hossain, who had a rivalry with Mahi's husband Rakib, filed another case on Friday night against the couple and 26 others on charges of assault, vandalism, and land grabbing in Gazipur.
Speaking at a press conference on Friday afternoon, he alleged that Rakib had set up his car showroom by occupying Ismail's land.
Meanwhile, GMP Commissioner Molla Nazrul claimed the allegation brought against him by Mahi and Rakib was false during a press conference he held yesterday.
CELEBRITIES REACT
Popular actress Pori Moni wrote on Facebook, "Who will take the responsibility for Mahi's physical and mental health? She is nine-month pregnant! Don't you all have conscience? Please stop using the law in this way."
Jaya Ahsan, another leading actress, wrote, "Although she is a popular face in the country,  she is under the purview of the law like all other citizens. However, this must be taken into special consideration that she is now nine-month pregnant. Let the allegations brought against her be properly investigated, but that should be done keeping her health in mind."
Famed TV director Shihab Shaheen said that this was just a way to divert the attention from the Arav Khan issue. "I strongly condemn Mahi'sarrest."
Meher Afroz Shaon, another renowned actress, wrote a long post on her Facebook page. "The photos of Mahi being arrested from the airport have gone viral on social media. Words cannot explain the taste of those people who commented under those photos.[However, there is no law to protect celebrities from derogatory comments and false allegations]."
Sharing her thoughts on social media, actress Tama Mirza said: "Is Mahiya Mahi such a big criminal that she needed to be arrested from the airport even though she is pregnant?"
On their Facebook profiles, director Ashfaque Nipun and Redoan Rony, chief operating officer of Chorki, said that the DSA must be repealed immediately.
Felt like a 'war criminal'
Following her release, Mahi said that she was not a criminal and she only spoke out against injustice.
She made the remark during a press conference at her husband's automobile showroom -- Sony Raj Car Centre in Gazipur.
She went on to say that she felt like "a war criminal" when the entire airport was evacuated to arrest her.
Mahi also claimed that she was subject to abuse as she was being taken to jail.
"When I was being taken to jail I was having breathing difficulties and asked for some water. It took them an hour to get me water. They did not show me the least consideration I deserved…," she said.
Mahi further said she was not given any opportunity to defend herself in court.
Expressing concern over her husband's security, she said, "They did not show me any consideration even though I'm pregnant. Now, I'm worried about what they will do to my husband when he gets back."
She added that she has respect for the country's law and wants to face it, expressing hope that justice would prevail.
Mahi clarified that she did not speak against the police, stating that she has met many police officers in her life and has always found them to be respectful and honest.
"I have seen the police chief up close and I have spoken to the chiefs of various forces. They are all very nice, they know how to respect people, and they are very honest.
"I have only spoken against one person who is [GMP Commissioner] Molla Nazrul. I didn't speak against the police administration," she said.