Key leader of new militant outfit held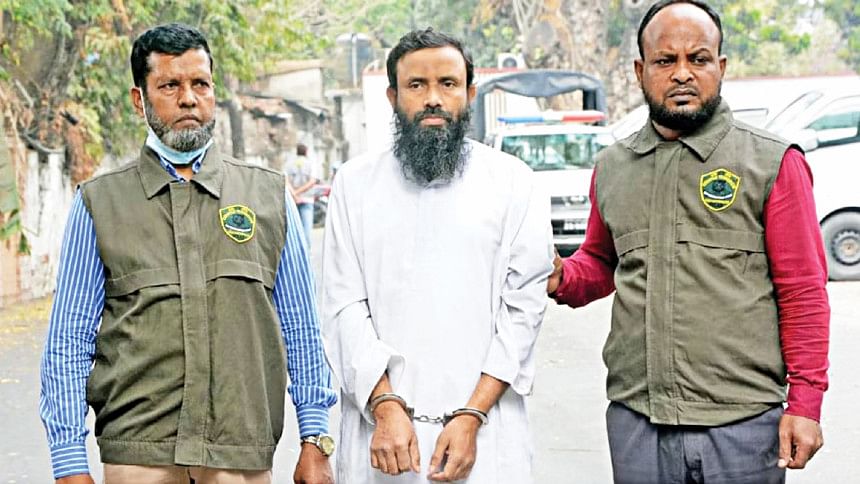 The Counter Terrorism and Transnational Crime unit of police claimed to have arrested Mohibullah alias "Bhola'r Shaikh (Shaikh of Bhola)", 48, the spiritual leader of the new militant outfit Jama'atul Ansar Fil Hindal Sharqiya.
He was the nayeb-e-amir of the organisation, said Md Asaduzzaman, chief of DMP's CTTC unit.
The CTTC members arrested Mohibullah in Sayedabad area on Tuesday and seized two mobile phones and a laptop.
Mohibullah, a former member of the banned militant outfit Harkat-ul-Jihad-al Islami Bangladesh (Huji-B), founded the new outfit in 2017, at the advice of imprisoned Huji leader Abu Sayeed alias Dr Zafar.
Abu Sayeed is a death row convict in the August 21 grenade attack case.
Mohibullah studied at a madrasa in Chattogram's Hathazari and was closely associated with Huji. He completed Dawra-e-Hadith, an intensive education programme which completely focuses on Islamic jurisprudence based on the Quran and the Hadith.
"While he was a student at the madrasa, he took training. He also visited different madrasas in Hathazari and surrounding areas with the then Huji leader Abdur Rouf (currently in prison) and delivered lectures...," the CTTC chief told a press briefing at the DMP's media centre yesterday.
Asaduzzaman, who is also the DMP's additional commissioner, said Mohibullah attended a training camp in the remote hills of Bandarban in January last year and was named the organisation's Nayeb-e-Amir.
He moved to Dhaka after some of the top leaders of the outfit, including Dr Shakir Bin Wali, were arrested.
Mohibullah used to motivate youths on joining them.
Replying to a query, the CTTC chief said militant organisations tend to target the time surrounding the national elections as the law enforcers' focus shift to election-related tasks.
However, there will be no scope for militants to accelerate their activities during the upcoming national election as the police now have a specialised unit to deal with the militants, Asaduzzaman added.
Though the new outfit has been active since 2017 and secretly recruiting members, its activities came to light after seven youths from Cumilla left their homes in August last year.
The Rapid Action Battalion, which has already arrested dozens of members of the outfit, including some top leaders, said 55 members of the outfit have taken training in the camps of Kuki-Chin National Front (KNF), an armed group in the CHT, in the remote hills of Bandarban.