Journo Nadim murder: UP chairman Babu placed on 5-day remand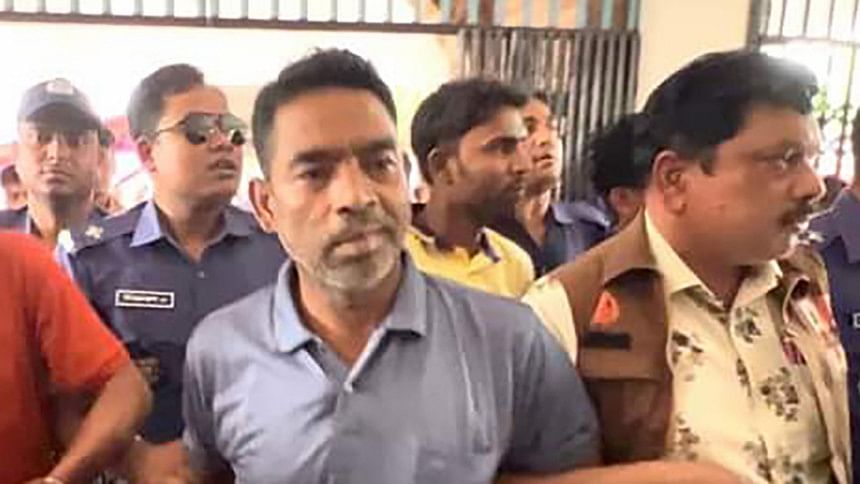 A Jamalpur court today placed UP Chairman Mahmudul Alam Babu, mastermind of the murder of journalist Golam Rabbani Nadim, on a five-day remand in the murder case.
Two other accused of the murder -- Rezaul Karim and Moniruzzaman Monir alias Monirul -- were put on four-day remand, while another accused Zakirul Islam was placed on three-day remand, reports our Jamalpur correspondent quoting a lawyer.
Jamalpur Senior Judicial Magistrate Tanvir Ahmed passed the order after police produced the four accused before the court with seven-day remand prayer for each, said the plaintiff's lawyer Md Yusuf Ali while talking to reporters.
Rab detained Babu, 50, and two of his associates -- Monirul, 35, and Zakirul, 31, -- from Chilahati union in Panchagarh's Debiganj upazila yesterday morning.
Babu, who was the general secretary of the union's Awami League in Bakshiganj upazila, was suspended from the party yesterday.
In the afternoon, another Rab team picked up Rezaul Karim, 26, from Dupchanchia upazila of Bogura.
Yesterday, Rab in a press briefing held in Dhaka said UP chairman Babu masterminded the murder of journalist Nadim because of a personal vendetta against him over news reports.
According to the Rab, 10-12 people took part in the attack on Nadim, Jamalpur district correspondent of Banglanews24.com and also the Bakshiganj upazila correspondent of Ekattor TV.
Nadim, 42, was on his way back home in Pathati area of Bakshiganj Bazar around 10:00pm on Wednesday. Babu and his goons ambushed him at a quiet place.
When Nadim along with his colleague reached there on a motorcycle, Rezaul pushed the journalist off the bike and Monir hit him first.
The incident was caught on a nearby CCTV camera.
Later, some of Babu's men came running from behind, dragged the journalist to an alley and started beating him.
The attackers also beat up Nadim's colleague when he tried to save the journo. As some locals came forward hearing Nadim screaming, Babu and his men fled.
The journalist died of his wounds at Mymensingh Medical College Hospital on Thursday.
The Rab last night handed over the accused to police.
Yesterday, Nadim's wife Monira Begum filed a case with Bakshiganj Police Station against 22 named and 20-25 unnamed persons. Babu was named as the main accused in the case.