It's unlawful, a violation of human rights
Say rights activists on cuffing and fettering man during his mother's janaza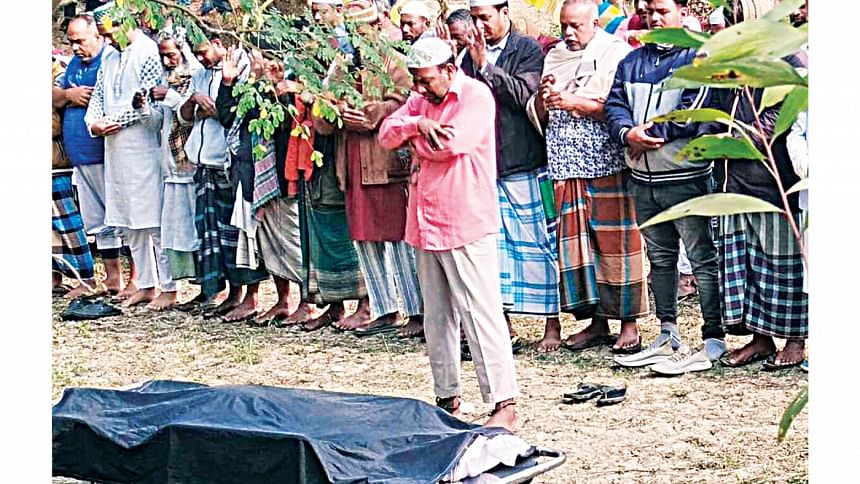 The incident where an accused BNP leader was seen cuffed and fettered during his mother's namaz-e-janaza in Gazipur has touched off outrage among rights activists and citizens.
Rights bodies have termed it a violation of human rights and a punishable offence.
The accused, Ali Azam, president of BNP's Boali union unit under Gazipur's Kaliakoir upazila, has been behind bars for the past three weeks in a case filed by ruling AL men under the Explosive Substances Act. 
Rights activists, locals and Azam's relatives said police should have freed him at least for a few minutes for the janaza on humanitarian grounds.
Azam's mother died on December 18 due to old-age complications.
Around 9:00am on December 20, he was released on parole for three hours to attend the janaza, which was held on a field adjacent to his Pabriachala village home.
But he was bound by cuffs and fetters during the entire period.
A photo of the incident went viral on social media and provoked criticism.
Eminent lawyer ZI Khan Panna said, "Azam isn't a convict. It's completely illegal to bind him like this. Those who did it should be punished and the jail authorities in charge during the time shouldn't be reinstated to their posts."
He even termed the incident "a kind of torture".
Rights activist Nur Khan said, "This was inhumane. The existing laws don't allow this. Those who have done this should be held accountable … I believe it was a punishable offence."
Rights body Ain o Salish Kendra, in a statement yesterday, strongly condemned the incident, terming it a violation of human rights.
As per the constitution, no one can be dealt with such brutality and inhuman attitude in the name of a trial, the statement read, adding that those who were behind it also violated a 2017 High Court directive regarding binding an inmate with cuffs and fetters, the statement read.
Shahjahan Miah, president of the Kaliakoir chapter of rights body Bangladesh Manobadhikar Bastobayon Sangstha, said, "From a humanitarian perspective, this incident was odd. As far as I know, Azam isn't a listed criminal. He was accused in a case on political grounds. Police could've freed him for the namaz-e-janaza."
Azam's brother Ataur Rahman said, "Everyone at the janaza requested police to free him just for a few minutes, but they refused."
Adding to that, Parvez Ahmed, general secretary of Kaliakoir BNP, said, "The inhumanity of the incident was shocking."
However, Gazipur jail super Mohammad Bazlur Rashid said police acted as per the law.
"According to the the Jail Code, any accused must be bound with handcuffs and fetters even if they are released for a while on parole. At the janaza, at least nine policemen were guarding Azam," he told The Daily Star.
Gazipur's Deputy Commissioner Anisur Rahman said, "The police are responsible to ensure security to all and the law enforcers acted as per the Jail Code."
The district's superintendent of police said, "It is not the police's job to cuff any inmate. We will return the accused [on parole] in the manner we received them from jail."
On November 29, a case was filed in connection with an explosion at a local AL office in Kaliakoir's Chandra intersection.
Abdul Mannan Sheikh, a staffer of the office, filed the case with a local police station, accusing 11 named people, including Azam, and some 150 unnamed people, under the Explosive Substances Act.
Police arrested Azam on December 2.