International Day Against Drug Abuse, Illicit Trafficking: Danger of drugs ever-present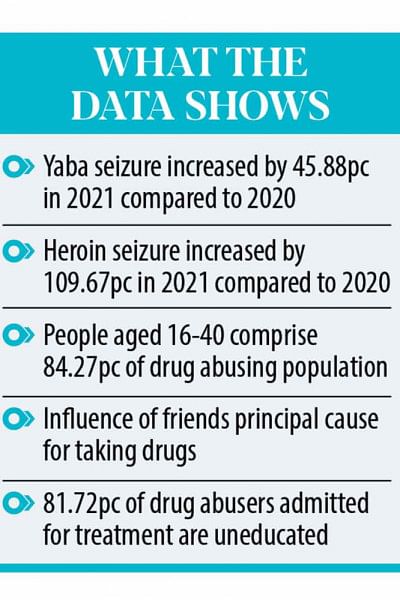 Despite tough vigilance and special drives by law enforcers, narcotics, especially yaba, smuggling increased in 2021, when compared with the previous year.
According to the annual report of the Department of Narcotics Control  (DNC), the amount of yaba seized, which is smuggled into the country  from Myanmar, increased by 45.88 percent in 2021, when compared with  data of the previous year.
A similar scenario has been witnessed  in regards to heroin and cannabis, which mainly enter from India. The  amount of heroin seized by law enforcers increased by 109.67 percent in the same  timeline, the report reads.
Only eight to 10 percent of total smuggled narcotics can be seized by law enforcers, and 90 percent flood the market. Usually when smuggling increases so do seizures, according to officials and expert.
Adoption of new techniques by smugglers, use of the dark web, and absence of enforcement agencies' access to technology and accountability are blamed as reasons behind the increase, they said. DNC will launch the report today marking "International Day Against Drug Abuse and Illicit Trafficking".
The agency has taken a series of programmes, including a rally and discussion, to observe the day.
"The increase of seizures clearly reflects the smuggling and availability of narcotics. But it points to the fact that law enforcers are active," M Emdadul Haq, chairperson of history and philosophy department of North South University, told The Daily Star.
Emdadul, who has conducted his PhD on narcotics, said the scenario may not improve until accountability is ensured among enforcement agencies.
"War against narcotics requires combined efforts, and enforcement agencies have to play a major role here by performing their duty with utmost integrity," he added.
However, Md Azizul Islam, director general (additional charge) of DNC, denied the notion that the increase of seizures reflects that smuggling has also risen.
"A huge quantity of narcotics is now seized, as the law enforcers, including DNC, are more vigilant," he told this newspaper.
NEW NARCOTICS, NEW CHALLENGE
According to officials, in recent times, a number of new types of narcotics like crystal meth, magic mushroom and MDMA were found to be available in the country.
The alarming thing is that smugglers are using the dark web and applications that encrypt information to place orders for narcotics from abroad and communicate with suppliers.
On November 23, 2021, DNC arrested two suspects -- Asif Ahmed Shuvo and his friend Arnab Kumar Sharma -- with a drug known as DOB. During the investigation, the arrestees informed that they placed an order for the drug through the dark web using cryptocurrency, said officials.
Md Mehedi Hasan, assistant director (north) of DNC, told The Daily Star, "These new types of drugs are mainly sold through encrypted applications, and we have no capacity to monitor them. They are even placing orders from foreign countries using the dark web."
"We need technological support to deal with such crimes and gather intel," he added.
In 2020, DNC proposed a geolocation system to enhance anti-narcotics operations, which is being looked over by the home ministry, according to sources.
Haider Ali Khan, deputy inspector general of Police Headquarters, said new types of drugs are now becoming the major challenge.
These drugs cost a lot and some create severe effects, he told this correspondent.
"But, our special drive against narcotics is underway, and we are conducting and taking action against drugs whenever we find any information," he said.
CONSUMPTION HIGHER IN ADOLESCENTS
According to DNC's annual report, people aged 16 to 40 comprise 84.27 percent of the total drug abusers in Bangladesh, and drug abuse is most severe among those aged 21 to 25.
These groups come from different socio-economic backgrounds, but those with no income source comprise 63.64 percent of total drug abusers, read the report.
The DNC report further states that the no-income group is dependent on their parents or heads of family to get the money to buy drugs, or they manage by extortion, theft and other crimes.
The principal cause (57.27 percent) for taking drugs is mainly the influence of friends, and the second major cause appears to be curiosity, the report added.
Home Minister Asaduzzaman Khan said the government is trying to cure and control drug addiction in three ways: reducing demand, supply and harm.
After conversing with the neighbouring country, the supply of Phensedyl has already reduced, but availability of yaba and meth has increased, the minister said recently at a programme.
He said, "We have some limitations and are not able to provide proper service in drug rehabilitation centres. We do not have psychiatrists; we do not have experienced doctors. But we are moving forward."
"I am trying to encourage private drug addiction treatment centres," the minister added.
The DNC annual report shows that the seizure of Phensedyl drastically fell in 2021. Around 10,07,977 bottles of Phensedyl were seized in 2020, while it was 5,74,301 in 2021.