Ahsan Group embezzled at least Tk 130cr using religious clout: CID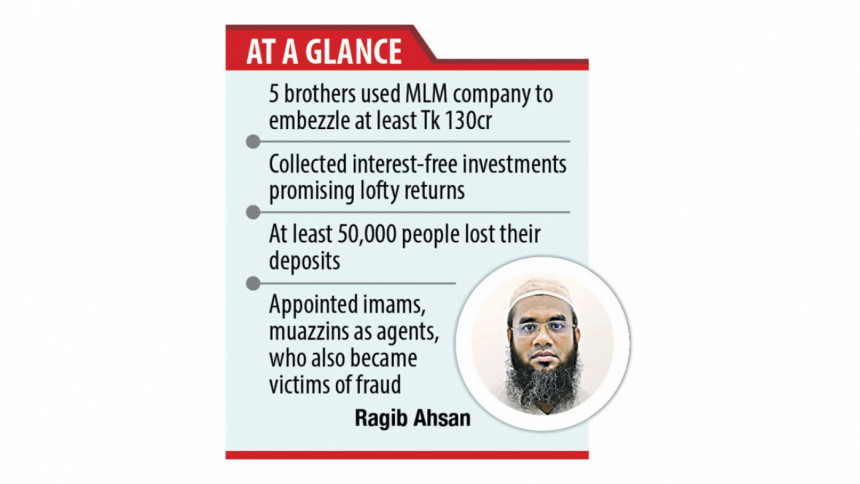 It was corruption at a massive scale, undertaken by a single family.
Ragib Ahsan and his four brothers embezzled at least Tk 130 crore from thousands of people by establishing an MLM company named "Ahsan Real-Estate". Soon after, Ragib's wife and brother-in-law also got involved with the fraud.
They used to entice people into making interest-free investments following "Shariah" with promises of lofty returns.
Against their Tk 1 lakh investment package for customers, they promised to pay back at least Tk 1,200 and maximum Tk 2,000 in monthly payments.
Falling into the trap, at least 50,000 people have lost their deposits, many of who are now spending hard times with their families.
In a case filed over embezzlement, Rapid Action Battalion arrested Ragib (40) and his brothers Abul Bashar Khan (35), Khairul Islam (35), Shamim Hasan (37) and Mahmudul Hasan (31) from Pirojpur on September 9 last year.
However, his wife Salma Ahsan (32) and brother-in-law Nazmul Islam (33) are still on the run.
Several cases were filed against the family, of which, four are under investigation by the Criminal Investigation Department (CID), while one is being dealt with by the Police Bureau of Investigation (PBI).
On December 23 last year, CID filed another case against them under the money laundering act.
Humayun Kabir, special superintendent of CID, said, "Ragib and his brothers' bank accounts have been frozen. We're now looking into properties brought under Ahsan Group. Once completed, we will submit the charge sheet, hopefully within the coming month or two."
FRAUD AND LAVISH LIFE
Just 15 years back, Ragib used to work as an Imam at a mosque in Pirojpur, sources said. He also worked for a multi-level marketing (MLM) company as a staffer, against a paltry salary of Tk 900.
But within two years, in 2009, Ragib opened an MLM company of his own and dragged his brothers into it, all of whom used to work as teachers at different madrasas for salaries ranging from Tk 6,000 to Tk 10,000 per month, according to CID investigators.
Just within a year, Ragib established around 17 business, including a madrasa, under the name of "Ahsan Group".
Some of his businesses includes Pirojpur Bostraloy, Allah'r Dan Bostraloy, Madina International Hotel and Nur-e Madina Madrasa, said investigators.
He used to pay interest to the clients between 2012 and 2018, but then it stopped and the company's issues started coming to the fore.
Based on this dubious earnings, the family started leading a lavish life, which included buying luxury cars and flats in Dhaka.
The indulgence didn't stop there. The family even started importing deer meat for their family parties and only consumed imported dates from Saudi Arabia, said a CID official involved with the investigation.
PROPERTY EVALUATION
CID has so far only found property worth approximately around Tk 30 crore bought in the company's name, sources said. 
The property includes two-acre land and three four-five storey buildings in Pirojpur, couple of bighas of land in three places in Pirojpur and a lease of four separate floors of Sher-E-Bangla public library in the capital, said a high official of CID, requesting anonymity.
"Ragib has bought a flat in Dhaka and a car for his wife, but they managed to sell them after 2018, when controversies surrounding the company first raised their head," said the official.
Even their bank accounts have been found emptied.
"We have only found a total of Tk 15 lakh in all family members' accounts," added the official.
AGENTS, CLIENTS SUFFER
As part of the company's marketing ploy, Ragib appointed mosque imams and muazzins as agents.
If anyone managed to bring in Tk 1 lakh investment for the company, Ragib paid them a Tk 5,000 cut, according to investigators and agents.
After Ragib's arrest, around 150 agents who have been pulled into the scam have formed a committee.
Its president Md Rafiqul Islam said Ragib has around 1,200 agents, with another 50,000 people regularly depositing money in the company.
"I have brought investments worth Tk 67 lakh after convincing lots of people. I now have no option but to go into hiding," he said.
Jalal Uddin, an imam of Shikarpur mosque of Pirojpur, said he is a victim of Ragib's illusion. He said he has deposited around Tk 3.5 lakh personally and brought in another Tk 90 lakh from relatives and acquaintances.
"On one hand, I'm leading a miserable life after losing all my savings. On the other, I'm under pressure from relatives as I've failed to pay back their money," he added.
Fatima Begum, a client of the company, said she has deposited her family savings into the company, which she kept aside to build a house.
"Now I don't know where I'll go with my family."