Hit teacher to "demonstrate boldness to girlfriend", Jitu tells magistrate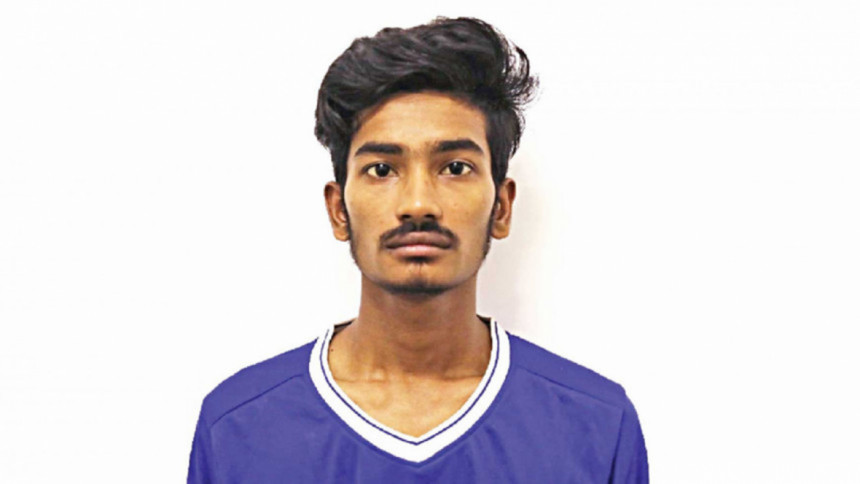 Ashraful Islam Jitu, the key accused in college lecturer Utpal Kumar Sarkar murder case, today (July 6, 2022) told a magistrate that he hit his teacher with a cricket stump because he was angry.
"I was angry after being warned by the teacher for being close to a girl on campus. Moreover, the teacher often rebuked me," Jitu said.
Senior Judicial Magistrate Rajib Hasan recorded his statement after Investigation Officer Emdadul Haque, a sub-inspector of Ashulia Police Station, brought Jitu to the magistrate's chamber.
After recording the statement, the magistrate sent him to Dhaka Central Jail in Keraniganj.
In his statement, Jitu, a student of class 10 at Haji Yunus Ali School and College, said a few days before the incident, the teacher warned him for being intimate with a girl on college campus, which angered him. He planned to attack the teacher to "demonstrate his boldness" to his girlfriend, he said.
Jitu then brought a cricket stump to the school on June 25 and attacked the teacher when he was standing in a corner of the playground during a cricket match, he added.
Yesterday, Jitu's father Mohammad Uzzal told another magistrate that his son beat the teacher to death as he was aggrieved over "excessive control" of the victim.
Jitu was also placed on a five-day remand in the case on June 30 after his arrest from Gazipur's Sreepur.
On June 25, Jitu, a 10 grader of Haji Yunus Ali School and College in Ashulia's Chitrasail area, hit Utpal with a cricket stump beside the field around 2pm.
Utpal, also chairman of the disciplinary committee of the institution, was rushed to Enam Medical College Hospital where he died while undergoing treatment.
The following day, Aseem Kumar Sarkar, brother of the deceased, filed a murder case at Ashulia Police Station over the incident accusing the attacker and several unnamed people.