Graft case against BASIC Bank ex-chairman: Order on accepting charges on Oct 23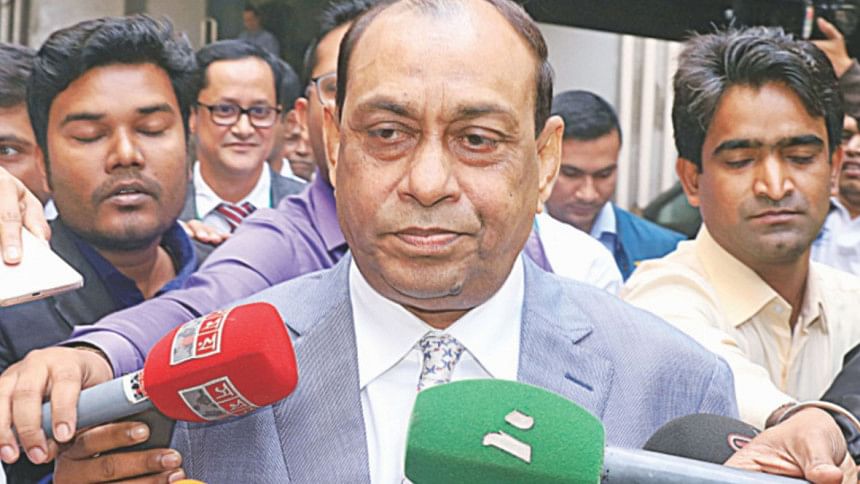 A Dhaka court will decide on October 23 whether it will accept the charges brought against former chairman of Basic Bank Abdul Hye Bacchu and 13 others in a Tk 23 crore embezzlement case.
The other accused are the bank's sacked managing directors Kazi Faqurul Islam and Shah Alam Bhuiyan, deputy managing directors Fazlus Sobhan and A Monaem Khan, assistant general managers Md Jalal Uddin, ASM Anisur Rahman Chowdhury, Sadia Akhter Shahin, and Rumana Ahad, and former general manager Md Ali Chowdhury.
Along with them, Ashraf Ahmed, managing director of Ahmed Oil Mills Ltd, its directors Nasrin Jahan Ratna and Iqbal Hossain Bhuiyan, and managing partner of SD Survey Farm and its chief surveyor and partner Md Faruk are also accused in the case.
Of them, Md Ali, Iqbal Hossain, and Fazlus Sobhan are currently on bail, while Bachhu and 10 others are absconding.
Judge Md Asaduzzaman of Dhaka Metropolitan Senior Special Judge's Court set the date after the charge sheet was placed before him for the next course of action.
On July 31, ACC Deputy Director Md Ibrahim submitted the charge sheet against them to the Dhaka Metropolitan Senior Special Judge's Court.
Ibrahim, the investigation officer of the case, appealed to the court to issue arrest warrants against Bacchu and the 10 others as they did not get bail from any court.
On September 22, 2015, the ACC filed the case with Paltan Police Station against Faqurul and 11 others for their alleged involvement in the embezzlement of Tk 23 crore.
Later, the IO included the names of Bacchu and Shah Alam in the charge sheet after they found their involvement in the graft.
According to the case statement, the accused bank officials sanctioned a loan of Tk 23 crore to Ashraf Ahmed and his wife Nasrin Jahan Ratna, proprietors of Ahmed Oil Mills Ltd, on June 26, 2012, without scrutinising any documents submitted on behalf of the company. The money was later embezzled in its entirety.
The ACC also filed 17 other cases on September 22, 2015, against a number of bankers and borrowers linked with the Tk 5,000-crore BASIC Bank scam between 2009 and 2013.