Gazipur trader dies as 'cops torture him in custody'
Locals go on rampage, block roads; 2 ASIs closed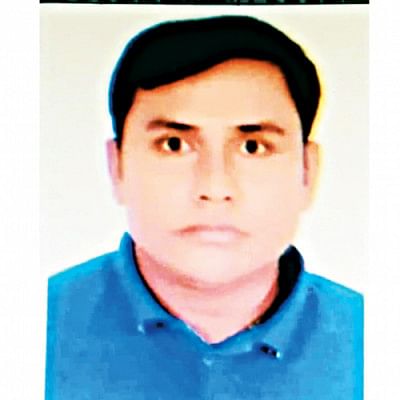 At least 12 people, including two cops, were injured as a mob clashed with police in Gazipur city's Bhogra bypass area yesterday morning over the death of a trader allegedly due to torture in police custody.
The mob vandalised at least 20 vehicles, torched two motorbikes, and blocked the Dhaka-Mymensingh and Joydevpur-Jamalpur highways for about one and a half hours from around 10:00am.
The deceased: Md Rabiul Islam, 38, used to run a tailoring accessories shop in Pearabagan of Bhogra.
Mahidul Islam, the victim's younger brother, and other family members told The Daily Star that police picked up Rabiul from his shop on Saturday night on charges of gambling.
Quoting Rabiul's wife Nupur, his neighbours Tarajul Islam and Abdus Salam said police demanded Tk 5 lakh for the release of Rabiul.
Nupur gave Tk 85,000 to police on Saturday night, but the law enforcers didn't free her husband, the neighbours added.
Another neighbour Aytal said police picked up Nupur from her home in Pearabagan around midnight on Tuesday. They took her signature on a blank paper assuring her that her husband would be freed.
After signing the paper, Nupur demanded her husband be freed, but police didn't release him. Rather, they dropped off Nupur at her home and said her husband would be released two hours later, said Abdul Kalam, a cousin of Rabiul.
Around two hours later, someone identifying himself as a policeman called Nupur and said her husband was sent to Dhaka Medical College Hospital after being injured in a road accident.
Around one hour later, the "policeman" phoned her again to inform that her husband passed away at the hospital.
Family members claimed that Rabiul, father of two daughters, was not accused in any criminal cases.
As the news of his death spread yesterday morning, locals blocked the two highways.
On information, police rushed to spot and tried to drive away the protestors. A clash broke out as the mob hurled brick chunks at the police. The protestors and police chased each other, said witnesses.
Police fired rubber bullets to disperse the mob and bring the situation under control. Movement of vehicles on the Dhaka-Mymensingh and Joydevpur-Jamalpur highways resumed around 11:30am.
Law enforcers, however, denied the allegations of torturing Rabiul and receiving money from his wife.
Basan Police Station OC Malek Khasru said, "Four people, including Rabiul, were arrested on Tuesday evening for their involvement in gambling. Police later decided to release them all after primary interrogation."
He said they informed Rabiul's family to take him home from the police station. "Rabiul's relatives took him from the police station around 9:00pm on Tuesday night. On the way home, Rabiul was hit by a truck on a road in Bhogra area. His relatives rushed him to the hospital where he died," claimed the OC.
Malek, however, didn't specifically say to whom Rabiul was handed over.
Meanwhile, Gazipur Metropolitan Police (GMP) yesterday closed two assistant sub-inspectors -- Mahbubur Rahaman and Nurul Islam -- of Basan Police Station, said an official of the GMP.
Besides, a three-member probe body, led by GMP Additional Commissioner Delwar Hossain, was formed to investigate the trader's death and the clash.
Abdus Salam, a brother-in-law of Rabiul, said the body was lying at the Dhaka Medical College morgue until 9:00pm yesterday as police were yet to hand it over to them.