Five arrested for confining and forcing teen into prostitution for 5 years in Dhaka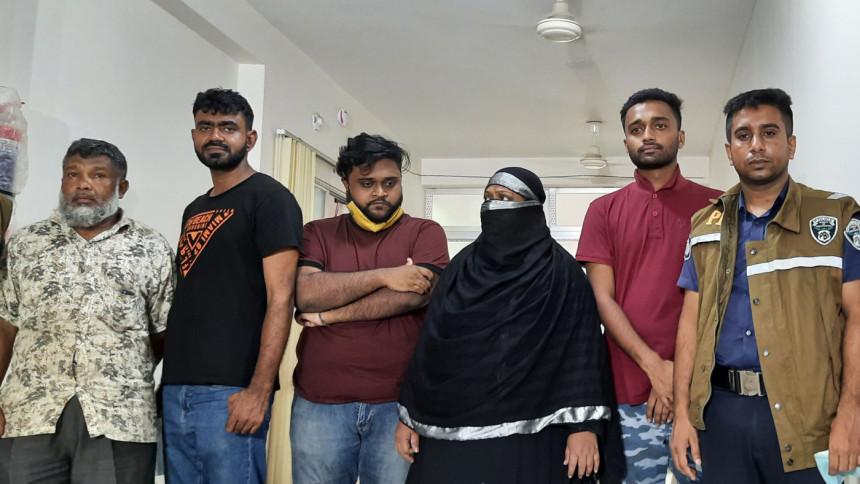 She was confined, tortured and forced into sex work for more than five years.
Confined as a teenager, she was never allowed to go out or talk to her family members.
The victim of sex slavery narrated her ordeal at the office of Police Bureau of Investigation, in Dhaka's Banasree area.  
"They tortured me more whenever I just wanted to talk to my mother for a minute," the young woman, now 21, told The Daily Star.
Anger resonated in her voice as she spoke.
She was confined days after her aunt sent her to a house in Dhaka's Bhatara area, to work as a domestic help, in April 2016. She ended up with a gang that forced girls and women into sex work, Mohammad Mizanur Rahman, superintendent (Dhaka Metro South) of PBI, said.
To her family in Gopalganj, the girl was presumed dead or missing until her captors released her in Madaripur four to five months back and she managed to reach her relative's house in the district.
The gang finally released her as she was unwell and was going through psychological issues, Mizanur said.
PBI, which is reinvestigating a case filed after she went missing in 2016, came to know about her return recently, talked to her and came to know about her ordeal.
The officials arrested five members of the gang from Dhaka, the PBI SP told a press briefing at his office today.  
They arrestees are: Lota Begum, who employed the girl; her husband Baser Mia; their sons Rabbi and Al Amin; and Sohag, a driver.  
Talking to The Daily Star, the victim said Sohag, Rabbi and Al Amin were among those who raped her during captivity as she was moved around from one house to another in Dhaka.     
PBI officials said the girl's aunt sent her to Lota's house in 2016 as a domestic worker where she stayed for only seven days. Later, Sohag took her to his house and raped her. Lota's sons also raped her there.
They later forced her into prostitution and took her to another house. She was moved to several houses during captivity.
Failing to contact her, family members went to Lota's house but the latter told them that the girl left her house for her village home.  
Meanwhile, a decomposed body of a girl was recovered from Bhatara area and the family primarily identified the body as their loved one.
Victim's aunt filed a case with Bhatara Police Station over rape and murder against Lota, her family members and an unnamed driver, Mizanur said.  
The accused were arrested but were released on bail after six months.
However, DNA samples of the dead body and victim's parents later did not match, confirming that the deceased was not their daughter.
Bhatara Police then submitted the final report in June, 2019 to a Dhaka Court -- citing factual error in the case. The Court asked PBI to reinvestigate the case, as the victim remained missing.
PBI officials, investigating the case, finally arrested the accused for forcing the girl into prostitution after she returned.
Mizanur said Lota is the ringleader of the group and used to force girls into sex work. Victim's aunt used to take money from Lota in exchange of not pressing for the case further, he said.
"We are going to file a case against the five arrestees and the victim's aunt with Bhatara Police Station. If names of others emerge during investigation, they will be implicated in the case too," said PBI Additional Superintendent Md Samsuzzaman.
Victim's mother said they are happy that they got their daughter back but demanded justice for the ordeal she had to endure.
Talking to reporters at the PBI office, the five accused, however, said the allegations brought against them were not true.
Victim's aunt is on the run.