Fardin's father doubts DB's suicide claim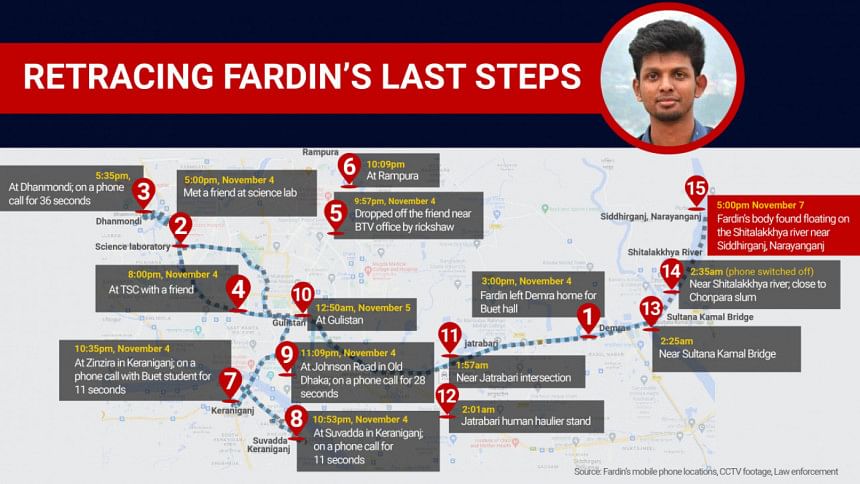 The father of Buet student Fardin Noor Parash today cast doubt on the Detective Branch of Police's assertion that his son died by suicide.
In a press briefing at the DB office in the capital this evening, DB chief Harun Or Rashid said considering "all aspects" it appeared that Fardin had died by suicide, and his last known location was on the Sultana Kamal Bridge in Demra.
"It is not certain that it was Fardin on the bridge," Kazi Nooruddin, Fardin's father, told The Daily Star over phone following the DB press conference.
"How did he get from Rampura to Jatrabari?" was another question on Nooruddin's mind.
Earlier, police said Fardin was seen on a rickshaw in the capital's Rampura area around 10:00pm on November 4, the night he disappeared.
On November 7, the decomposing body of Fardin Noor Parash, a third-year student of civil engineering, was recovered from the Shitalakkhya in Narayanganj's Siddhirganj, three days after he went missing.
On December 3, during the course of DB's investigation they said they were trying to determine whether he had died by suicide.
Nooruddin had then emphatically rejected the possibility and said, "Fardin saw ups and downs in the family and tackled every situation head-on. He is a fighter. A boy like him can never do something like that."
"Fardin might've been picked up from a point and taken across the city at gunpoint. He might've been forced to follow the perpetrators' instructions…The investigators should show us the CCTV footage of all locations… The boy who used to come home by 11:00pm, why would he roam the city like that in very suspicious locations?" Nooruddin said on December 3.