After being on the run for a year, Khandaker Mosharraf's brother held
Mohtesam faces Tk 2,535.11cr money laundering case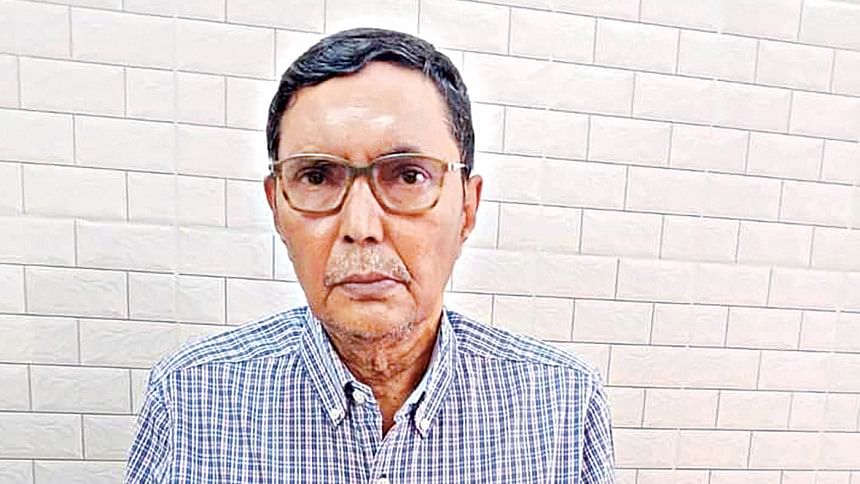 Khandaker Mohtesam Hossain Babar established control over all activities in Faridpur and exerted his influence over the district Awami League after his brother Khandaker Mosharraf Hossain was elected a lawmaker in the 2008 national elections and later became a minister, said investigators.
Having a nexus with some people, he manipulated all tenders of different government departments in the district through an illegal syndicate. He helped people win government contracts in exchange for a commission on the total contract value, a CID probe found.
Sixty-seven-year old Mohtesam, also the Faridpur district AL vice-president, was arrested in the capital early yesterday in a Tk 2,535.11 crore money laundering case. He had been on the run since March 3 last year when the Criminal Investigation Department submitted the charge sheet in the case against him and nine others.
A team of Faridpur Kotwali police picked him up from a house in the capital's Bashundhara residential area around 1:30am. He was later taken to Faridpur, said MA Jalil, officer-in-charge of Kotwali Police Station.
The OC said a court issued an arrest warrant against Mohtesam last year.
Following the arrest, police in a press release yesterday said, "Mohtesam amassed a lot of property at home and abroad with illegally earned money using his political influence and that of his brother's."
It also said the arrestee amassed the ill-gotten money as commission and bribes for helping people win tenders in government offices and getting jobs.
SM Miraj Al Mahmud, a CID inspector, filed the case with Kafrul Police Station in Dhaka against former Faridpur AL leader Sajjad Hossain Barkat and his brother Imtiaz Hasan Rubel under the money laundering prevention act on June 26, 2020.
After investigation, the CID submitted the charge sheet to a Dhaka court against Mohtesam, former minister Khandaker Mosharraf's assistant personal secretary AHM Fuad, also an ex-convener of Faridpur district Jubo League, Barkat, Rubel, and six others.
According to the probe report, Barkat and his brother Rubel amassed Tk 2,535.11 crore beyond their known sources of income.
The siblings amassed the wealth after winning contracts in different government departments in the district through manipulation since 2010. They were also allegedly involved in drug smuggling and land grabbing.
The two brothers had a nexus with Mohtesam and Fuad, and through an illegal syndicate the siblings manipulated all tenders of roads and highways, public works, and health departments, LGED ministry, BRTA, municipalities, zila parishads, Water Development Board, and medical colleges.
They also illegally collected commission from haats (markets), district land registrars' offices and extorted money from the transport sector. The syndicate leaders and other members used to get a share of the extortion money, found the CID probe.
The other charge sheeted accused in the case are: former Faridpur town Jubo League president Khandakar Nazmul Islam Levi, former general secretary of the unit Ashiqur Rahman Farhan, Faridpur district Swechchhasebak League General Secretary Fahad bin Wazed Fahim, former joint convenor of Faridpur town Jubo League Kamrul Hasan David, district Jubo League Joint Convener Mohammad Ali Minar, and Faridpur town Jubo League Joint Convenor Tariqul Islam Nasim.
Of them, Barkat, Rubel, Fuad and Nasim are now behind bars while Levi and Farhan are on bail.
Barkat, Rubel, Farhan and Levi made confessional statements before magistrates about Mohtesam's involvement in money laundering, said court sources.
All the accused but Mohtesam have been expelled from their respective organisations.
A district Jubo League leader, also a contractor, yesterday said anyone looking to secure a project contract had to give Mohtesam a commission of 10 to 15 percent of the total project cost.
"He was known in Faridpur as Mr 15 percent," he told The Daily Star, wishing anonymity.
Contacted, Khandaker Mosharraf said if his brother is found involved in any crime, he would be punished as per law.