Errant cops: Leniency lends them impunity
Experts suggest police devise a strict internal mechanism to ensure accountability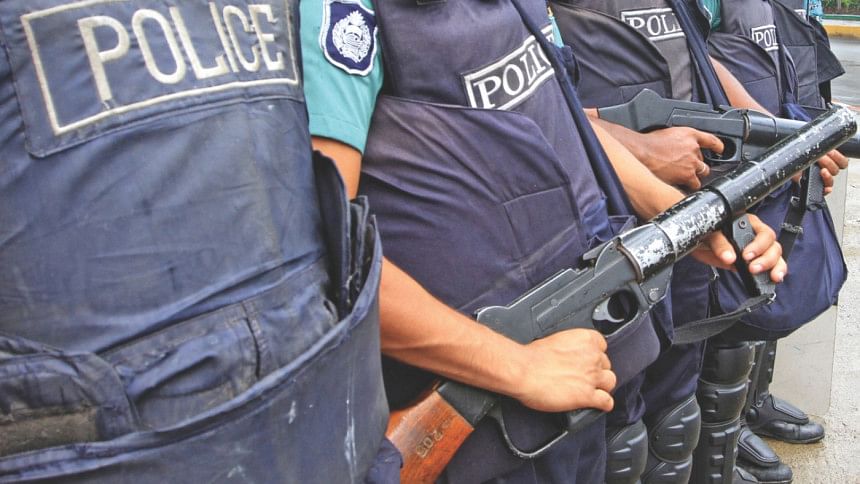 Complaints about police's involvement in various crimes continue to pile up thanks to lenient disciplinary measures that embolden errant cops, say criminologists and legal experts. 
The complaints range from extortion, abduction, and torture, to bribery, drug dealing, framing people and unlawful detention. The offenders inside the force range from the ranks of superintendent of police to constables.
Police themselves investigate allegations against its members and mete out departmental punishments to many, while a few also face criminal charges.
Yet, their involvement in crimes continue because the punishments of police personnel often do not match the severity of their crimes or offences, said experts.
"Somehow the offenders [in police] are getting spared and so, they are becoming repeat offenders," said Omar Faruk, a professor of the criminology and police science department at Mawlana Bhashani Science and Technology University.
He said unless there is media coverage of these incidents, action is seldom taken against offenders or they are dealt with leniently.
"Only one or two incidents that make headlines, get the attention [of police]. That is why they can't come out of the deviation."
He said a huge number of police at field level are involved in crimes, but proper disciplinary action is not taken against them or only taken on a limited scale. Punishment under the existing laws is also not being ensured, he added.
Departmental actions are taken only in name, like transfers, suspension of promotion, he said, adding, "The offenders should be punished under the criminal justice system through departmental investigation."
Prof Faruk also suggested setting up an independent and neutral commission, like the ones that exist in developed countries, to try complaints against police.
Around 9.6 percent of the force of 2.13 lakh law enforcers faced departmental action in 2021 alone, according to data the Bangladesh government provided to the UN Office of the High Commissioner for Human Rights on May 12, 2022.
From 2015 to 2021, that number was 1.17 lakh or 55 percent of the total force. At least 1,692 criminal cases were filed against members of the force during that period.
In 2021, a total of 17,966 members faced minor action like warnings, reprimands, or temporary wage cuts, and 2,388 faced major consequences like termination, suspension or demotions, according to the data.
But the consequences of departmental action often pale in comparison to the benefits that corrupt members can get by abusing their power.
For example, a constable who has been working at a police unit in Dhaka faced major departmental action twice in two years for taking money from people promising them jobs in the police department, said a police official wishing anonymity.
The constable is now under investigation for a similar crime, the police official added.
Another constable, Nafidul Islam, was suspended on charge of ration card forgery when he was posted in Rajarbagh Police Lines a few years back.
In September last year, Shahjahanpur police arrested Nafidul along with another member of police and three others on charges of abduction and demanding ransom.
Some victims of the crimes committed by police have alleged that they are yet to see any effective action despite submitting complaints to a complaint cell introduced by Police Headquarters (PHQ) in November 2017.
The Daily Star talked to two such victims recently. One was falsely implicated by a team of Detective Branch (DB) of police in 2016, while another was tortured by a police team of DMP in 2019.
They said considering the extent to which the offenders abused their power, only token departmental action was taken against them.
When they moved to the court seeking justice, they faced various obstructions from the accused police members, they said, asking not to be named.
All of this has resulted in an erosion of people's confidence in the police force. A recent survey commissioned by Bangladesh Police shows that over 73 percent of victims of various crimes did not report the crime.
The reasons behind the non-reporting, according to the survey conducted between January and December 2018, include inconvenience victims face while filing a case and appearing in court, unfriendly attitude of police, and "monetary involvement" (the term the survey used).
PHQ's Deputy Inspector General (Operations) Haider Ali Khan, however, claimed that very few members of the 2.13-lakh force get involved in criminal offences.
"Since we are in uniform, crimes by police personnel draw attention. When any policeman commits any crime, we do not suppress it. We take proper punitive actions," he told The Daily Star.
He said they always instruct and brief field-level police personnel and warn them about the punishment they would face if they were involved in any crime.
"If any allegation is found against any member of the force, the allegation is probed properly. If the member is found guilty, departmental action is taken and even criminal cases are filed if he or she commits criminal offences," he said.
Asked why, despite such actions, police personnel are still involved in crimes, the DIG said he thinks as police always deal with criminals, some members get influenced by them.
SOME RECENT INCIDENTS
More than a dozen incidents involving police officials in various crimes made headlines in the last few months.
Take, for instance, the case of Assistant Sub-Inspector Mahbubul Alam of Pallabi police.
On September 6, he planted yaba pills into the pocket of a pedestrian and showed him arrested in a narcotics case in the capital's Khilkhet area. Later, Alam and his two informants were arrested for framing the man.
Constable Kamruzzaman and his seven accomplices were arrested on September 12 for looting 98 tolas of gold from a jewellery shop worker in Keraniganj.
On July 17, Jahidul Islam, an ASI of Rupnagar Police Station, and his four associates were arrested for snatching 38 tolas of gold ornaments from a jewellery shop worker in the capital's Gabtoli area.
The ASI was a member of SI Masudur Rahman's team who were involved in various crimes in the area. Last year on August 19, a woman in Dhaka's Rupnagar area alleged that Masudur took Tk 2.5 lakh from her home during a drive.
On July 8, Rab arrested four people, including a constable of the special branch of Chattogram Metropolitan Police with 5,260 yaba pills.
Of all the incidents, the suspension of Banani inspector Sheikh Sohel Rana, the so-called patron of e-commerce platform E-orange which made headlines for reportedly embezzling crores of taka by not delivering customers' products, was the talk of the country.
Besides, six police personnel, including two officials of Rajshahi Metropolitan Police, were closed after a complaint against them was lodged for extorting money from two people by threatening to frame them in drug cases.
DEFICIT OF ACCOUNTABILITY
Prof Omar Faruk said police culture has deviated from ensuring safety of the public and stopping crimes.
Field-level police personnel in most cases demand bribes to file cases, take money from victims and act according to politically connected or influential people's bidding while registering cases and making arrests. Police officials also get transferred or promoted in exchange for bribes, he added.
"Whatever innovations or strategies police take, they will not be able to overcome the image crisis as long as people are not getting the services," he said.
Recruitment, transfer, and promotion in the police department have to be done fairly and transparently, he said.
Former inspector general of police Nurul Huda said some undesirable people, who cannot resist temptation, are getting jobs in the force, and the bad elements are not being properly dealt with at different levels.
Transparency International Bangladesh (TIB) Executive Director Iftekharuzzaman thinks a lack of effective accountability beyond departmental action, which is often not a sufficient deterrent, is increasing the risk of converting the institution to protect and enforce law into violators of law.
That is not to say that there are no examples of pro-poor policing, but those are few compared to the widespread allegations of abuse of power, he told this newspaper.
He said people at large are increasingly losing confidence in police as the first and principal port of call for rule of law and justice.
"The police can get away with a culture of secrecy with regard to reports on investigations of police crime because of an apparent sense of confidence that the political authority also does not care much about the accountability of police," he added.
"On the contrary, the deficit of accountability is often politically colluded and protected to serve short-term mileage. The resulting syndromes of dysfunctionality is ominous for law enforcement agencies as an institution as well as for the future of democracy in the country," Iftekharuzzaman said.
Referring to cases where police plant narcotics on innocent people, Supreme Court lawyer Barrister Jyotirmoy Barua said such incidents indicate a flawed chain of command as well as a fragile law and order situation.
"Law and order must operate objectively to ensure no innocent is punished. This can uphold the judicial equilibrium, but we have failed in many cases," he told this newspaper.
"Punitive actions are supposed to set an example that deters others from committing crimes and in a true sense such examples could not be set."