Drive Against Casinos: 'Influential man, his 3 brothers worked Rab to get us arrested'
Claim 2 ex-councillors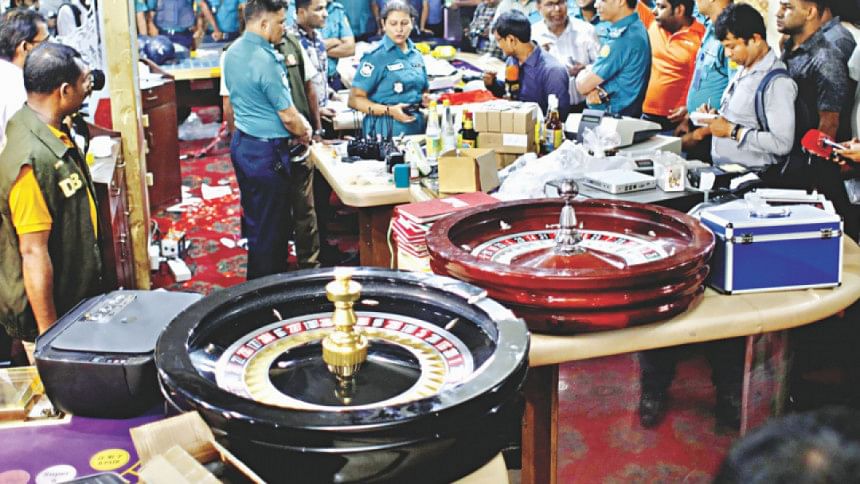 Two former councillors of the capital's Mohammadpur yesterday said they were wrongly arrested during a 2019 crackdown on casinos because an influential man and his three brothers wanted them out of local Awami League politics.
Habibur Rahman Mizan of ward-32 and Tarekuzzaman Rajib of ward-33 made the allegations at a press conference at Dhaka Reporters Unity yesterday.
They didn't name the influential man, but said that his brothers were Tofail Ahmed Joseph, Haris Ahmed and Anis Ahmed.
The former councillors alleged that the Ahmed brothers had Rab members arrest them so that their nephew Asif Ahmed could become a councillor.
Rajib said the Ahmed brothers, who had been known as thugs since the 1990s, were looking to make a political debut.
When asked about the name of the influential person, Rajib said, "You are wise people, you will understand. They changed the trajectory of our lives when we were councillors. I can't reveal his name even if I want to. There are safety concerns for me and my family."
He added that the law enforcers never found his involvement with any casino.
Besides, the law enforcers have not found any evidence of his bank account abroad and the allegations of abundant wealth turned out to be false, he said.
Habibur, the other former councillor, alleged that he too was arrested because the Ahmed brothers wanted him out of the area.
"There was not any previous case against me. Rab charged me with possession of a firearm that did not belong to me. I turned in my firearm in 2018, a year before my arrest. I have a proof," he said, adding that Rab also changed his name to "Pagla Mizan".
"They took away valuable documents, money and gold ornaments from my house. These items were not mentioned on the seizure list. I still haven't got any of it back."
About the allegations, Rab Legal and Media Wing Director Commander Khandaker Al Moin said those who had complaints against Rab should have written to the Rab headquarters.
"We conduct raids following the legal procedures. If there was a deviation, the individuals could have said it any time in the last four years. They can even inform the court through a lawyer.
"I don't know why they are telling this to journalists four years after the raids."
Moin added that the individuals making the allegations might have an ulterior motive.
The Daily Star could not reach Joseph, Haris, Anis and their brother for comments.
In 2019, Haris wrote an application to the home ministry, saying that he and his brothers Anis and Joseph were falsely accused of killing a man named Mostafizur Rahman alias Mostafa.
The application also mentioned that the false accusation was made by Mostafa's brother Habibur Rahman Mizan, who was one of the two former councillors at yesterday's press conference.
Haris was sentenced to life in prison in two cases on May 25, 2004, over the murder of Mostafa, and on March 3, 2004, over the murder of Dhaka University student Abu Morshed.
Even though Haris didn't mention anything about the second case in his letter to the home ministry, the latter issued a circular on March 28, 2019, announcing that the government had pardoned him in both the cases.
Haris' brother Joseph, who had been sentenced to death, got the presidential clemency.