Dhaka College, Ideal College students clash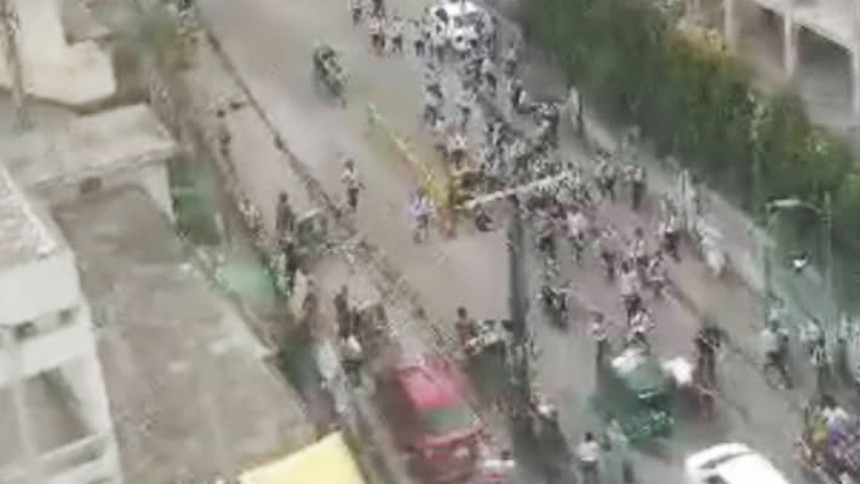 Two groups of higher secondary students at Dhaka College and Ideal College were caught in a clash in the capital's Science Laboratory intersection around 11:00am yesterday.
The violence injured two Dhaka College students and caused interruptions to traffic at the intersection, said SM Qayyum, officer-in-charge of New Market Police Station.
Later on the day, Dhaka College students tried to move towards Ideal College in flocks, but police barred and dispersed them, he added.
The teachers of the respective colleges also came to the streets to cool down their students and get them back to their campuses.
According to some students, the clash took place after a group of Dhaka College students harassed an Ideal College student and his female friend on Thursday.
Clashes between students of Dhaka College and other adjacent colleges are nothing new. Frequently, they locked themselves into clashes over trivial matters that made headlines.
On March 30, at least 12 were injured in the clashes between Dhaka College and Teachers' Training College students.
The clash ensued over a brawl at a tea shop.
Not only with the students, brawls between the shopkeepers of the New Market area and Dhaka College students also take place quite frequently.
In the latest such event, New Market storekeepers and Dhaka College students fought pitched battles for two days starting on April 18 night, resulting in the deaths of two youths and damage to properties.
Five cases including two murder cases were filed in this connection.