CTTC arrests first female Ansar Al Islam operative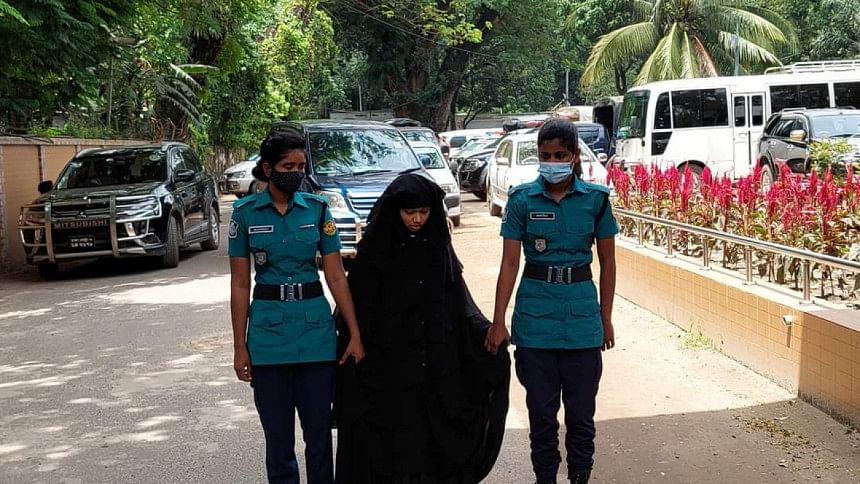 She was the first female operative of militant outfit Ansar Al Islam, self-radicalised by online content.
Although she was in charge of the outfit's media wing, she also had a connection with the military wing and was ready to go for Jihad anytime at home or abroad.
And the Counter-Terrorism and Transnational Crime (CTTC) unit yesterday said it arrested the female operative, identified as Zobaida Siddiqua Nabila, 19, an HSC candidate of a college in Bhola's Lalmohon upazila.
Based on information, Nabila was arrested from her relative's home in Dhaka's Badda area on Thursday, said CTTC officials.
She is now on a five-day remand in a case filed with Badda Police Station.
The CTTC launched the investigation thinking the target was a male member but further investigation revealed that the member of Ansar al-Islam was a woman, said Md Asaduzzaman, chief of the CTTC unit.
The CTTC officials said they have arrested female members of militant outfits earlier but they were not as well trained as Nabila.
Nabila, with a fake Facebook ID in 2020, connected with the militant group through its Facebook page "Titumir Media", Asaduzzaman said at a briefing yesterday held at the media centre of the Dhaka Metropolitan Police headquarters.
She gradually learned about extremist content.
While accessing the extremist content, Nabila has managed to set up communication with the page's admin panel. The admins then became convinced enough to add her to the group's official site and other pages, he said.
"Nabila used to disseminate content propagating extremism through Facebook pages. She maintained accounts on several encrypted messaging platforms including Telegram and ChirpWire," said Asaduzzaman, also the additional commissioner of DMP.
Preliminary investigations revealed Nabila maintained two Facebook accounts, one ChirpWire account and four Telegram accounts. Her four Telegram accounts have more than 15 channels and 25,000 followers.
Many violent jihadi propaganda books were uploaded at different times in these channels, said CTTC officials.
She used to share extremist content, bomb-making manuals and strategies of attack in the channels, Asaduzzaman said, adding that she was also involved in maintaining various official and unofficial channels of Ansar al-Islam.
"Nabila was instructed to open an account on the encrypted social media platform ChirpWire from the official website and launched an extremist campaign there as well. Through these processes, she was mentally prepared to participate in jihad."
Recently, her family arranged her marriage, but she told her prospective groom that if he did not follow the same Jihadi ideology as her, she would not marry him.