Crystal meth creeps up on city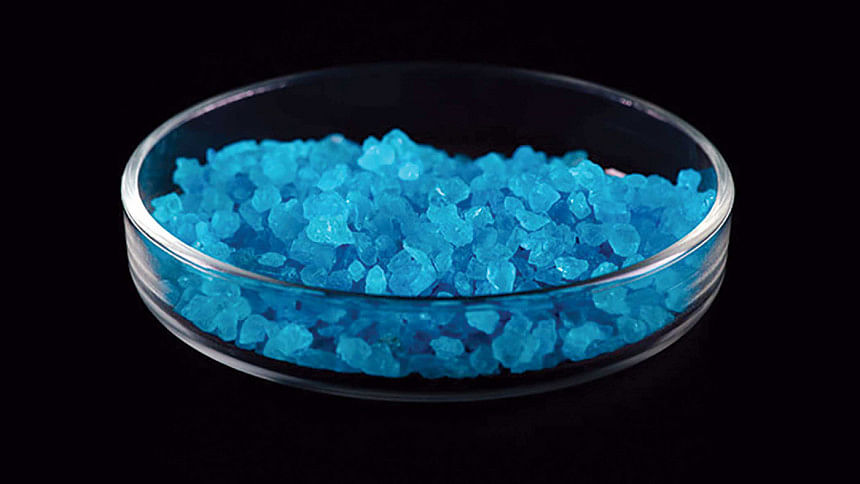 There is a growing market for highly addictive drug crystal meth in the capital, operated mostly through encrypted messaging apps, officials have found out.
Around 40 to 45 individuals are leading the drug trade with the help of around 100 small-time dealers, said officials of the Department of Narcotics Control (DNC).
Like yaba, crystal meth, popularly known as ice, is mostly smuggled into the country from Myanmar through the border in Teknaf and Ukhia upazilas of Cox's Bazar, and Naikhongchhari upazila of Bandarban, they added.
Rohingya refugees, including women and children, are often the ones carrying the rather expensive drug across the border and transport workers bring them to the city, they said, adding that the volume being smuggled appears to have increased.
DNC officials said they first came to know about ice after arresting two suspects in Mohammadpur in February 2019.
This year alone, officers recovered at least 7.72 kg of ice in eight raids in Dhaka, Chattogram and Cox's Bazar.
Talking with the newspaper, an ice user said the drug has been available in Dhaka since 2017.
"Most of the ice dealers also sell yaba pills. We place orders using messaging apps and sometimes on the phone," the user said.
Mehedi Hasan, an assistant director at the DNC, told The Daily Star that ice dealers do not supply the drug to unknown people.
"The users and dealers mostly belong to high society. They get to know each other at parties," he said.
According to users and law enforcers, only 10 grams of ice can cost up to Tk 1 lakh in Dhaka. The price comes down to Tk 80,000 if the supply increases.
Mehedi said, "We beefed up security measures and have arrested two members of the racket in Dhaka. We have also got some details on ice suppliers in Teknaf. Raids will be conducted soon."
A local in Cox's Bazar said hauls of the drugs arrive in the country through the Naf river and Whykong area.
"The Rohingya people and local women go across the border and bring the stash of ice. Sometimes, the Rohingya refugees use fishing boats for trafficking," said the local informant.
The traffickers, used to dealing in large yaba hauls, are now smuggling ice, he added.
Lt Col Ali Haider Azad Ahmed, commanding officer of BGB-34, said, "Since it is a new drug in the region, many border guards didn't know about it. We briefed the officials about what ice looks like and how it is carried. They are now watching out for ice like they do for yaba."
Lt Col Haider said the drug dealers traffic yaba and ice together.
"The traffickers use children, women and Rohingya refugees as mules," he said.
FROM MYANMAR TO DHAKA
Detectives said traffickers operate in "multiple layers" to evade detection. Each layer has a chief. Only a chief knows the identity of another chief. No one in the racket knows all the other members.
Mashiur Rahman, deputy commissioner of Detective Branch (Gulshan Division) of Dhaka Metropolitan Police, told The Daily Star that militant outfits used to operate in a similar fashion.
One layer of the traffickers maintains contact with Myanmar, another layer brings the hauls to Chattogram from Cox's Bazar, yet another brings the stash to Dhaka, and the last layer delivers it to the users, he said.
"There is a market for ice in Dhaka. We have beefed up vigilance and are conducting drives to arrest members of the syndicate," added Mashiur.
These correspondents talked to two transport workers who carry ice to Dhaka.
"A truck driver named Kaiser in Chattogram told us to bring the packs to Dhaka along with other goods. He was supposed to pay us once we delivered the pack," said one of the carriers, who is a helper of a truck.
WHAT IS ICE?
Crystal meth is a powerful drug that affects the central nervous system. Use of the drug poses high risks of stroke, heart attack, teeth decay, and permanent hallucinations, among other short and long-term health effects, according to the US National Institute on Drug Abuse.
Shafiqul Islam Sarker, an assistant chemist at the DNC, said crystal meth is about 20 times more potent than yaba.
He added it is possible to make one lakh yaba pills with 500 grams of ice.
An ice user said one loses awareness of what is happening around them after taking the drug.
"It gives instantaneous energy for two or three days, but after that, it becomes unbearable and one needs a continuous two-day sleep to recover," added the user.
Quazi Lutful Kabir, acting chief consultant of Central Drug Addiction Treatment Centre, told The Daily Star that long use of ice can cause enhanced feelings of euphoria, abnormal behaviour and reduced appetite.
An addict may turn violent and must be taken to rehab, added Dr Kabir.