Crackdown on BNP men: Her one son killed, another behind bars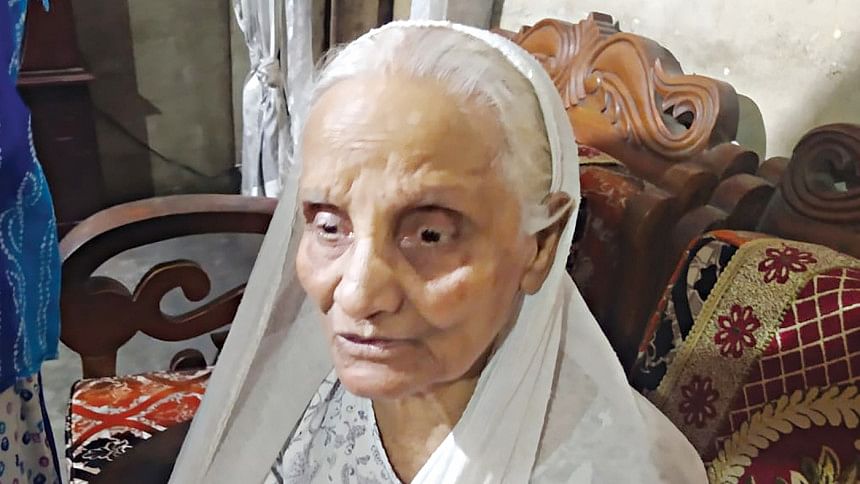 It was a fateful night for Fazilatunnesa's family.
Ruling party men stormed her house in Wari at midnight, just two nights before the BNP's December 10 grand rally -- killing one of her sons and whisking away another son. All these happened because of her grandson's involvement with BNP's politics, she said.
"Is it a sin to get involved in BNP politics?" said the 89-year-old Fazilatunnesa in anger and grief.
Instead of taking any action against the Awami League men who entered their house on December 8, police rather arrested her son Shahadat Hossain Swapan after the AL men handed him over to the police.
Police later showed Swapan arrested in a case filed over violence at Kaptanbazar recently. He is now behind bars.
While Swapan was being taken away forcibly, his brother Millat Hossain, 70, tried to restrain the AL men after his mother Fazilatunnesa asked Millat to interfere as he was the local Panchayat committee secretary for many years.
At that time, one of the invaders struck the back of Millat's head with something hard. Millat went unconscious and collapsed on the floor of the drawing room on the first floor. He was bleeding profusely, his family said.
He was declared dead after the family took him to a nearby hospital.
"I asked him to go to save his brother. Had I not insisted he intervene, he would not have been killed," Fazilatunnesa told The Daily Star on December 12 in a choked voice.
Millat's mother and other family members are still reeling from the shock.
Since the incident, the family has been passing days in insecurity as police did not take any action against those AL men who entered the house in the dead of the night and allegedly killed Millat.
They are so scared that they have installed some additional CCTV cameras in the house so that those cameras cover every corner of the house.
Around 12:30 am on December 8, some 50-60 activists of the ruling AL entered the premises of Millat's house on Gopi Mohon Boshak Lane in old Dhaka's Wari. Eight to 10 of them searched every room on the first floor for Millat's son Faysal Mahbub, a former joint convenor of Wari unit Jubo Dal, said family members.
They even forced the family to unlock the wardrobes and searched if Faysal was hiding there. But, they did not find him.
At one point, the outsiders caught Swapan, 52, on the rooftop of the two-story building. They started dragging him down and some even beat him.
Millat tried to interfere as they came down to the first floor when he was hit, said his younger sister Yasmin Bulbuli, a lawyer by profession.
"At first, I advanced and asked why are they beating my brother (Swapan). Some pushed me aside. One even threatened that he will shoot me if I do not move away," Yasmin said.
Kabir Hossain Hawlader, the officer-in-charge of Wari Police Station, however, said that Millat was sick and collapsed when he was locked in an altercation with some people who entered his home. He suffered a head injury after he fell, he added.
He said Millat's younger son Farhan Mahbub Ridoy filed an unnatural death case following the incident.
The family, however, alleged that Ridoy was forced by local AL men and the police to file such a case.
Asked whether police have taken action against those who forcibly entered Millat's home in the dead of night, he said that he did not take any action as none has lodged any complaint.
"Many unknown people entered our home at ungodly hours. We want justice," Yasmin said, adding that they file a murder case to the court after getting post mortem report.
Faysal, who has been on the run, told The Daily Star over the phone that the next day police chased him when he joined his father's burial at Azimpur graveyard. As he tried to jump over a boundary wall after being chased, he fractured one of his legs.