Court defers charge framing hearing in two cases against Khaleda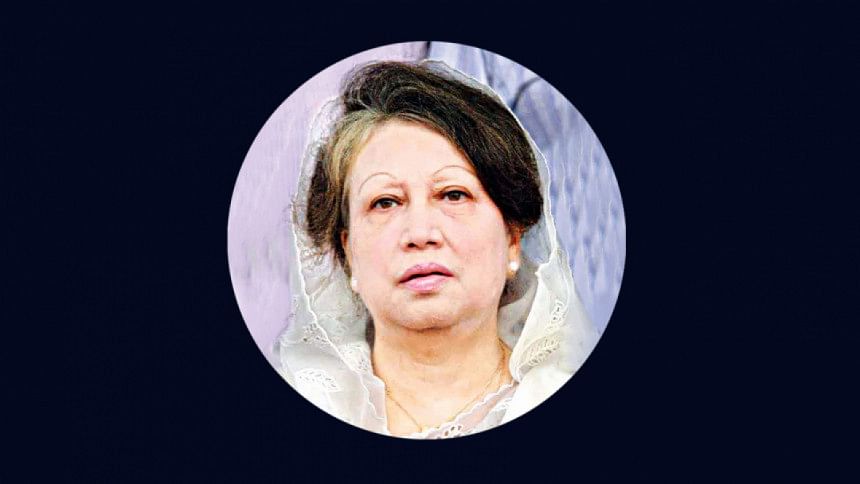 A Dhaka court today deferred till May 13 the hearing on framing of charges against BNP Chairperson Khaleda Zia in connection with two cases filed over undermining the national flag and observing a "fake birthday" on August 15.
Dhaka's Additional Chief Metropolitan Magistrate Muhammad Asaduzzaman Nur passed the order after Khasleda's lawyer Masud Ahmed Talukder submitted two separate petitions, seeking adjournment of the hearings in the cases.
With today, defence took 15 dates for hearing on different excuses.
In the petitions, the lawyer said Khaleda Zia could not appear before the court due to her illness. Moreover, she was not in a position to move. So, the hearing should be adjourned, Masud added.
Complainants of the cases were not present at the makeshift court set up inside Dhaka Central Jail in Keraniganj.
One of the cases was filed by AB Siddique, president of Bangladesh Jananetri Parishad, a pro-Awami League organisation, with a Dhaka court on November 3, 2016 accusing Khaleda and her late husband, former president Ziaur Rahman, of "undermining" the country's map and national flag.
The court dropped Ziaur Rahman's name from the charges as he is dead.
The second case accusing Khaleda of celebrating her "fake birthday" on August 15, the National Mourning Day, was filed by Gazi Zahirul Islam, former joint general secretary of Dhaka Union of Journalists, with another Dhaka court on August 30, 2016.
Ten other cases were filed in the first three months of 2015 over arson attacks. Another case was lodged with a Dhaka court on charge of making seditious comments on freedom fighters and the martyrs of the Liberation War.
Besides these, Gatco, Niko and Boropukuria coal mine graft cases are now pending with three other courts in Dhaka.
Several other cases, including three arson cases filed with Cumilla's Chauddagram Police Station, are also pending with Cumilla courts.
Khaleda, who is now out of jail following an executive order from the government, is staying at her Gulshan residence.