Couple's fake note-making factory busted in Dhaka's Badda; 5 arrested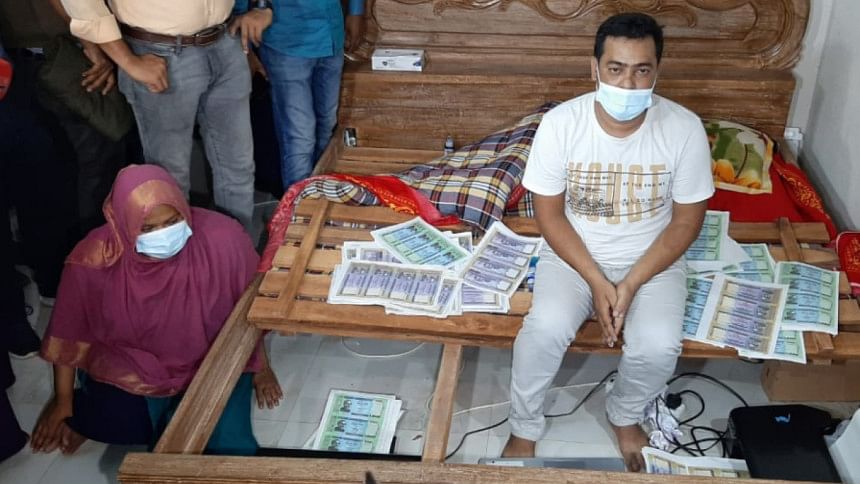 Detective Branch (DB) of police claimed to have arrested five persons, including a couple, from Dhaka's Badda area on charge of producing fake notes and circulating those in the market.
They also seized around Tk 43 lakh in fake notes and money-printing materials during the raid at Nurer Chala Saied Nagar area today, Mashiur Rahman, deputy commissioner of Gulshan Division DB police, said.
The arrestees are: Abdur Rahim Sheikh, his wife Fatema Begum, Rahim's friend Helal Khan, Anwar Hossain and Israfil Amin.
The DB official said the couple turned their house into a fake note-making factory.
During the drive, Rahim said that he is the key person in producing the counterfeit notes while his wife assists him.
"I used to get two-thirds of the profit as I have the expertise," he said, adding that Helal is his partner.
The two others arrested are the dealers of the fake notes, he told reporters on the spot.  
The DB official said all five were arrested earlier but started making counterfeit notes again after coming out of jail.  
They had a plan to amplify the production of fake notes ahead of Eid. They used the fake notes in drug trading too, he said.
The DB official said Helal was once a garment trader but was addicted to drugs. As he incurred losses in the business, he started producing fake notes with help of Rahim and Fatima.
According to Rahim, it costs the gang Tk 8,000 to make Tk 1 lakh in fake notes. They used to sell Tk 1 lakh in fake money to wholesales for Tk 15,000 and to retailers for Tk 25,000.
Filing of a case against under the Special Powers Act is underway.