Child Rape Survivors with Disabilities: The never-ending road to justice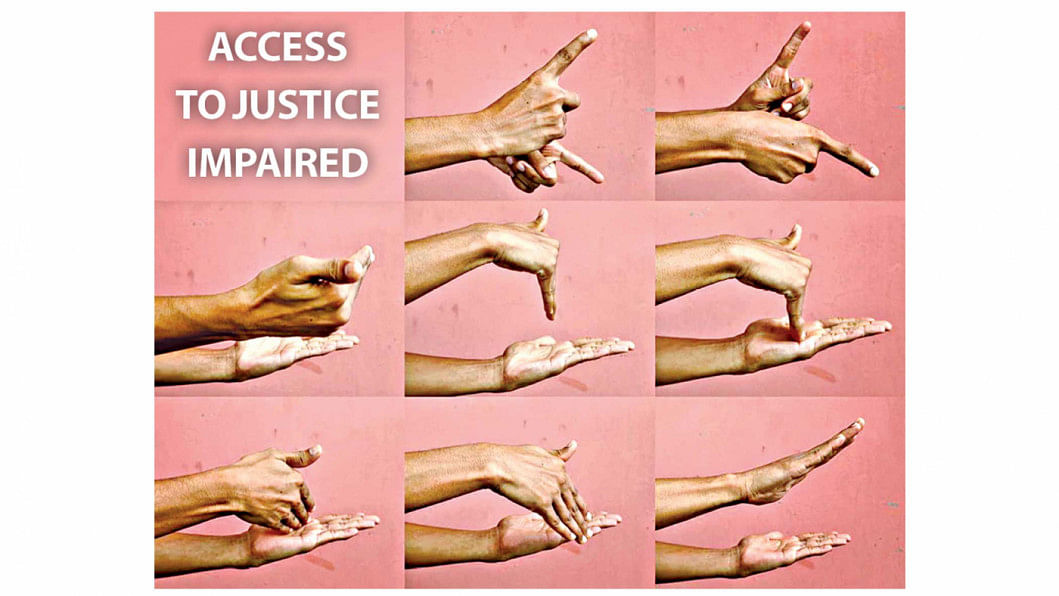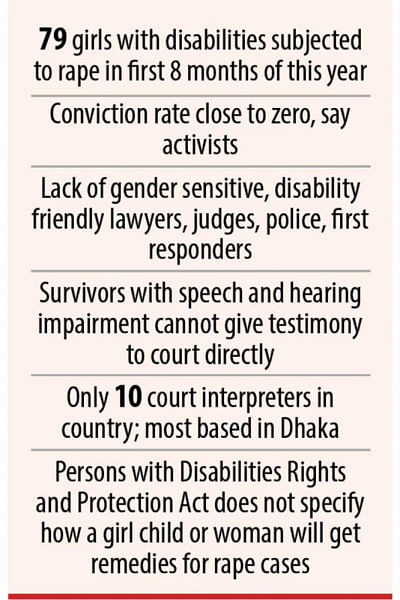 "It makes me so angry when I see the man who raped my 13-year-old daughter with disabilities proudly roaming around the neighborhood, saying, 'What's so wrong with raping a retard? She's a reject any way!'" lamented a frustrated Mujtoba Ali*, a construction worker in Bogura.
"We used to hope for justice, but all hope has disappeared now," he said.
Samia*, a girl with intellectual and physical disabilities, was raped in November 2016 by one of her neighbours. On that very day, the family filed a case against the perpetrator.
Five years later, the case has seen little progress, although trial proceedings of cases under the Nari O Shishu Nirjaton Daman Ain are supposed to be finished within 180 days after the lower court concerned accepts the case for trial, as per a High Court directive.
Meanwhile, the accused is out on bail after only three months of imprisonment.
Samia, who had a weakness in her right hand and leg since her childhood, is completely paralysed now, after an accident four months ago. On the other hand, the father's physical condition has deteriorated such that he cannot work on a regular basis, let alone afford the prolonged legal battle. 
"Seeing our desperate condition, the accused is trying to get us to withdraw the case in exchange for Tk 1 lakh," he said. "I have no choice now."
According to advocate Naresh Mukharjee, the public prosecutor for Bogra Nari O Shishu Tribunal 1, the case is moving at a snail's pace, and it is uncertain how long it will take to resolve.
However, this case can be dealt with session trial and the court can complete the hearings within seven days, if the judge is willing to do that, he said.
The experience of seeking justice for Lamiya*, a 14-year-old with intellectual disability from Khulna, was even more frustrating. She was raped and impregnated by one of her neighbours she used to call "grandfather" in 2016. 
"It was a curse to seek justice for my daughter -- the accused was almost 70 years old and died all of a sudden in 2019. But his family filed a murder case against my labourer husband and 13-year-old son," said her mother.
"My husband was jailed for three months and my SSC candidate son is now a fugitive. Everyone is mocking me for being so ambitious with justice for my 'reject' of a girl," she said. Lamiya's family is unable to afford the cost of the anticipatory bail for her brother's exam, as they spent almost everything in Lamiya's case.
A latest media monitoring report by the National Girl Child Advocacy Forum Bangladesh found that a total of 79 girls with disabilities have been subjected to rape in the first eight months of this year.
However, justice is a far cry for these victims, especially those who have intellectual, speech, hearing and psycho-social disabilities, even though they endure abuse and sexual violence, at rates much higher than other girls and women, said legal and disability rights activists.
Although there is no data available on conviction rates in rape cases concerning girls with disabilities, activists said such convictions are rare, if not completely unheard of. 
BARRIERS IN ACCESSING JUSTICE
In the country's legal system, since the burden of proof entirely falls on the victims, it becomes difficult for the girls and women with disabilities to prove the incident beyond any reasonable doubt due to their circumstances, argued experts.
There is a severe lack of sensitivity and understanding in dealing with survivors with disabilities, they added.
"For example, a survivor with speech and hearing impairment cannot give her testimony to the court directly because there are no lawyers or judges in Bangladesh who know sign language. Courts require interpreters in such cases, but there are only around 10 of them in the country and most are based in Dhaka," said Supreme Court lawyer Rezaul Karim Siddiqui, also former research fellow at BLAST.
Besides, if an interpreter agrees to take on a case, s/he becomes witnesses and are required to travel whenever needed for hearings, which many consider a hassle, he added.
Ariful Islam, a sign language news presenter of BTV, who has served as an interpreter in more than 20 rape cases, said many judges outside of Dhaka are not aware of interpreters and usually ask the disability focal person of Department of Social Welfare, or teachers of local deaf schools, who may lack the skills or the sensitivity to engage properly with survivors.
"In addition, although the court order mentioned providing transport allowance to interpreters, in reality they do not get any, which discourages many from assisting in cases outside Dhaka. But if the government creates a database of interpreters, assigns them a specific number of cases in a selected area, and provide a minimal transport allowance, the situation could be improved," he opined.
Even when interpreters are available, testimonies of people with disabilities are often considered not credible, especially of those with intellectual disabilities.
Moreover, in case of survivors with psychosocial disability, the police are not even willing to document such cases because the survivors cannot prove the incident, while those who have multi-sensory impairment are completely unable to give testimony, he added.
Ashrafun Nahar Misti, executive director, Women with Disabilities Development Foundation (WDDF), an organisation providing non-legal support to women with disabilities, highlighted that Persons with Disabilities Rights and Protection Act 2013 does not specify how a girl child or woman will get remedies if they're raped.
"Rather, they too are dealt under the Women and Children Repression Prevention (Amendment) Act 2020, but it would have been better if there was a separate chapter on how these particular cases could be tried and remedies provided," she said. 
"Now, we are totally dependent on the discretion of judges and lawyers, but if they are not sensitive, there is no hope," she said.
"Another important factor is that since most survivors with disabilities mostly come poor families, they cannot afford the protracted legal battle without the assistance from NGOs. Although the public persecutors are appointed by the state, they do not give enough attention to these victims as such cases do not benefit them financially," she added.
Advocate Siddiqui however suggested that if the burden of proof could be shifted to the perpetrator from the victim in such cases, justice could be easier to mete out.
Besides, law enforcement and implementing agencies must ensure that the laws related to rape and disability rights must be disseminated to the victims in accessible formats (through braille, sign language), so that they can be aware of the crimes and their rights, he added.
Contacted, Law Minister Anisul Huq told this correspondent that he will surely look into the issue try to address it.
*The real name of the rape survivors and identifying information has been withheld.