Casino 'kingpin' Samrat out on bail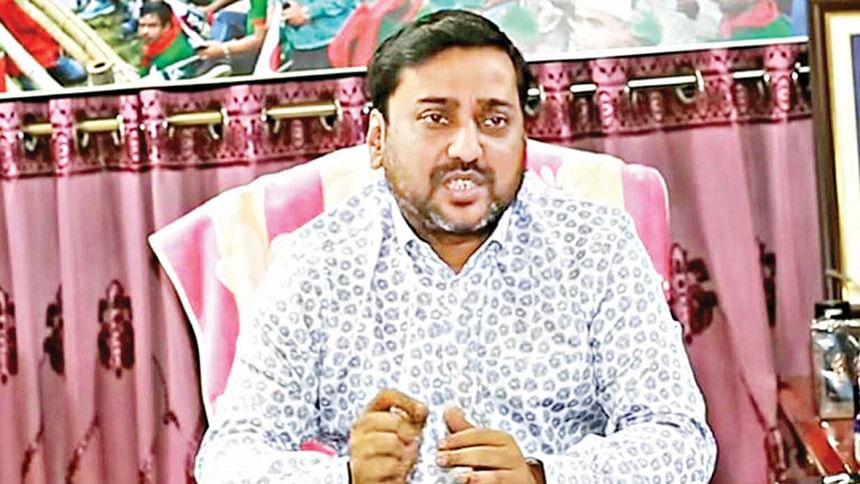 Expelled Jubo League leader Ismail Hossain Chowdhury Samrat was released on bail yesterday after spending over two and a half years in jail in four cases.
He was arrested in 2019 from Cumilla during the anti-casino drive.
Around 4:30pm, Samrat walked out of his prison cell in Bangabandhu Sheikh Mujib Medical University (BSMMU) where he was being treated for illnesses, said Mahbubul Islam, jailer of Dhaka Central Jail in Keraniganj.
Samrat will not be going home immediately as he is still under treatment, hospital sources said.
BSMMU Director (hospital) Brig Gen Md Nazrul Islam said Samrat will be discharged once his health is better.
If his family wants to shift him elsewhere, they will have to consult the doctors in charge of his treatment, Nazrul said.
Judge Al Asad Md Asifuzzaman of Dhaka's Special Judge Court-6 yesterday granted ad-interim bail to Samrat in a case filed for siphoning off around Tk 222 crore and channelling it to casinos in Singapore and Malaysia between 2011 and 2018.
Samrat was given bail on grounds of his deteriorating health condition and long stay in jail since October 2019. He was given bail in the other cases against him on similar grounds, court sources said.
He was earlier granted bail in money laundering and arms cases on April 10, while he got bail in a narcotics case the next day.
The judge directed Samrat to submit his passport before the court yesterday while furnishing the bail bond.
Moreover, Samrat will not be allowed to go abroad without the court's permission and will have to submit his updated medical records before it, said the judge in his order.
On November 12, 2019, the Anti-Corruption Commission filed a case against Samrat with its Integrated District Office-1 of Dhaka for amassing Tk 2.94 crore illegally.
On December 7, 2020, ACC Deputy Director Jahangir Alam, also the investigating officer of the case, submitted the charge sheet against Samrat, considered a kingpin in the illegal casino businesses in the capital, to the Senior Special Judge's Court of Dhaka.
On October 6, 2019, Rab arrested Samrat and his close aide Enamul Haque Arman, former vice-president of the same unit, in Cumilla after raiding a house near the Indian border.
The ex Jubo League leader came under the spotlight after Rab busted his illegal casino business at different sporting clubs in Dhaka. Following his arrest, he was expelled from the ruling party youth wing.