Case against Tarique, Zubaida: Scuffle at courtroom halts depositions for over 2 hours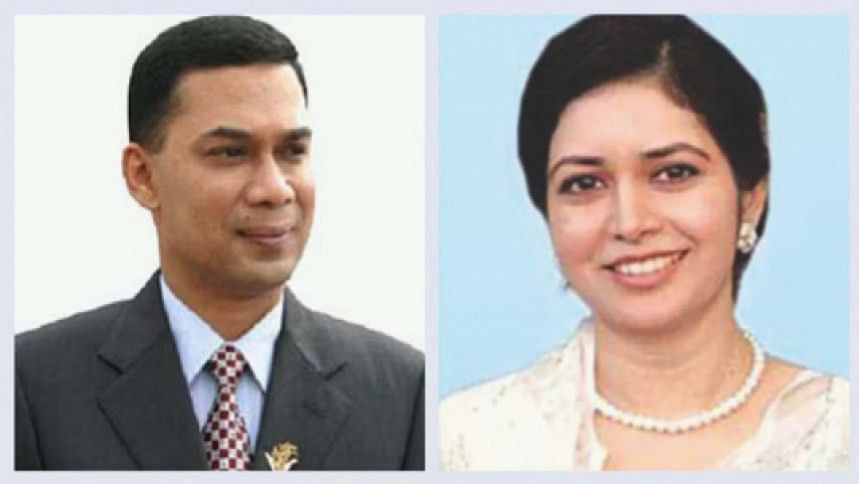 Depositions of prosecution witnesses in the graft case against BNP acting chairman Tarique Rahman and his wife Zubaida Rahman were suspended for two and a half hours following a scuffle between a section of pro-BNP lawyers and prosecution lawyers today.
After Judge Md Asaduzzaman of Dhaka Metropolitan Senior Special Judge's Court started recording statements of one Abdul Matin, a group of pro-BNP lawyers entered the courtroom and demanded withdrawal of the case.
They started chaos at the courtroom and also had an altercation with prosecution lawyers, halting the recording of statements around 3:30pm, said Public Prosecutor of Anti-Corruption Commission Mosharraf Hossain Kajol.
The recording of deposition started around 6:00 pm after the law enforcers drove away the pro-BNP lawyers from the court premises, our court correspondent reports.
Around 6:15 pm, the court ended recording statement for today.
Additional police have been deployed on the premises of the court to avoid any further untoward incident.
Yesterday, as three prosecution witnesses were giving their statements before the same court, pro-BNP lawyers held a rally in front of the Dhaka Bar Association and chanted slogans for withdrawal of the case.
The BNP-backed lawyers also protested the May 25 decision for fixing five consecutive days for recording statements.
Tarique and Zubaida have been shown fugitives in the charge sheet as they are in London since 2008.
Tarique is accused in 15 other cases, mostly filed during the caretaker government rule in 2007 and 2008, and Zubaida has been indicted only in one of these cases.
On September 26, 2007, the ACC filed the case with Kafrul Police Station against the two and Zubaida's mother Syeda Iqbal Mand Banu, on charges of amassing assets worth Tk 4.82 crore through illegal means and concealing the information of Tk 2.16 crore in their wealth statements.
After a probe, the investigation officer pressed charges against the three on March 31, 2009.
However, trial proceedings against Zubaida's mother were cancelled.