Buet student murder: What was his last known location?
Friend arrested, remanded for 5 days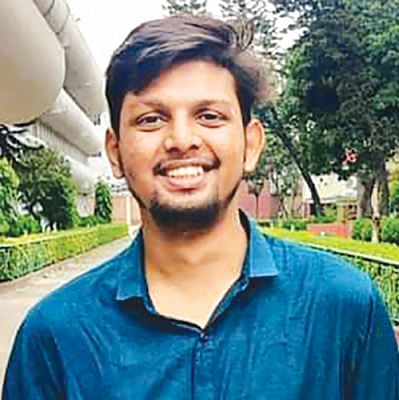 Confusion has arisen over the last known location of slain Buet student Fardin Noor Parash as Home Minister Asaduzzaman Khan Kamal yesterday said it was Gazipur while police had earlier said his cellphone was last tracked in Keraniganj.
Police recovered Fardin's body from the Shitalakkhya in Siddhirganj of Narayanganj on November 7, three days after he went missing.
"How his body ended up there from Gazipur is being investigated," said the home boss, reports UNB.
Earlier, Rafiqul Islam, officer-in-charge of Rampura Police Station, said Fardin's mobile location was last tracked in Keraniganj, where he went through Old Dhaka's Johnson Road.
Meanwhile, Amatullah Bushra, a friend of the deceased, was placed on a five-day remand after she was arrested yesterday in a case filed by Fardin's father.
In the case, Kazi Noor Uddin Rana, the victim's father, accused her of instigating the murder.
Bushra's family members, however, claim she is innocent and has been framed in the case.
After the case was filed with Rampura Police Station around 3:00am, accusing Bushra and unnamed others, she was arrested in the morning and produced before a court with a seven-day remand prayer.
The court granted a five-day remand for interrogation.
According to the case statement, Fardin left his Demra home on November 4.
He had told his family he would be sitting an exam at the university on November 5 and would then return home to have lunch with his mother.
Fardin, however, never appeared for the exam. After learning this, Noor Uddin tried to reach his son over the phone but could not. Other family members and friends too tried to contact him but in vain, the case statement read.
Police said Bushra told them she and Fardin were together from afternoon till around 10:00pm on November 4.
An officer investigating the case said Fardin was seen on a rickshaw with Bushra in the capital's Rampura area around 10:00pm.
"But we still could not find any footage showing him [Fardin] leaving the area. That is what made us suspicious," he said, preferring anonymity.
The body of Fardin, a third-year student of civil engineering in Buet, was recovered from the Shitalakkhya at Banani Ghat in Narayanganj's Siddhirganj on November 7 afternoon. His head and chest bore injury marks.
Bushra, a third-year student of English at a private university, lives in a mess in the capital's Rampura.
Mazharul Azam, an uncle of hers, said she has been falsely implicated in the case.
Quoting Bushra, he said Fardin had come to Rampura TV bhaban area to drop Bushra. "She had been in the mess since then."
He added the CCTV footage even shows her walking towards the mess alone around 10 minutes after she was dropped.
In another development, the murder case was transferred to the Detective Branch of police yesterday for further investigation.