Biswajit murder case: Another life-term convict arrested in Dhaka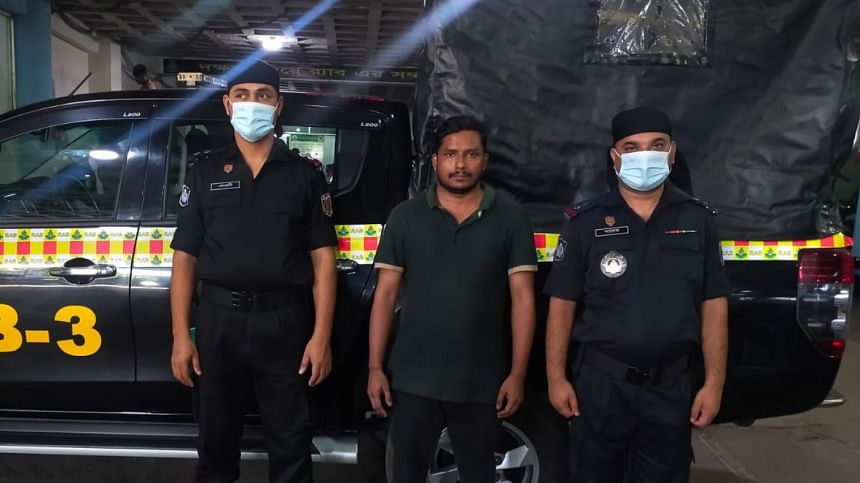 Rab has arrested a fugitive convict who was sentenced to life-term imprisonment for killing Biswajit Das during a blockade enforced by BNP-led alliance 10 years ago.
Kamrul Hasan (35) was arrested from Dhaka's Paltan area yesterday, said Bina Rani Das, operations officer of Rab-3.
On December 9, 2012, Biswajit (24) was hacked to death in broad daylight by Bangladesh Chhatra League (BCL) activists while he was on the way to his tailoring shop at Shakharibazar in Old Dhaka during the blockade.
In 2013, Dhaka Speedy Trial Tribunal-4 announced the verdict in the murder case. The trial court sentenced eight accused to death and 13 to life imprisonment. The convicts later appealed against the verdict.
Later, on August 6, 2017, the High Court upheld the death penalty of two of the eight convicts sentenced to death by the lower court, commuted the death sentence of four to life imprisonment and acquitted two others.
According to Rab, Kamrul fled to a neighbouring country following the killing of Biswajit but returned home in 2013.
At first, he started a garment business under a fake name. He later got acquainted with – Khokon and Sohel – the masterminds of a question paper-leaking racket. Kamrul earned around Tk 50 lakh selling leaked questions of different recruitment tests from 2014 to 2021.
With the money, he started a hotel business in Cox's Bazar which incurred losses due to pandemic.
On July 15 this year, police arrested another life term convict in the case, Alauddin (32), from Bogura's Shibganj upazila.