Azad to Avijit: Deadly cost of freethinking
Verdict over DU professor's murder due tomorrow; families of slain bloggers yet to find closure
We have been waiting agonisingly for justice -- waiting to see the verdict.
Both of them championed the causes of freethought and secularism. And both met the same fate.
They came under machete attacks by extremists near the Bangla Academy while returning from the country's biggest cultural and literary festival, Amar Ekushey Boi Mela.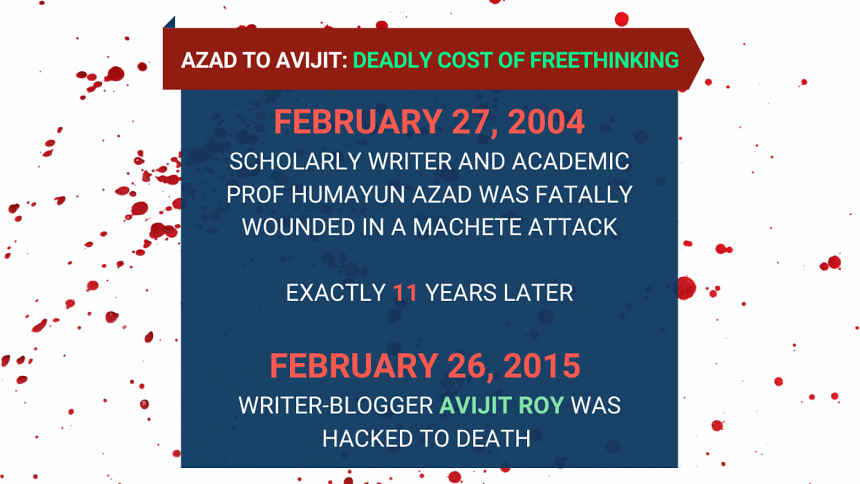 Scholarly writer and academic Prof Humayun Azad was fatally wounded in a machete attack on February 27, 2004.
Exactly 11 years later, on February 26, 2015, writer-blogger Avijit Roy was hacked to death. His wife Rafida Ahmed Bonya suffered serious stab injuries when she tried to save her husband.
Militants also launched fatal attacks on at least six other secularist bloggers and freethinkers in a similar manner in Dhaka and Sylhet between 2013 and 2016. Four of them were killed within just seven months in 2015.
The motive of the attacks, as police investigation revealed, was to muzzle their secular voice, views and freethinking.
None of the families of the victims have yet got justice as four cases filed over the murder of as many secularist bloggers, including Bangladeshi-American Avijit Roy, remain pending with different courts. 
Prof Azad's family didn't even get the lower court verdict though 18 years have gone by.
"We have been waiting agonisingly for justice -- waiting to see the verdict," Mauli Azad, daughter of Humayun Azad, told The Daily Star on Sunday.
Finally, a Dhaka court is set to deliver a verdict in the case tomorrow.
According to the police probe, Jama'atul Mujahideen Bangladesh (JMB) operatives swooped on 56-year-old linguist Azad, an acclaimed writer and Bangla professor at Dhaka University, as he was trying to catch a rickshaw to go home from the book fair.
He suffered critical stab wounds to different parts of his body. A day after the attack, his brother Manjur Kabir filed an attempt-to-murder case with Ramna Police Station against some unnamed people.
Prof Azad died in Munich on August 12, 2004. Reviewing his death certificate, police in the charge sheet said that because of the wounds from the attack in February, Prof Azad suffered hypertension and his health was deteriorating -- which ultimately led to his death. 
After his death, the case was turned into that of murder.
Inspector Kazi Abdul Malek of CID submitted a charge sheet to a Dhaka court on November 15, 2007 against five JMB men. But upon appeal by Azad's family, the court ordered reinvestigation.
The CID filed a fresh charge sheet on April 30, 2012 against four JMB men -- Salehin alias Salahuddin, Anwarul Alam alias Anwar, Mizanur Rahman alias Minhaz and Nur Mohammad. Of them, Salehin and Nur are on the run and the other two behind bars.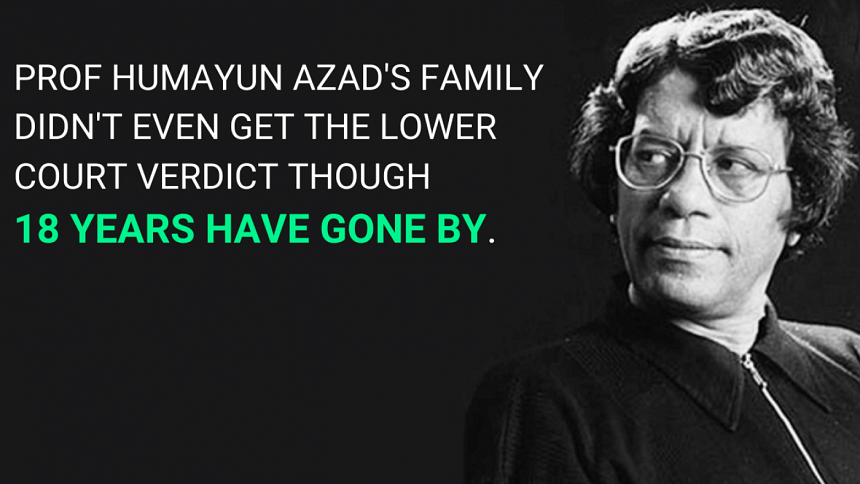 The investigators had found involvement of six other JMB leaders and activists including JMB chief Abdur Rahman and his second-in-command Siddiqul Islam Bangla Bhai, but the court acquitted them as they were either executed in other cases or killed in "gunfight".
In the face of massive crackdown and arrest and execution of JMB top leaders following years, the banned outfit's activities were largely contained.
But the IS-inspired militant group "Neo JMB" and al-Qaeda-influenced Ansarullah Bangla Team (ABT), also known as Ansar Al Islam, started carrying out targeted killings between 2013 and 2016.
ABT was responsible for the attacks on writer-bloggers, including Avijit, publishers and LGBT activists.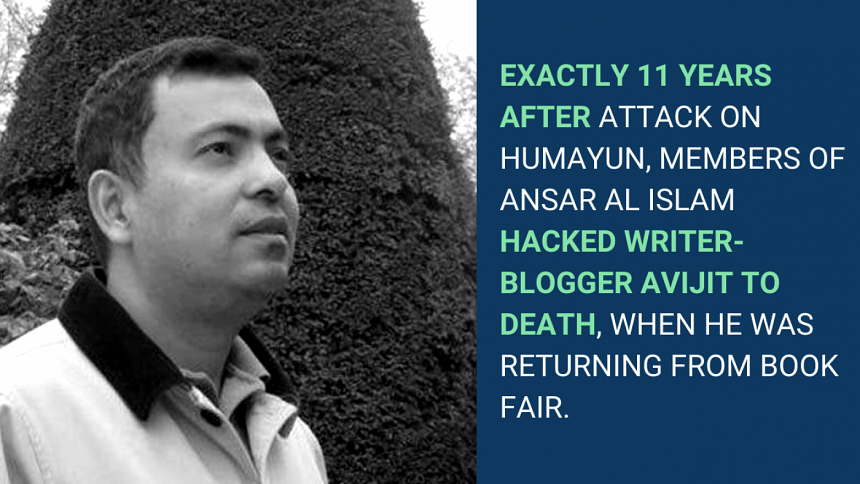 For the killing of Avijit, a tribunal in Dhaka on February 16 last year handed down death sentences to five militants and life imprisonment to another.
Those sentenced to death are Syed Mohammad Ziaul Haque alias Major (sacked) Zia, Akram Hossain, Abu Siddique Sohel, Mozammel Hossain and Arafat Rahman. Life imprisonment was handed to Shafiur Rahman Farabi.
While the case is still pending with the High Court, Major Zia and Akram remain fugitives and the rest are in prison.
After the verdict, Bonya had said Simply prosecuting a few foot-soldiers -- and ignoring the rise and roots of extremism -- does not mean justice for Avijit's death.
The US State Department on December 20 last year announced a $5 million reward for information on the killing of Avijit Roy and the concurrent attack on his wife Bonya.
ABT also brutally killed Faisal Arefin Dipan of Jagriti Prokashani at his Shahbagh office on October 31, 2015. Dipan's company had published Biswasher Virus (The Virus of Faith), by Avijit Roy in 2014. 
The same day, Ahmedur Rashid Tutul of Shuddhashwar Prokashani, another publisher of Avijit's books, survived hacking by ABT men.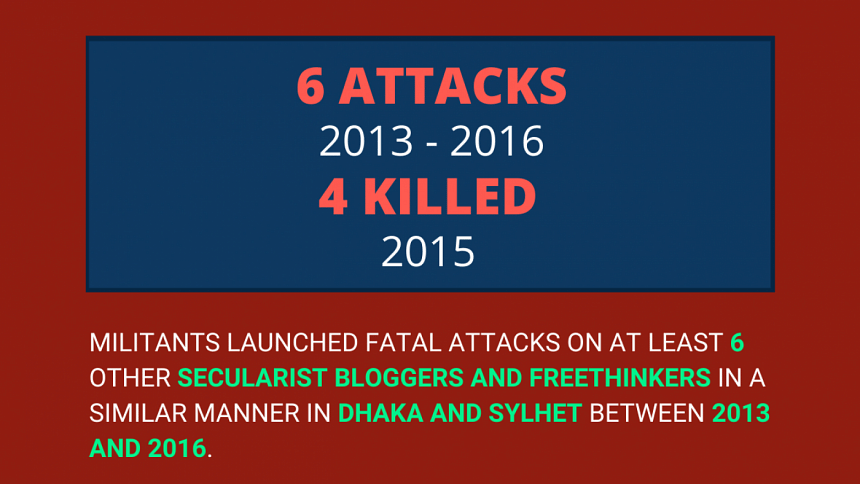 On February 10, 2021, a trial court handed down death sentence to eight ABT leaders and operatives, including Zia and Akram, in the Dipan murder case.
The appeals filed by the convicts and death references (lower court documents for confirmation of death penalties) in the cases filed for the killings of Avijit and Dipan, are now pending with the HC.
Supreme Court spokesperson Saifur Rahman said the hearings and disposals of the death references and appeals in the cases will be held gradually.
The spate of blogger killing began in 2013 with ABT men murdering Ahmed Rajib Haider near his Mirpur house on February 15 when the Shahbagh movement demanding capital punishment of war criminals was in full swing.
A Dhaka court sentenced two ABT members to death and six other operatives to different terms in jail on December 31, 2015 over Rajib's killing.
The High Court upheld the trial court verdict on April 2 in 2017. Rajib's father Nazimuddin expressed disappointment over the High Court judgment saying that he did not get justice.
"The eight accused in the case are self-proclaimed and proved terrorists, but all of them did not get capital punishment," he said after the HC verdict.
The Appellate Division of the Supreme Court is yet to start the hearing on the appeals filed by the convicts challenging the HC verdict.
Science writer and blogger Ananta Bijoy Das was hacked to death at Sylhet city's Subidbazar on May 12, 2015. The Anti-Terrorism Special Tribunal of Sylhet handed down death penalty to four ABT operatives on March 30 this year.
On March 30, 2015, blogger Oyashiqur Rahman Babu was attacked by three cleaver-wielding ABT members in the capital's Tejgaon industrial area. The case filed over his murder is under trial at a Dhaka court.
Trials of the cases filed over murders of two other bloggers -- Niladri Chattopadhyay Niloy in the capital's Goran on August 7, 2015, and Nazim Uddin Samad at old Dhaka on April 6, 2016 -- are yet to begin. Police pressed charges against a number of ABT operatives in the cases.
Khurshid Alam Khan, a senior lawyer of the Supreme Court, told The Daily Star that due to the long delay of trial proceedings of the cases witnesses lose their interest, evidence gets damaged and justice is hampered.