Attack on Hindus in Rangpur: 51 accused land in jail after bail rejected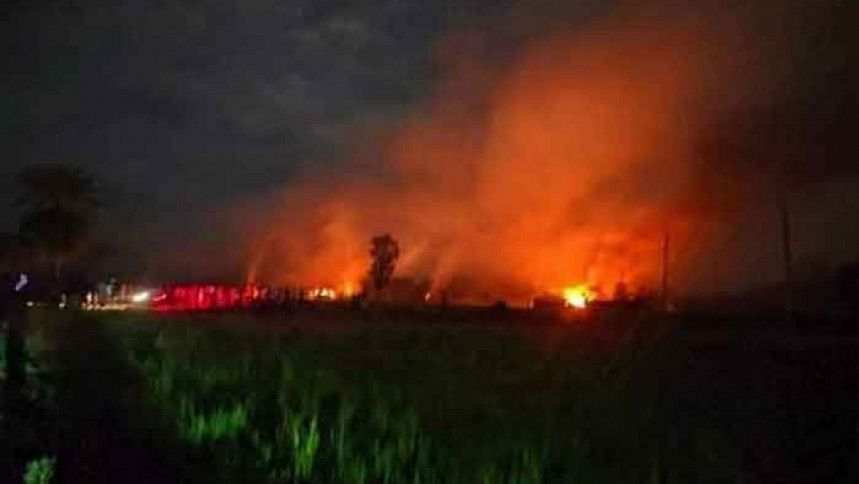 A Rangpur court yesterday (August 7, 2022) sent 51 people to jail after rejecting their bail petition in a case filed over the arson attack and looting of Hindu houses at Majhipara village in Rangpur's Pirganj upazila last year following a Facebook post.
Rangpur Senior Judicial Magistrate Court Judge SM Shafiqul Islam passed the order after the 51 accused, including prime accused Shahiduzzman, surrendered before the court yesterday seeking bail, nine months after the incidenttook place.
Police sent all of them to jail, Court Inspector Md Anisur Rahman told our Dinajpur correspondent.
According to the case statement, hundreds of people attacked the Hindu minority at Majhipara village on October 17 night last year over a Facebook post. During the attack, the houses of Hindus were also looted. At least 30 houses were burnt down in the fire.
Later, Ismail Hossain, sub-inspector of Pirganj Police Station, filed a case accusing 146 persons. Later, police submitted chargesheet before court against all the accused after completing the investigation in the case.
All the accused went into hiding after the incident. But, 51 of them surrendered before the court yesterday seeking bail, said Court Inspector Md Anisur Rahman.
Police filed a total of four cases over the incident. Of them, one was filed for attacking and looting, and three filed under Digital Security Act.
Fifty accused so far have been arrested in all the cases, police said.