Atiqul, Taqsem should be jailed
Says Nat'l River Conservation Commission chief, blasts them over waste dumping in rivers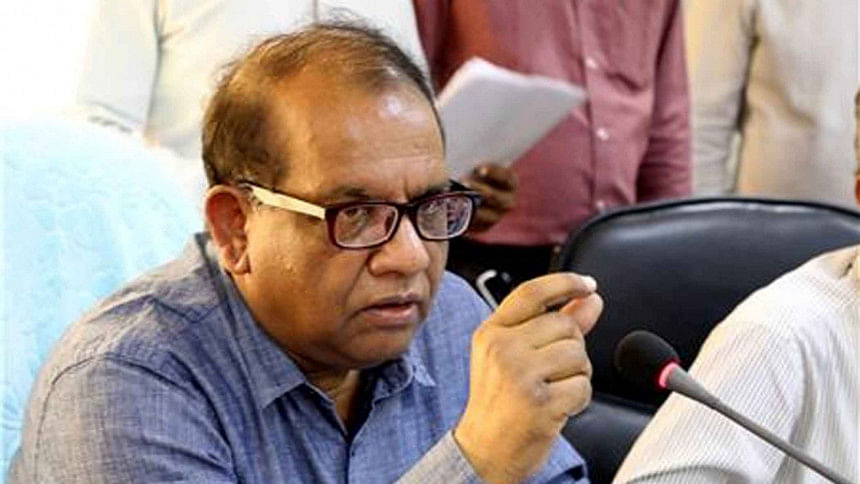 The National River Conservation Commission chief yesterday said he wants the Dhaka North mayor and Dhaka Wasa managing director to land in jail because they failed to check the dumping of untreated waste into Dhaka rivers.
Manjur Ahmed Chowdhury, chairman of NRCC, said people of Dhaka city produce 50 lakh kilograms of faeces and 1.5 crore litres of urine every day.
"It is Dhaka Wasa's responsibility to treat human waste, which ends up in the rivers through the drainage channels of the city corporation," he said during a discussion organised at the Cirdap Auditorium in the capital.
He wants punitive action against Dhaka Wasa Managing Taqsem A Khan for his agency's failure in sewage management.
Citing visits to different DNCC areas, the NRCC chairman said they had asked the authorities to set up nets at the mouths of canals so that the waste does not fall into the rivers. But the DNCC has not done that yet.
For this, punishment should also be given to Dhaka North City Corporation Mayor Atiqul Islam, he said at the meeting, organised by the commission to mark World Rivers Day.
"We will place the MD of Dhaka Wasa and the mayor of DNCC before a mobile court. We want they are awarded six months in jail and fined Tk four lakh."
The Daily Star  could not reach Atiqul and Taqsem despite repeated attempts.
The condition of the canals in Dhaka South City Corporation areas is not good either, according to media reports. But the NRCC chairman didn't make any complaint against DSCC Mayor Sheikh Fazle Nur Taposh. He, rather, thanked Taposh.
The NRCC boss said the mayor of DSCC has planned to build waste treatment plants at the mouths of the canals so that the polluted water does not flow into the river.
Speaking as the chief guest, State Minister for Shipping Khalid Mahmud Chowdhury said, "Through Bangladesh Inland Water Transport Authority, we have already recovered around 90 percent of the river areas from the encroachment."
He added, "We could not recover many river areas as educational institutions, mosques and temples were built on river banks. We talked to religious leaders to deal with such issues."
The state minister hoped that all the challenges centring on the rivers will be overcome, and vowed stern actions will be taken against the river grabbers.
Ainun Nishat, a professor emeritus of Brac University, slammed the planning commission and the environment ministry for approving the construction of culverts in an "unscientific way" in different parts of the country and it is one of the reasons to kill rivers.
Malik Fida Abdulla Khan, a member of NRCC, demanded a proper database of rivers as well as a health index of rivers like in other countries.
UN Resident Coordinator in Bangladesh Gwyn Lewis, environment expert Prof Ansarul Karim, NRCC member Moniruzzaman, among others also spoke at the discussion.
Zillur Rahman, executive director of the Centre for Governance Studies, moderated the discussion.