Anti-Govt Agitation: Over 50 hurt as AL, BNP activists clash
BNP leader Nipun Roy Chy suffers head injuries in Keraniganj; Vice-chairman Noman's motorcade ttacked in Khagrachhari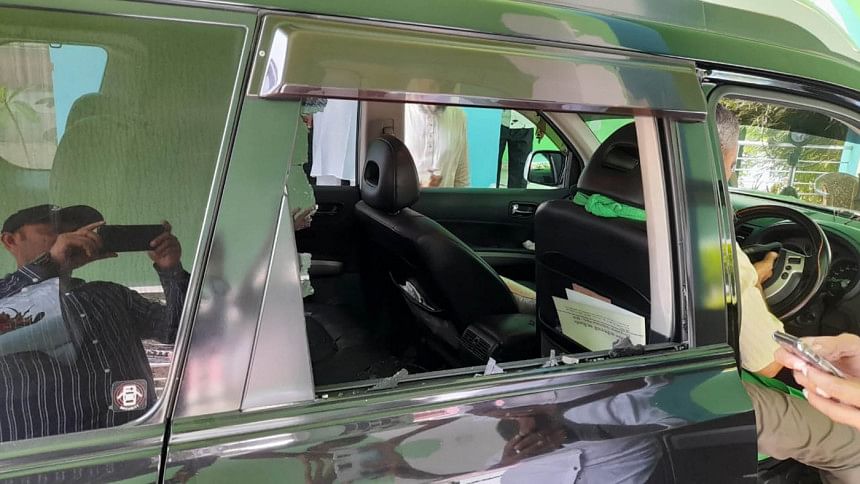 At least 55 people, including a central BNP leader, were injured as activists of the Awami League and the BNP clashed in Dhaka's Keraniganj and Khagrachhari town yesterday.
The BNP said at least 30 leaders and activists, including central executive committee member Nipun Roy Chowdhury, were injured in the incident in Keraniganj. Nipun was taken to a Dhaka hospital with head injuries.
Meanwhile, a motorcade of BNP Vice-chairman Abdullah Al Noman came under attack allegedly AL men in Khagrachhari when he was going to attend a rally there.
The event was organised as part of the party's demonstration in some districts across the country yesterday to press home its 10-point demand, including resignation of the government and national polls under a non-partisan government.
In Keraniganj, a procession of Jubo Dal was heading towards the party office from Jinjira Chatgaon area to join a rally around 10:45am, said witnesses.
As the procession was passing by the local AL office, activists of the AL and BNP started chanting slogans. At one stage, the clash broke out between the two groups.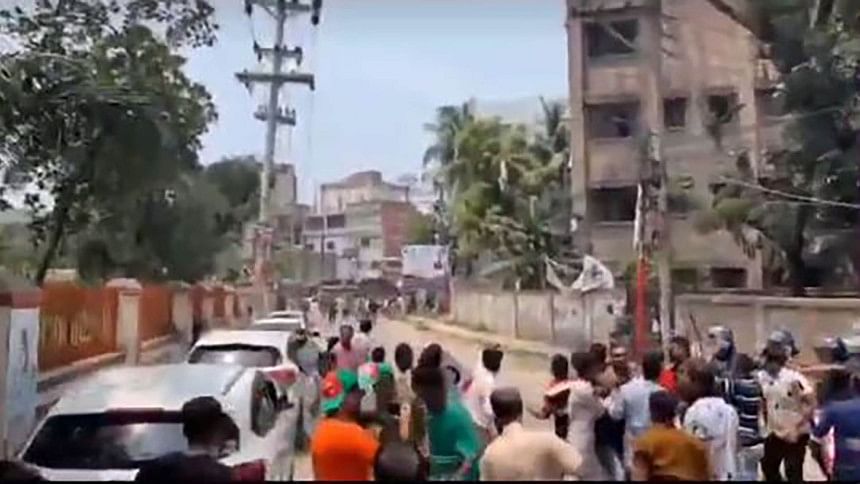 On information, police rushed to the scene and brought the situation under control, said Mamunur Rashid, officer-in-charge of Keraniganj Model Police Station.
Speaking to Bangla daily Prothom Alo, ME Mamun, general secretary of Keraniganj South thana AL, alleged that a group of BNP activists, led by Nipun Roy, attacked and vandalised their party office, leaving at least 20 AL men injured.
However, Khandaker Abu Ashfaq, president of Dhaka district BNP, said without any provocation, AL men carried out the attack on BNP activists, injuring at least 30 activists.
After the clash, BNP held its programme in front of the local party office where Senior Joint Secretary General Ruhul Kabir Rizvi spoke.
In Khagrachhari town, at least five BNP men were injured after a motorcade was attacked allegedly by the AL men.
The injured include Khagrachhari district BNP Vice-president Khetro Mohon Royaza. The rear windshield of the car carrying Abdullah Al Noman was vandalised, claimed BNP.
Wadud Bhuiyan, president of the district BNP, said the motorcade was heading towards their party office in the town to join a pre-scheduled rally.
When the motorcade reached Narikelbagan area around 11:15am, some 25 to 30 AL men, armed with sticks, launched an attack in presence of police personnel, he alleged.
Contacted, Abdullah Al Noman said, "Luckily, I escaped the attack. But some of us were injured and cars were vandalised."
However, Nirmolendu Chowdhury, the district AL general secretary, denied the allegation and said BNP men first attacked them.
AL men were inside their party office in Narikelbagan area when the motorcade was crossing the area. But the BNP activists started hurling brick chunks at AL men without any provocation, said Nirmolendu, also the mayor of Khagrachhari municipality.
Later, the AL and BNP men chased and counter-chased each other. Four AL activists were hurt, he claimed.
On information, police rushed to the spot and pacified the two groups.
Contacted, Naimul Haque, superintendent of Khagrachhari police, said, "No one filed any complaint. The AL and BNP held their programmes in Khagrachhari peacefully today [yesterday].
"If we receive any complaint, we will take legal action after an investigation."
Meanwhile in Barguna, BNP leaders alleged that police obstructed their activists from joining a party rally. The party activist came from different upazilas.
The BNP held the event at Old Launch Terminal area in the district town yesterday afternoon. BNP Vice-chairman Abdul Awal Mintoo was joined the programme as the chief guest.
[Our Chattogram and Patuakhali correspondents contributed to this report.]