Allegation of Kishore's Torture: PBI sees no evidence
Cartoonist says the agency asked him only about personal matters for the probe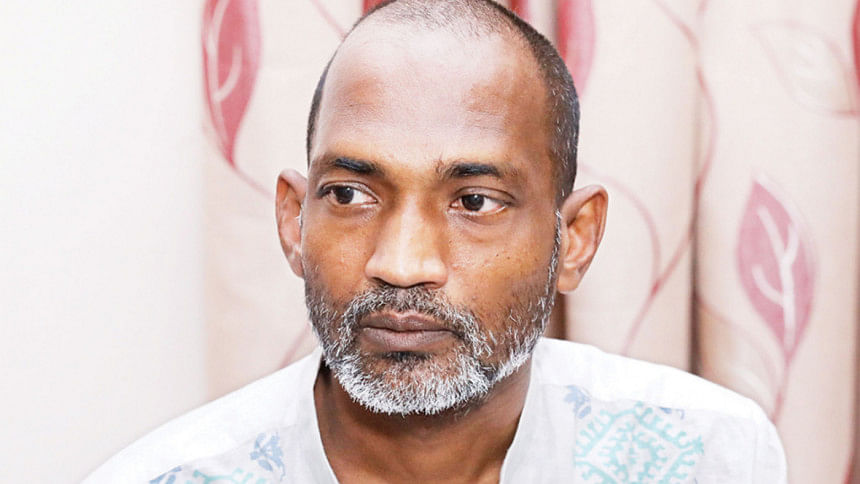 There is no definite evidence that one or more people picked up cartoonist Ahmed Kabir Kishore from home and tortured him physically and mentally in May last year, according to a police probe.
Kishore's allegations of torture against 16-17 unnamed individuals in plainclothes were not primarily proved, reads the probe report submitted to the Metropolitan Sessions Judge's Court of Dhaka on October 17 this year.
The cartoonist filed the case on March 10 stating that he was picked up from his residence around 5:45pm on May 2 last year and tortured until May 4 and that he found himself in a Rab office on May 5.
After investigating Kishore's case for over six months, Mohammad Mizanur Rahman, superintendent of police at PBI, submitted the report to the court. A hearing on the report will be held on November 24.
Kishore filed the case under the Torture and Custodial Death (Prevention) Act, seeking redress. Judge KM Emrul Kayesh then directed the Police Bureau of Investigation (PBI) to investigate the complaint.
When he filed the case, Kishore told the judge how he was brutally tortured before he was shown on record as arrested in a case filed under the Digital Security Act.
After languishing in jail for almost 10 months, the cartoonist walked out on bail on March 4 this year. He then told journalists how he was tortured and wrote multiple times on Facebook about his ordeal in custody.
After hearing about the probe findings, Kishore told The Daily Star yesterday that the officer who investigated the case called him to PIB's Banasree office once and visited the "scene" on another occasion.
"But they only asked personal questions about me even though the investigation was supposed to be about my case," he said. "I told them to collect CCTV footage."
On his Facebook page, Kishore wrote yesterday evening that the men who took him came in six or seven vehicles and that he still remembers the registration number of one. 
He also uploaded his sketches of two of the torturers.
The probe report written by the PIB officer said the victim could not provide any information about the 16-17 men in plainclothes, who supposedly picked him up.
The investigator did not find any "seizable evidence", it said, adding that the complainant could not produce any evidence before the investigator.
During the investigation, people around the scene were asked about CCTV footage, but could not provide any information, the report adds.
The investigating officers and the recording officer of the DSA case filed against Kishore said that they did not get any CCTV footage, the probe report said.
Statements of 19 individuals, including that of the victim's brother Ahsan Kabir, were recorded. None of them could say who picked him up, it said.
The report said Kishore was informed about the findings of the report. But the cartoonist yesterday told this newspaper that he had not been informed.
"The PBI informed us in the first week of November that the probe report was submitted to the court. But they did not tell us about its findings," Ahsan Kabir said yesterday.
Contacted, SP Mohammad Mizanur Rahman, who investigated the case, said, "The complainant is not available over the phone. It is not possible to inform him about the findings in the probe report. But his brother was informed about it."
A medical board at Dhaka Medical College Hospital (DMCH) on March 20 informed the court that it did not find any sign of torture on Kishore's body.
"Physical examination reveals no abnormality; no signs of trauma in any part of the musculo-skeletal system of Kishore is found," read the medical report by Prof Sheikh Nurul Fattah Rumi of ENT, Prof Mohammad Hafiz Sardar of medicine and Prof Fakhrul Amin Khan of the orthopedic departments.
Some investigations are needed for further evaluation and confirmation, the medical report added.
CASE STATEMENT
In his complaint, Kishore said contrary to what was said in the First Information Report (FIR) filed by Rab-3, he was picked up on May 2 last year by 16-17 men in plainclothes.
The FIR records Kishore being arrested at 2:30am on May 5.
Kishore's state stated that he was kept at an unknown place between May 2 and 4 last year and tortured.
Around 5:45pm on May 2, Kishore woke up to loud knocking on the door of his Kakrail flat. "When I opened the door, an unknown person yelled at me saying, 'Why are you not opening the door? Change out of that lungi and wear a clean shirt.
"They searched my room but could not show me any arrest warrant. They illegally took all my digital devices, including the mobile phone, computer CPU and portable hard disc drive," reads Kishore's statement.
He also mentioned that he was handcuffed and a hood was put on his head in a way that prevented him from seeing as the unidentified men forcibly took him to an unknown and secluded place.
At that place, Kishore was shown his own cartoons on a projector screen and asked what they meant.
"At one stage of the interrogation, one of the men got up and slapped me on my ear so hard that I lost my consciousness for a while," the statement quotes Kishore as saying, adding that he felt blood coming out of his ear soon afterwards.
He was repeatedly hit by steel-plated sticks before he lost consciousness, it added. The torture went on like this until May 4 after which he found himself in a Rab office.
"I am still recovering from the torture, my ear is still seeping, I cannot walk..."