'All that we earned through hard work is gone'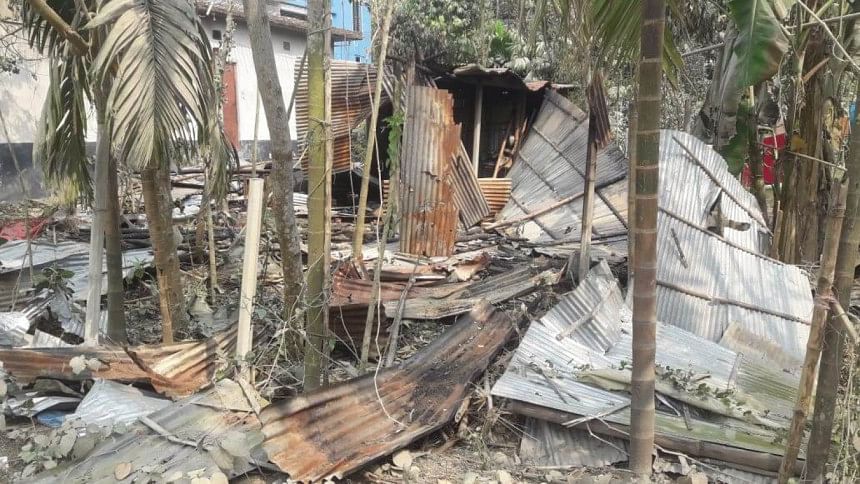 Eighty-year-old Shahid Ahmed was sitting speechless in front of his house, which was torched during yesterday's attack on Ahmadiyya community at Ahmednagar in Panchagarh Sadar upazila.
His house, which he built with his hard-earned money, was burnt into ashes.
While visiting his house this morning, his daughter Ankhi said, "We all survived because we were at a Jalsa Salana, an annual gathering of Ahmadiyya, at that time, otherwise we would have been killed too," she said.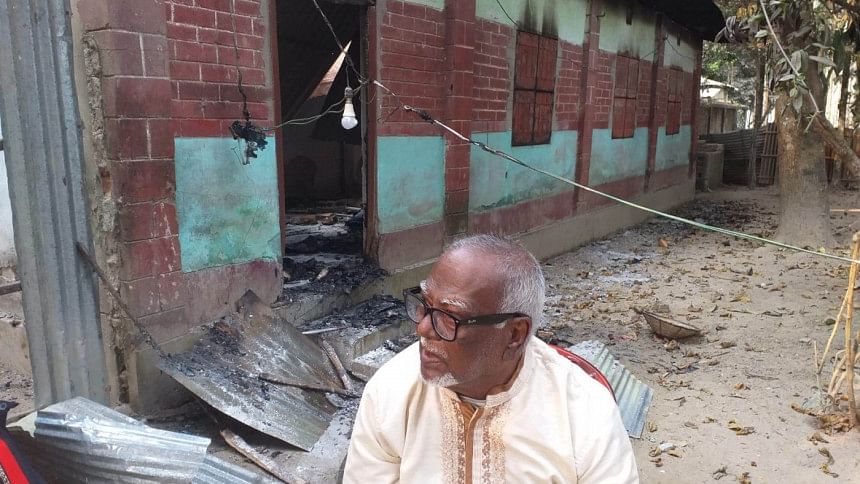 Two persons were killed and at least 30 others, including seven policemen, were injured yesterday in a clash between law enforcers and supporters of some Islamist organisations who were demonstrating against a programme of the Ahmadiyya community in Panchagarh.
Following the incident, a tense situation is prevailing in Ahmadnagar and Shalsheri.
Mahmud Ahmad Sumon, a member of the Ahmadiyya community who works at Salana Jalsar Media cell, told The Daily Star this morning that about 100 houses were set on fire and vandalised by the attackers. As a result, these families have become homeless.
Tanzila Akter, 32, said their grocery store, the only source of income, and their three houses, had been set on fire. "I don't know how we will survive."
"We were lucky to be able to escape... I fled our home with my two children when the attack took place," said Nusrat Jahan Kakoli, 32.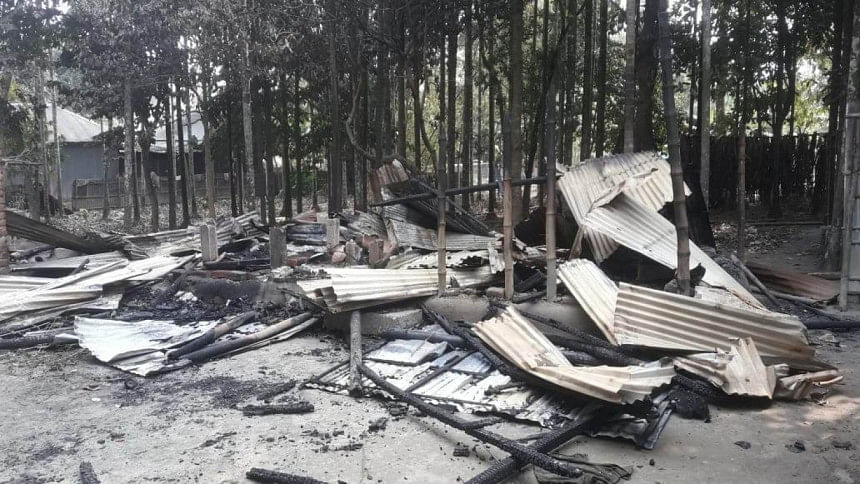 Jahangir Alam, 45, a resident of the area, said, "We want exemplary punishment for the attackers. Also, the authorities must ensure our safety and arrange compensation for us."
Contacted, Panchagarh Superintendent of Police SM Sirajul Huda said a total of 400 police, seven platoons of BGB and five Rab patrol teams have been deployed in and around the city to maintain law and order situation.
On Friday, people of the Ahmadiyya community organised a three-day Jalsa Salana at Ahmednagar in Panchagarh Sadar upazila. The programme was scheduled to begin at noon, according to locals and police.
But leaders and activists of several Islamist organisations, including the Islamic Andolon Bangladesh, were staging demonstrations since Thursday demanding cancellation of the event.
After Jumma prayers yesterday, they gathered at the town's Chowrangi intersection, brought out a procession and started marching towards the venue.
The clash ensued as police obstructed the procession. The agitators hurled brick chips at the law enforcers, and in retaliation, police charged batons and fired teargas shells.