AL leader assaults Kurigram school headmaster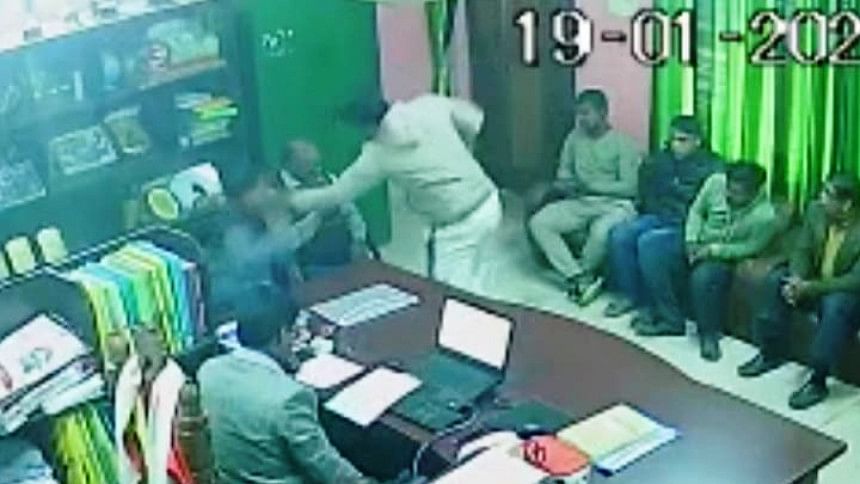 A local Awami League leader has assaulted a school headmaster in Kurigram's Rowmari over the recruitment of teachers.
The incident was caught on a CCTV camera. The video of the assault went viral on social media Friday night.
Roknuzzaman Rokan, relief and social welfare secretary of Rowmari upazila unit AL, was seen beating Nurunnabi Haque, headmaster of Phulkarchar Junior Secondary School.
The incident took place Thursday afternoon inside the room of Rowmari CG Zaman High School headmaster Abu Horayra, who is also the secretary of Rowmari upazila unit AL.
Rup Kumar Sarkar, officer-in-charge (OC) of Rowmari Police Station confirmed the matter to our Lalmonirhat correspondent.
The assaulted headmaster, Nurunnabi, was admitted to Rowmari Upazila Health Complex. He later filed a written complaint against two people including Roknuzzaman with Rowmari Police Station that night, said the OC.
Talking to The Daily Star, Nurunnabi alleged that he had a dispute with AL leader Roknuzzaman Rokan and Asadul Islam over the recruitment of school teachers.
Roknuzzaman Rokan and his men picked him up from Rowmari Upazila Parishad premises and at first took him to a local bus counter on Thursday afternoon where he was given death threats.
Later, the teacher was taken to the office room of Abu Horayra on a motorcycle, where he was beaten.
"The AL leader was pressuring me to illegally appoint a teacher of his choice. He was angry with me because I did not agree with him," said Nurunnabi Haque.
When contacted, Roknuzzaman Rokan told the Daily Star on Friday night that the headmaster called him a "broker" over teacher recruitment. Unable to control himself, he said he pushed the teacher but did not beat him.
Speaking on the matter, Upazila AL Secretary Abu Horayra said "Roknuzzaman committed a punishable offence. The incident was captured on a CCTV camera. The upazila AL president has been informed in this regard and organisational measures will be taken against him."
The police have collected the CCTV footage of the incident and preparations are underway to take legal action in this regard, the OC said.