After attacks, cases stalk BNP activists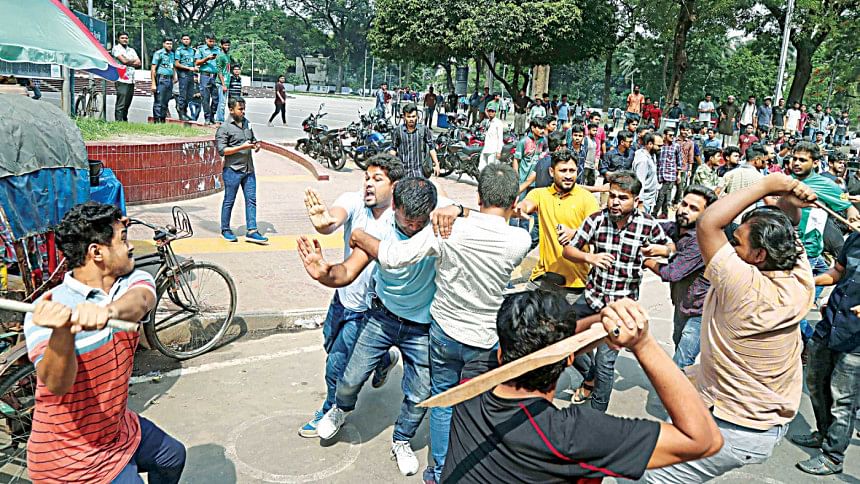 Jatiyatabadi Chhatra Dal leaders and activists have come under repeated attacks by the armed members of Bangladesh Chhatra League since Tuesday while trying to hold programmes in Dhaka University areas and some other parts of the country.
The attacks by the BCL activists carrying sticks, iron rods and machetes also led to clashes that left over a hundred people, mostly from JCD, injured.
No case has been filed against anyone from the pro-government student organisation though photos and videos of its activists with the weapons went viral on social media and were run by newspapers.
Instead, leaders and activists of BNP and its affiliated student body JCD are getting arrested and facing cases in various parts of the country.
Police have so far held four JCD activists in two cases filed with Shahbagh Police Station following Tuesday's violence on the DU campus. Some 30 JCD members, including a few female activists, were hurt in the BCL attack.
Apart from a case lodged by the DU authorities on Wednesday, Jahidul Islam Jahid, president of DU Shahidullah Hall BCL unit, filed a case with the police station against 60 JCD men, including 18 leaders named.
In the case, Jahid brought charges against the accused of assaulting BCL men.
Two days after the incident, armed members of BCL swooped on JCD leaders and activists in the High Court area, leaving reportedly some 50 people, including a journalist and a lawyer, injured.
"We went to the DU campus to hold a peaceful programme. It's our democratic right. There we came under brutal attacks. Now cases have been filed against us," JCD General Secretary Saif Mahmud told The Daily Star yesterday.
"Those who attacked us were carrying machetes, sticks and other local weapons. The photos and videos went viral on social media. There is proof who carried out the attacks. Yet, police are arresting our leaders and activists. It is clear that these cases have been filed to harass us," he added.
Saddam Hossain, general secretary of BCL's DU unit, however, claimed that it was the "general students who resisted JCD."
Meanwhile, the Paltan police filed a case against 100-150 BNP and JCD men, naming 30 leaders and activists after the party staged a torchlight procession in Bijoynagar area on Wednesday night in protest against the attacks in DU area.
The accused include BNP Senior Secretary General Ruhul Kabir Rizvi, JCD President Kazi Rawnakul Islam Srabon and General Secretary Saif Mahmud.
"We arrested nine activists of BNP in this case. Eight of them were taken on remand," Salauddin Mia, officer-in-charge of Paltan Police Station, told The Daily Star.
According to the case statement, the BNP men were chanting anti-government slogans, and at one stage, they attacked police and also hurled brick chips. They also attacked two or three moving buses, it read.
However, witnesses said they didn't see any such attack on police or buses.
Talking to this newspaper yesterday, a shopkeeper in the area said the activists marched in procession in front of his shop on Wednesday night. "I didn't see any attack on police or buses by the BNP men."
Another witness said police detained some BNP men from the procession, but he didn't see any act of violence.
In Khulna, police filed a case against around 800 BNP men, including Khulna city BNP Member Secretary Shafiqul Alam Tuhin, in connection with Thursday's clash between local leaders and activists of BNP and BCL men that left over 50 people wounded.
Following the incident, at least 37 BNP men, including Khulna Metropolitan BNP Member Secretary Shafiqul Alam Tuhin, were arrested.
Biswajit Kumar, sub-inspector of Khulna Sadar Police Station, said he filed the case on Thursday against 92 named people, including Tuhin, and 708 unidentified people.
The case was filed against them for vandalism, obstructing police from discharging duties, and injuring 14 after attacking police, added the official.
Apart from Khulna, BNP men also came under attack in Patuakhali and Manikganj on Thursday while protesting the attack on JCD men in Dhaka.
Talking to this newspaper, BNP leader Ruhul Kabir Rizvi, said "First, they attacked us, now they are filing cases against us. But still we will be in the field with our political programmes."
Contacted, Shahbagh Police Station OC Mowdud Hawlader said they arrested four JCD men over Tuesday's incident on DU campus. Of them, two were held on Thursday and they faced warrants in some previous cases.
Md Kamruzzaman, assistant inspector general (media and public relations) at the Police Headquarters, said when public properties get damaged or any attacks on law enforcers take place, police can file cases. It's a general procedure, he added.