ACC files 13 cases against PK Halder
Probe finds he and 28 others embezzled Tk 523cr of FAS Finance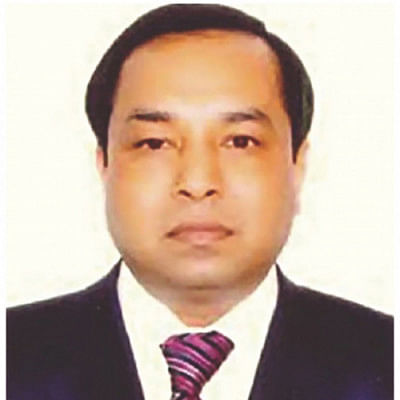 The Anti-Corruption Commission has filed 13 cases against 29 people, including fugitive PK Halder, for embezzling about Tk 523 crore of FAS Finance and Investment.
Meanwhile, a Dhaka court approved a three-day remand prayer for former managing director of FAS Finance Russell Shahriar in connection with the 13 cases filed.
Gulshan Anowar Prodhan, the commission's deputy director and investigation officer of the cases, arrested Russell from Mohammadpur in the capital on Tuesday afternoon.
The commission has been investigating the misappropriation of about Tk 1,300 crore from FAS Finance and so far found evidence of embezzlement of Tk 523 crore.
"The money was embezzled in the form of loans," said ACC sources.
The loans were given to 13 organisations -- A&B Trading (Tk 44 crore), Nature Enterprize (Tk 45 crore), Nutrical (Tk 30 crore), SA Enterprize (Tk 42 crore), Sukhadha (Tk 40 crore), MTB Marine (Tk 40 crore), HAL International (Tk 45 crore), Sandeep Corporation (Tk 40 crore), Diya Shipping (Tk 44 crore), Moon Enterprize (Tk 35 crore), Borno (Tk 38 crore), RB (Tk 40 crore) and Marine Trust (Tk 40 crore).
The cases were filed against owners and directors of these organisations, as well as officials of FAS Finance and Investment.
The Daily Star obtained a copy of the FIR of a case filed against 13 people for the misappropriation of Tk 44 crore from FAS.
Russell Shahriar, PK Halder, A&B proprietor Shuvra Rani Ghosh, FAS Finance Chairman Siddiqur Rahman, Vice-Chairman Jahangir Alam, directors MA Hafiz, Abul Shahjahan, Dr Uddab Mallik, Arun Kumar Kundu, Anjan Kumar Roy, Mostain Billah, Uzzal Kumar Nandi and Satya Gopal Poddar are accused in the case.
According to the case statement, Shuvra applied for a Tk 44 crore loan to increase the capital of her firm on March 1, 2015.
The IO also found that A&B is a fictitious firm and Shuvra misappropriated the money without even investing it in business.
Without scrutiny, the then managing director and CEO of FAS Finance and Investment Russel approved the application and forwarded it for final approval at the 165th board meeting of the non-banking finance institution.
On March 4, the loan was approved. Of the money, about Tk 32.36 crore was transferred to Reliance Finance, of which Prashanta Kumar (PK) Halder was managing director, and the rest to different accounts of different private banks of A&B trading.
Initially, A&B took the loan against a 5-katha land in Uttara Sector-13 in the capital. Later, it applied for the renewal of the loan and proposed another 157 decimal as collateral.
The ACC found that PK Halder was the owner of the 157 decimal land and he proposed it as the collateral on behalf of A&B Trading.