Abrar's death anniv: BCL men attack 'safe campus' rally at DU
13 hurt; police detain 20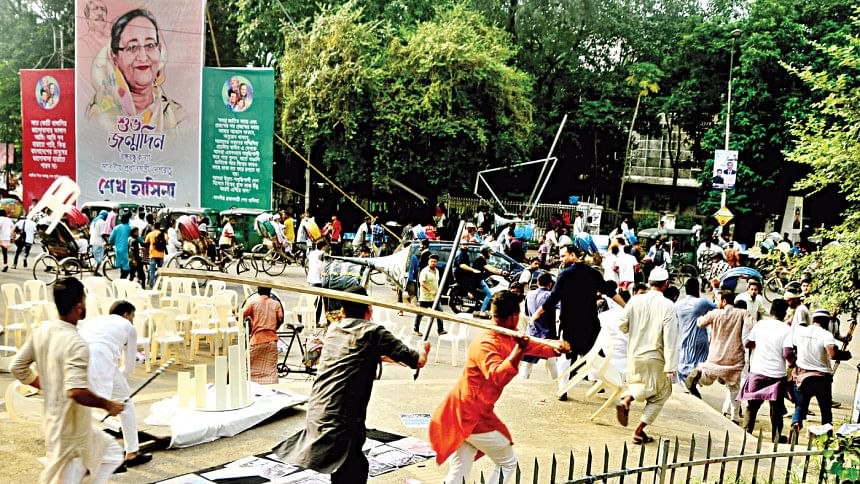 At least 13 people were injured in an attack by Bangladesh Chhatra League on a rally, organised marking the death anniversary of Buet student Abrar Fahad, on the Dhaka university campus yesterday afternoon.
The rally by Bangladesh Chhatra Odhikar Parishad came under the attack 10 days after BCL men roughed up Chhatra Dal leaders and activists on the campus while they were on their way to meet VC Prof Md Akhtaruzzaman.
Police detained 20 parishad men from Dhaka Medical College Hospital yesterday for interrogation. Among the detainees were several persons who went to the hospital to take care of the injured.
Abrar, a second-year student of electrical and electronic engineering at Bangladesh University of Engineering and Technology (Buet), died on October 7, 2019, at a dormitory after being brutally beaten by some Chhatra League activists.
Witnesses said the BCL men swooped on the parishad leaders and activists in TSC area around 3:30pm soon after the rally began. At one stage, the demonstrators retaliated beating up some attackers.
BCL Organising Secretary Nazim Uddin was injured in the clash.
Footage of the incident showed that BCL Joint General Secretary Mahbub Khan, Organising Secretary Nazim Uddin, Human Resource Development Affairs Secretary Nahid Hasan, and Private University Affairs Secretary Al Amin Rahman led the attackers.
Bin Yamin Mollah, president of Chhatra Odhikar Parishad, alleged that Chhatra League men attacked them without any provocation, leaving at least 12 activists injured.
He said the attackers tore a banner apart and broke chairs and tables at the venue.
"Chhatra League men also assaulted our injured leaders and activists at the Dhaka Medical College Hospital," Yamin added.
BCL General Secretary Lekhak Bhattacharjee said he heard that a clash took place on the DU campus but was not sure who were involved.
DU Proctor Prof AKM Golam Rabbani no organisation had taken permission from the university authorities for the rally.
"We are aware of the incident. Our mobile team was there. We are trying to find out what happened. At the same time, law enforcement agencies have also been asked to take strict action in this regard," he told The Daily Star.
He said the university discourages all from organising any programme that might disrupt students' safety and the educational environment.
Nur Mohammad, officer-in-charge of Shahbagh Police Stations, said the 20 detainees were being interrogated at the police station.
Meanwhile, Jatiyatabadi Chhatra Dal and Samajtantrik Chhatra Front yesterday condemned the BCL attack on the Chhatra Odhikar Parishad rally and demanded the attackers be brought to book.